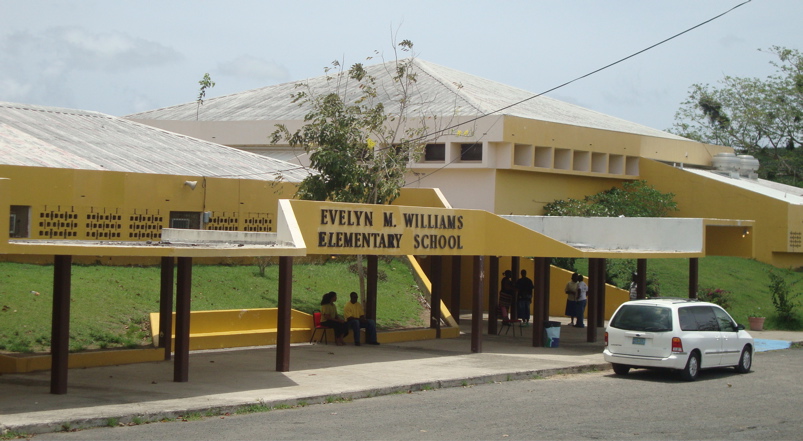 A man was shot and killed Thursday morning outside Evelyn M. Williams Elementary School, St. Croix Police Chief Oakland Benta said. No children were in harm's way during the event, he emphasized, although some did witness the incident.
Although one mother reported that her daughter "saw it all," Benta said the police were not interviewing the children as witnesses. The police got all the information they needed from residents of the Paradise neighborhood. Instead, the emphasis with the children is to get them all the help they need in processing and dealing with witnessing the event.
The school district was in partial lockdown Thursday morning, with parents coming and going to check on their children and extra security at the entrances. The school's administrators were not available to comment or explain the district's crisis management policies because they were involved in actually counseling the children.
Benta said that shortly before 8 a.m. the 911 call center received a report of two men arguing. As the police were responding to that call, there was a second call reporting shots had been fired.
On arriving at the scene, police found a 27-year-old Hispanic man, whose name has not been released, with at least one gunshot wound. He was not responsive, and emergency medical technicians were unable to revive him.
The shooting took place in the bushes adjacent to a grassy field next to the school, according to police. The suspect fled the scene in a large vehicle.
Benta praised the cooperation of neighbors, saying based on the information they provided the police are looking for a potential suspect.
The investigation is ongoing and investigators are asking anyone who has information to call the Criminal Investigation Bureau detectives at at 712-6077 or 712-6037 or the anonymous tip service, Crime Stoppers USVI, at 1-800-222-TIPS.
Editor's note: Updated at 4:30 p.m.