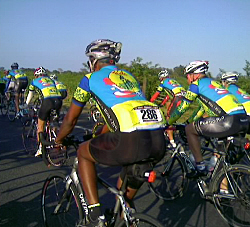 Puerto Rico has the three day La Vuelta Lighthouse Tour, covering 375 miles around the entire island. The Tour de France has, well, alot of France.
And now St. Thomas has the Nifty Fifty.
Is it possible to rack up 50 miles on a bicycle on our very small island in one brief half day? And have fun doing it?
Wally Bostwick thinks so. He is, in fact, leading 40 or so stalwart souls Sunday at the inauguration of the island's first Nifty Fifty Bicycle Tour.
Veteran biker Bostwick, who racks up 20 or so miles on Sundays with a group of bicycle enthusiasts, says the idea solidified this February while riding in the LaVuelta Tour.
"I thought why not share that enthusiasm we had in Puerto Rico," Bostwick said. "Lots of riders here don't have the time to go to Puerto Rico for something like that, so let's try and do it here. We'll encourage some distance riding, to let people see it's not as hard as it seems, and for the fun of it."
Bostwick didn't miss a beat getting organized, and at 6 a.m. Sunday the first Nifty Fiftiers will take off from in front of Bad Ass Coffee at Yacht Haven Grande.
It's not 50 miles all at once. "They break it up in Puerto Rico," says Bostwick, "or I'd still probably be in Fajardo."
Bostwick says the object of the ride is to raise awareness of how many bike riders there are on the island. "Hey," he says, "there's lots of people on bikes. We want to show people how many of us there are. It's also a plea not to run us down."
Right now there's no cause other than that: having fun and raising awareness. "We'll see how it works this year, and maybe next year we'll raise funds for a cause." There is no registration fee, though jerseys are available for $60.
"Our only demand," Bostwick says, "is to wear helmets. We are adults. We wear helmets. And its a good example for kids."
The tour is broken up in 10 mile segments. The first 10 miles will be Yacht Haven, Subbase, Airport, Brewers/first dumpster, and back to Yacht Haven. "So," Bostwick says, "even if you don't want to do 50, please join us for 10.
"We will have one van going ahead with water and supplies, and one truck following each group with a warning sign, and ready to pick up anybody with a flat, or bike problem or other issue. If someone has a flat, we will just load rider and bike into the truck, and fix the flat at the next water break, and let them rejoin their group. This way the group can maintain progress.
"Please note that getting a flat in the first 2 miles of every section will be frowned upon."
Bostwick says one faster group will consist of stronger riders who want to keep up a good pace between climbs and descend at speeds of up to 35 mph. Riders will stop at the top of climbs to collect all group members due to differences in climbing rates. "We will be keeping a relatively tight pack to minimize impacts on traffic and maximize group fun," he says.
The slower group will be riding at a "recovery" pace between climbs, Bostwick says. "Our objective will be to basically conserve energy on the flats so we can make it up the hills. We expect to be riding at 12-15 on the flats and keeping descents to 20-25 max. We will be keeping our group together to enjoy the pack aerodynamics provided by silly chatter and bad jokes, as well as to keep from having any trailers picked off by traffic, etc. "
And finally, "The slower group will be following the faster group, so it will be possible to aim high and then lower your standards as required. Remember, we will have a support truck behind both groups, so if anybody is feeling overwhelmed, just get in the truck and rejoin at the next stop. This is for the fun of it, not 'Survivor.'"
The "tour," not a race, will wind up where it started at Yacht Haven Grande in front of Bad Ass Coffee. Bostwick says he anticipates the faster group to return around noon and the others about an hour later. Anyone is welcome to join.
The route map can be seen at mapmyride.com.