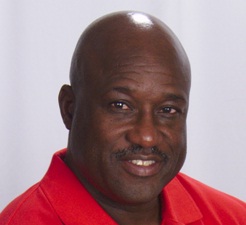 Carlos Fernando Berkel, also known as "Nando," of Estate Anna's Hope died on Aug. 12. He was 56 years old.
He is survived by his spouse, Alice Mercer Berkel; mother, Filomena A. Berkel; father, Charles E. Berkel; mother-in-law, Claudia Golden Mercer; sons: Carlos Ricardo Berkel and John Mercer Bell; grandchildren: Marceila, Marcus, Michael and Micah Berkel; and daughter-in-law, Neisha Berkel. He is also survived by sisters: Ingrid Dambruck and Debra Berkel; brothers: Louis, Chester, Robert, Herman and Keith Berkel; sisters-in-law: Gerda Mercer Shannon and Mary Mercer Centeno; brother-in-law, Leroy Mercer; nieces: Jessica, Juleana, Philomena and Angel Berkel; nephews: Charles, Pat, Akeem, Ronald and Chester Berkel; aunt, Ruby Hooi; uncles: Gulini, Felix and Rodriguez Lake, and Henry Murray; cousins and other relatives: Sandy, Gloria, Rico, Claudette, Joy, Gee and Andy; special friends: Retired Police, Pinnacle, Flash, Peter, Brewster, Melva and Hansen; as well as other relatives and friends too numerous to mention.
There will be a viewing at 10 a.m. and a funeral service at 11 a.m. on Sunday, Aug. 22, at Peter's Rest Seventh-day Adventist Church. Interment will follow at Kingshill Cemetery, Veterans Section.
All arrangements are by James Memorial Funeral Home Inc.