Laying out a platform covering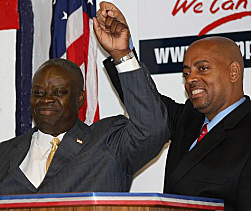 everything from crime fighting to lowering electricity rates, gubernatorial hopeful Kenneth Mapp and runnning mate Malik Sekou made their bid official Friday with a rally on St. Thomas.
The candidates' speeches were prefaced by a personal introduction from Juel Molloy, a former commissioner of Human Services and chief of staff to former Gov. Charles W. Turnbull. Garnering much applause from the roomful of supporters gathered at the Mapp/Sekou headquarters on Veterans Drive, Molloy described Mapp and his running mate as two of the territory's "brightest, most committed and most compassionate men" who were stepping into race at time when the "Virgin Islands needs them the most."
Mapp, she said, has a long history in politics, serving in the Senate, at the helm of Licensing and Consumer Affairs, as the territory's lieutenant governor under former Gov. Roy L. Schneider and as the head of the Public Finance Authority. His experience, coupled with his history "of making decisions for the betterment of the people," makes him the top choice for governor, Molloy said.
Stepping up to the podium, Mapp said listening to residents' concerns over the past few months has made him want to add another notch in his belt. Along with the rising crime levels, he said electricity costs, high living expenses and the inability of businesses to stay afloat in a staggering economy have topped the list of concerns voiced by the community.
"We're here today because all of us know in our hearts that we can provide a better life for our people," he said. "Hope is dying, but it is not yet dead."
In accepting the bid for lieutenant governor, Sekou – a political science professor at the University of the Virgin Islands and well-known community activist – said he didn't want to continue sitting in the wings, serving only as a mentor and political consultant instead of playing a more active role in making the decisions.
"I must ask myself, are these my only roles?" he asked at Friday's rally. "What does a patriot do when his beloved homeland is on fire?"
Mapp and Sekou followed with a series of attacks on the current administration, accusing it of turning the government into a "symbol of greed and inefficiency" that serves the interests of "only a small clique" instead of the whole community.
Promising his team could do better, Mapp ended Friday by saying that the territory's "quality of life will be better on the other side of Nov. 2 than it is on this side."
Because Mapp and Sekou are running as independents, they will not be on the ballot of next month's Democratic primary. They will instead face the winner of that election at the General Election on Nov. 2.