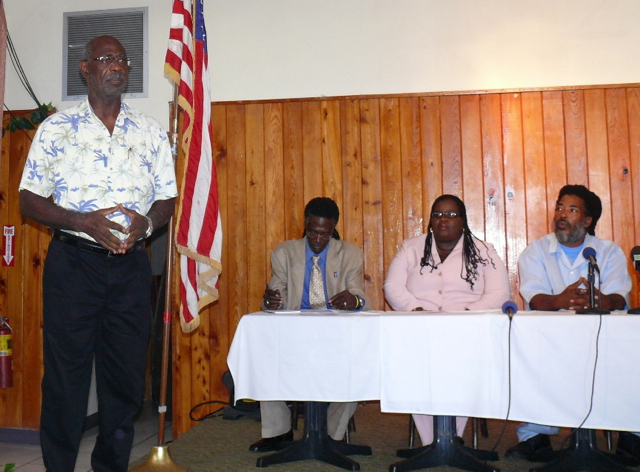 With a little fanfare and television cameras rolling, the small but influential, uniquely Virgin Islands political party, the Independent Citizens Movement, rolled out its St. Croix slate of five candidates to the V.I. Legislature this week.
Top of the ticket is Senate Minority Usie Richards, seeking a fifth term. Richards is a former president of the ICM. He has been in public service since at least 1988, when he was elected to the St. Croix District Board of Elections. He served 12 years there, chairing the St. Croix board and chairing the Joint Boards of Elections for 10 and a half years.
Among other community activities, Richards is president of the V.I. Basketball Federation.
Talking about his goals and philosophy as a legislator, Richards said cooperation for the common good is critical to solving the territory's problems.
"No one man or woman has the capacity alone to bring about the change we need," Richards said. "There will be a time when all of us will have to put aside our differences."
He characterized his approach as practical and solution oriented, saying he has the best record of any of the senators for getting bills passed.
"It is very easy for our candidates to identify problems but what is difficult is to find solutions," he said. "And on that I stand by my record."
Sen. Terrence "Positive Nelson, who is running for a fourth term, argued promoting local agriculture is vital to the economic well-being and quality of life in the territory.
"If we don't help the sleeping giant which is the agriculture industry, we will be going downhill without brakes," he said.
The territory is moving in the wrong direction, Nelson said.
"We are in debt and our infrastructure is crumbling," he said. "Many houses still have trouble getting potable water and some have problems even getting access because the roads in their neighborhoods are so bad."
Born on St. Kitts, as a young hild Nelson moved to St. Croix, where he attended public schools until graduating in 1985. He then attended St. Augustine's College in Raleigh, N.C. He graduated with honors in 1989 with a bachelor's in accounting. After returning to St. Croix in 1995, Nelson was a teacher and a union steward. He founded Our Virgin Islands Labor Union , created Positive Works, Incorporated, a youth organization, and is the founder and still master sensei of King Cobra Tae Kwon Do of St. Croix. Nelson, who briefly fielded himself as a gubernatorial candidate this year, brands himself as an agent for "positive change" as expressed in his motto "Positive Is How I Live," and his nickname "Positive."
Naomi Joseph is looking to join Richards and Nelson in the Legislature. A 25-year veteran of the V.I. Police Department, Joseph sees violent crime and the social factors that fuel it as the most important challenge ahead.
"As a law enforcement officer, I have been looking at the crime we have on St. Croix and feeling helpless," she said. Problems in school lead to problems in the street, she said.
"A lot of our young men have difficulty reading and difficulty comprehending what they read, and when that happens, they start to give up and turn to gangs," she said. "Education and crime are closely connected," she said.
Joseph said she wants legislation to have video cameras installed in the towns, shopping centers and high crime areas, and a state of the art forensic laboratory to help gather scientific evidence more quickly. She believes using renewable sources of power, including the sun, wind and ocean currents, are the way to reduce energy costs and dependence on fossil fuels.
Joseph was born on St. Croix to parents who moved to the territory from elsewhere in the Caribbean. She is currently an investigator in the V.I. Police Department's Special Victim Unit.
Candidate George Moore is president of ICM on St. Croix. Born into a farming family, Moore also favors more government effort to promote agriculture, which has been a plank of the ICM since its inception.
He said he wants to move the territory away from fossil fuels and would like to see an Ocean Thermal Energy Conversion power plant in the territory. He criticized the administration for entering into an agreement to finance the Diageo distillery on St. Croix
"The same $250 million that went to build Diageo could have gone into WAPA for alternative energy production," he said.
While the analogy may be illustrative of a larger point, as the bonds that pay for Diageo's factory were secured entirely by future excise tax remittances from future Diageo rum production, that money would not have existed without Diageo coming.
Born on Antigua, Moore moved to St. Croix as a young child. Moore worked in broadcasting, more than 25 yeas, and has been production manager for WSVI -TV8 and later for TV2. He has degrees in Homeland Security from Florida Memorial University and Business Administration and Visual Communication from American Intercontinental University.
Saying he was a fifth-generation farmer himself, candidate Kendall Petersen emphasized agricultural self-sufficiency too.
"We need to convince people in the Virgin Islands to become an agrarian society once again through education," he said.
He believes agriculture has the potential to drive economic change in the territory. According to Petersen, the U.S. Virgin Islands imports more than $450 million in food every year. If $100 million of that were replaced with locally grown food, that would transform the industry, create greater wealth in the grass-roots, native community and promote both better health and self-sufficiency, he said.
Petersen said he was taught "ICM values" as a child under the gubernatorial administration of Cyril E. King and had been a member of ICM "since I was old enough to vote.
An elected member of the 5th V.I. Constitutional Convention, Petersen has been a strong advocate of constitutional provisions defining ancestral Virgin Islanders, limiting top elected offices to such and conferring special tax benefits to that demographic section of V.I. residents.
Promotion of local agriculture has been an ICM Party plank since its inception, said Richards, and Richards and Nelson both pointed to the 2005 V.I. Sustainable Agriculture Act as important accomplishments. Petersen praised that Act as well and said he played a major role in drafting the legislation for then-Sen. Luther Renee.
Former Sen. Virdin Brown, who helped found the ICM in 1967, spoke about the history and purpose of the party.
"From 1971 to the present there has always been a member of the Legislature who was from the ICM party," Brown said. "The ICM party is not some figment or some wishy- washy operation. It is in fact a party that cares about the community. … We focus on the grass roots issues and the bigger issues that really affect the governance of this territory."
Recognizing that the party has never been very large and its membership has shrunk in recent years, Brown said the ICM has broader support than its membership numbers suggest.
"The party is alive, it is well and despite the fact over the years people have changed their affiliation to participate in some case for other parties' primaries and may never change back," he said. "But many of those still affiliate at least philosophically with this party so ICM's influence is bigger than its numbers."