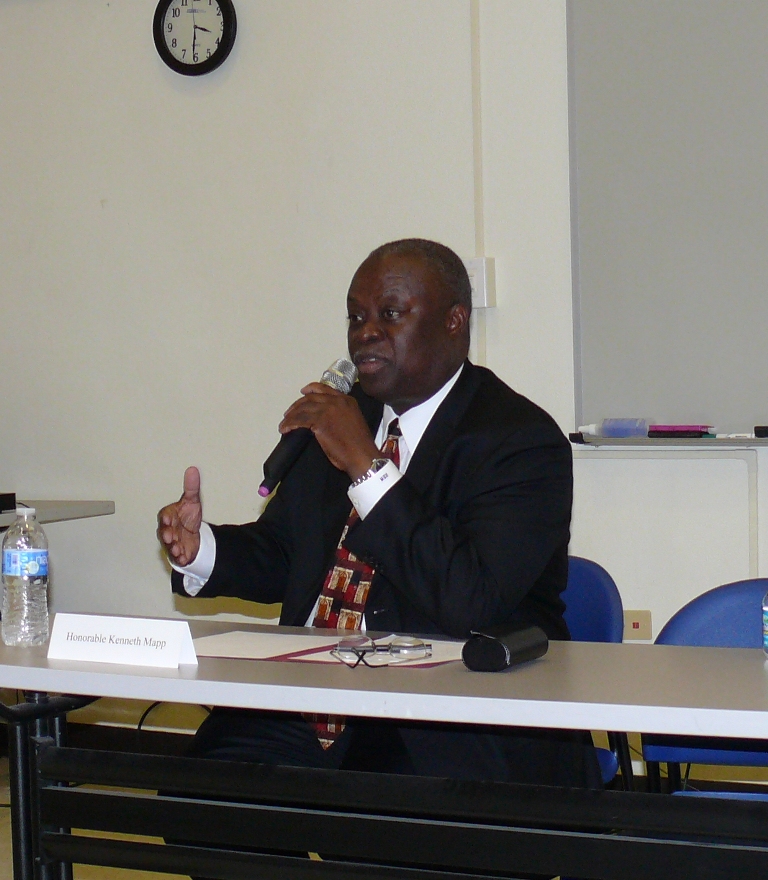 Speaking Monday before a crowd of individuals with disabilities, service providers and advocates, gubernatorial challenger Kenneth Mapp and incumbent John deJongh Jr. disagreed over who would best serve that community while seemingly not far apart on the broad policies.
For the seventh year now, the V.I. University Center for Excellence in Developmental Disabilities hosted the forum, giving those with disabilities and those involved with providing services a chance to communicate with policy makers about how best to promote progress.
Questions at Monday's forum focused on education and transition issues, employment, accessibility and "visitability"–providing regulations or incentives to make new and renovated homes more accessible and easier to customize for full accessibility.
Asked what his plan would be to bring the government and territory into compliance with the federal Americans with Disabilities Act, Mapp began by saying the deJongh administration has not done enough. "I don't see major progress regarding ADA compliance in the current administration." Overall, Mapp promised more future local government spending.
"I would take the many resources we spent over last number of years and start putting them toward the disabled community," he said.
DeJongh, for his part, began by listing what he portrayed as his administration's concrete steps forward.
"We have appointed an ADA coordinator," he said. "Something that was completely ignored by previous administrations." The position of ADA coordinator has been mandated by federal law for 20 years, including while Mapp was lieutenant governor and while he was a member of the Legislature, deJongh said. His administration has also helped reestablish and reinvigorate several advocacy groups, from the Disability Rights Council to the Mental Health Advisory Board, he said.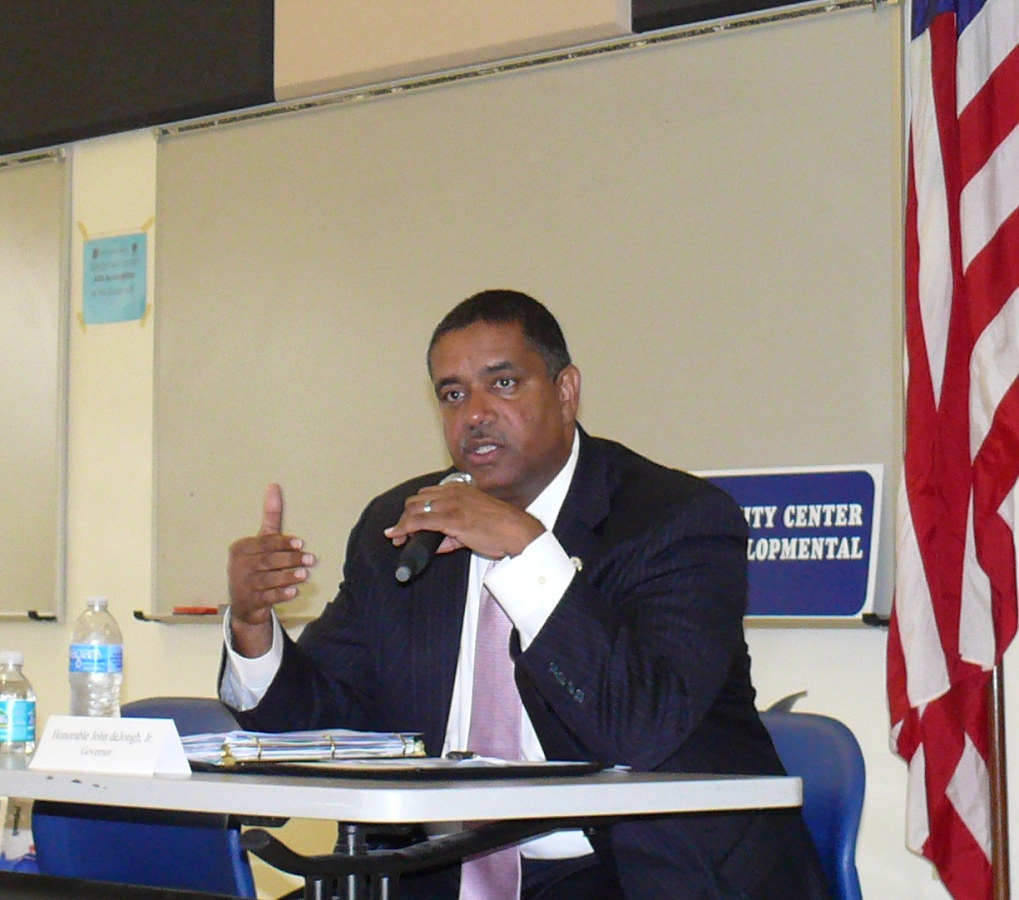 "It is not a matter of what we have promised but what we have done," deJongh said. "Those running for office this year have in fact been in office before. You have to look at what they accomplished then, not just what they promise now."
Both agreed some effort to encourage home builders to make houses fit visitability criteria would be good, but differed in approach. DeJongh said legislation should be introduced and passed that would allow the government to give tax incentives for making new and renovated homes to fit the criteria. Mapp did not disagree, but said "we don't have to wait for legislation," arguing the executive branch could make accessibility "a condition for government partnership," wherever the government is providing any tax abatements, land or other goods to developers.
Hammering home a theme repeated in his advertising, radio appearances and on his campaign speaker-truck, Mapp said in his closing remarks deJongh "chose to give the Diageo distillery" and the incoming Home Depot developers on St. Croix, hundreds of millions of dollars, that could have been spent on educational and other services for those with disabilities.
Mapp's claim is factually incorrect as both the Diageo and Home Depot projects were financed by bonds secured by future revenues from those projects themselves. The money to subsidize those construction projects only comes to exist if those particular projects reach their fruition and bring money to the territory, so with no Diageo or Home Depot, there is no money to divert to other priorities.
In his closing remarks, deJongh argued his administration's deal-making with Diageo and Home Depot has already benefitted everyone receiving government services because it enabled the territory to get bond funding right now, during the worldwide financial crisis and continue providing government services.
"We have been able to tap a revenue stream that does not exist yet, but will exist in two years," he said.
Earlier in the day, Delegate Donna Christensen spoke to the forum and answered the same questions. There was no debate as none of her opponents showed up.
On Tuesday, Senate candidates will get their turn to weigh in on these issues, starting 9 a.m. in the Great Hall of the St. Croix UVI campus. Then the forum moves to St. Thomas, with congressional and gubernatorial candidates Thursday and senatorial candidates Friday from 9 a.m. to 4 p.m. in the Windward Passage Hotel.
There is no fee for the event, but space is limited on both islands. You can register by contacting Dr. Sandra Ross on St. Croix at 692-1919 and on St. Thomas contact Andrea Plunkett at 693-1173.