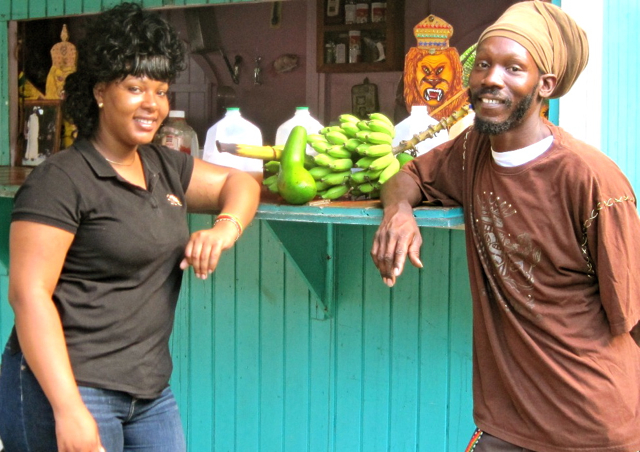 Forward to Your Roots is the vegan hot spot on St. John.
Owned by Lance Brathwaite, who runs it with the help of his girlfriend, Anjelika Haynes, the tiny restaurant in Pine Peace features healthy food that tastes good.
"It's no fat, no animal products," Brathwaite said.
Haynes adds that there are also no additives such as MSG.
He's knowledgeable about the benefits of the foods that go into his dishes as well as the herbs and spices that bring them to life. For example, turmeric is one of his favorites.
"It's good for your bones, and it's good for lactation," he said.
The menu changes daily, but often features tofu in many styles. One day it might be in a stir fry dish, another day it might be served island style. Or the dish-of-the-day could be veggie lasagna or veggie loaf made with lentils. Quinoa loaf, made with a high-protein grain, is another specialty.
Salads come with romaine lettuce and plum tomatoes. Potato salad is made with healthier red potatoes.
The list of drinks is lengthy. They include sea moss, peanut punch, tamarind, limeade, ginger, ginger pineapple, maubi, and banana punch.
"Made with my own bananas," Brathwaite said, gesturing to the stand of bananas that surrounds the eating area of his restaurant.
Brathwaite grew up just steps from where Forward to Your Roots sits in the Pine Peace section of Contant. He's part of the Daniel clan, and a relative once operated a restaurant in the building that's next to his.
Brathwaite, 35, said he was born to cook. He got interested in vegan cooking while still in his teens. He had asthma and soon learned that a healthier way of eating helped alleviate his symptoms. He said he's no longer bothered by health issues.
He dabbled at other careers, getting a journeyman's engineering certificate from Houston Community College System while his family lived in Texas.
He decided to study engineering because he already knew how to cook, so further study wasn't necessary, he said. While in the states, he started shopping at healthy food stores like Whole Foods.
When his family returned to his native St. John he worked at various jobs. including stints at Spencer's Jeep Rental, Dial-A-Ride, and the now-closed Texaco gas station. He opened Forward to Your Roots in 2003.
He hopes to expand his operation from the food wagon he permanently installed, and wants to put in more tables and perhaps umbrellas.
Brathwaite got the name for Forward to Your Roots from Steel Pulse song "Back to Your Roots."
"I like to go forward," he said.
Forward to Your Roots is open for lunch until the food runs out Monday through Saturday.
To find the restaurant, turn up the road that runs between the Pine Peace basketball court, across from E&C gas station on Route 108 at the base of Jacob's ladder, and the group of Dumpsters. Forward to Your Roots sits near Sprint Courier Service.
The restaurant can be phoned at 677-0950.