Mango Tango Art Gallery on Raphune Hill unveils two shows from 5:30-8:30 p.m. on March 30. Mixed-media artist W. B. Thompson presents paintings and assemblages in "From Canvas to Cut-Outs 2012." Wood virtuoso Holland Van Gores presents turnings and sculpture in "Wondrous Wood."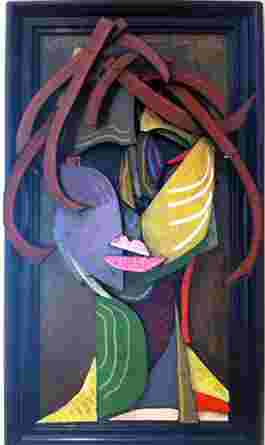 W. B. Thompson has painted on canvas and hardboard for two decades. He is represented in galleries throughout the United States. In 2008 Absolute Vodka chose him as a Virgin Islands artist and 10 Latin American artists to create an art installation entitled "Absolute Connections." The following year he created set design and build-out for "Jesus Christ Superstar" at the Pistarkle Theater on St. Thomas.
In 2010 he participated in the set design of "Sleeping Beauty Ballet" at the Reichhold Center for the Arts. His assemblage entry won the Caribbean Colour Juried Art Exhibition, Feb. 22, 2011. The talented, hard-working artist has presented solo annual shows at Mango Tango throughout those years.
In February, Thompson won first place in the 68th annual Connecticut artists Juried Exhibition at the Slater Museum, Converse Gallery. On March 3, he was part of a group show at Gallery on the Greene in Key West, Florida. In April he will participate in a group show in San Antonio, Texas, at Cappy's, a restaurant which is very special to him: Cappy's showed some of his first early work when he was a student at Trinity University. Oliver Stone purchased a Thompson painting from the eatery. Thompson captures the essence of his exuberant, textured strokes in three-dimensional wood cut-outs which he paints and attaches to hardboard. These superb works are mostly figurative, with one winning floral. The assemblage grouping is built around the showpiece "Angel," which is 64" by 68" in size. He also presents his mixed-media paintings on canvas. This grouping is built around "Golden Moment: Charlotte Amalie Harbor" which is a four foot by eight foot painting.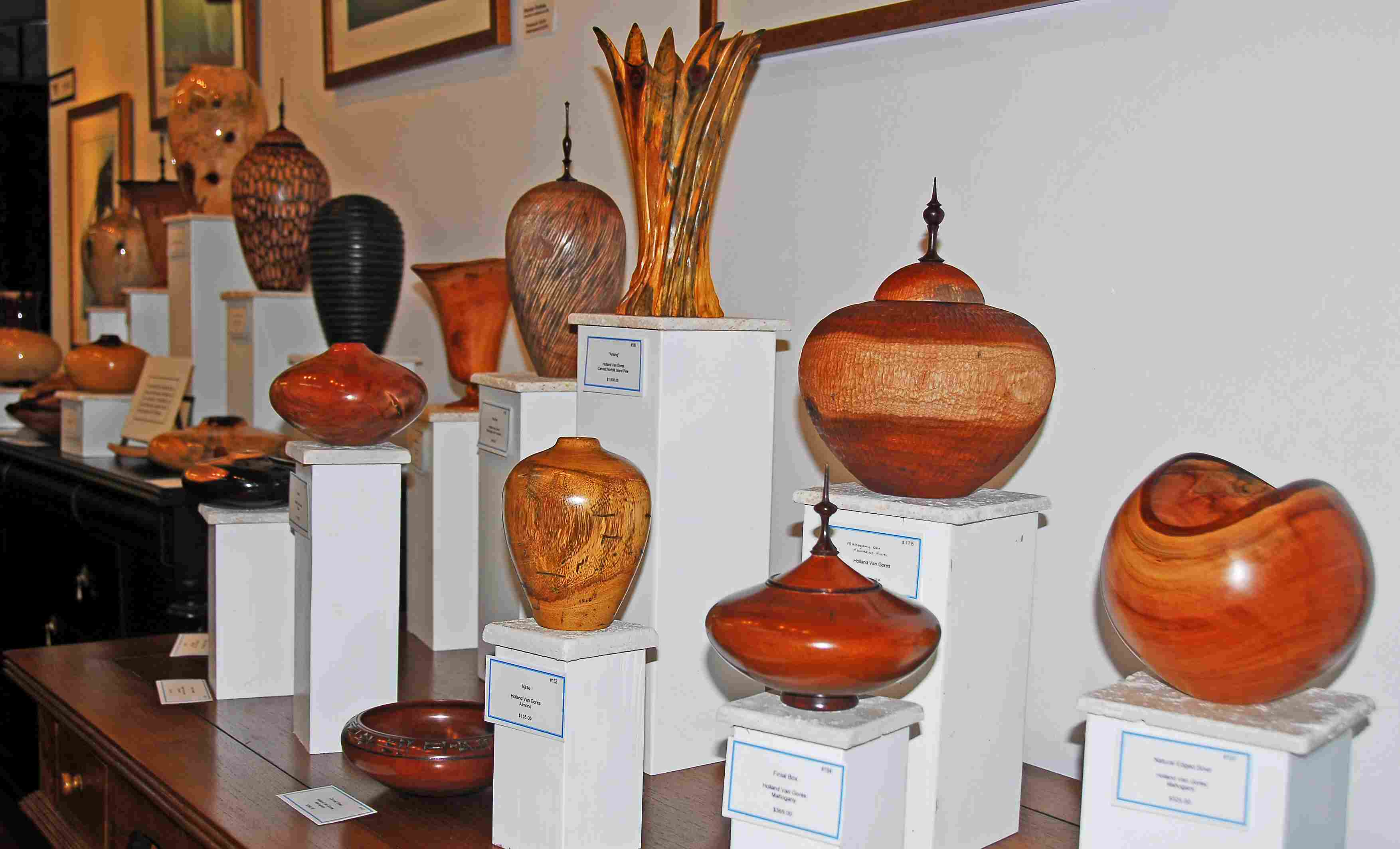 Holland Van Gores explores the beauty of wood in turnings and sculpture in found wood. He credits his mother, an artist, for teaching him to look for the beauty of nature in a limitless diversity of shapes, textures and colors. When he looks for indigenous woods, he finds an insect-eaten chunk of wood just as interesting as a beautifully grained one.
Van Gores is an established artist who seeks to redefine purpose, decoration and sculpture through wood. Discarded Norfolk pine, purple heart and mahogany become treasures in his hands, chisel and lathe. He continues creating jellyfish lamps, adding two to the current show. Whether it is a vessel, functional or abstract piece, gallery co-owner Jane Coombes observes "that each signature Van Gores work enhances the natural curves and patterns of the found wood." Van Gores adds that "it is those curves and patterns that catch my eye in the first place."
For six years Van Gores has garnered a loyal client base at Mango Tango. Two years ago he began exhibiting in Tortola at Nutmeg Designs.
The show continues for one month. For more information, call 777-3060.