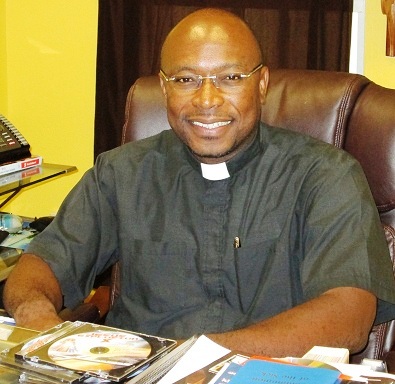 Our Lady of Mount Carmel Catholic Church in Cruz Bay is on a mission. The church would like a donation of land in the Coral Bay area so it can build another Catholic church on that side of the island.
"A lot of Catholics have difficulty coming to Cruz Bay," the Rev. Anthony Abraham said.
Since the VITRAN bus no longer runs on Sunday, those without cars have no way to get to the island's main town. Abraham also said there are many Our Lady of Mount Carmel parishioners who do make it to Cruz Bay for Sunday mass who live in the Coral Bay area.
Abraham estimated that there are more than 60 people who would be served by the new church, and said that many vacationers and seasonal people attend the church and would benefit from the convenience of a Coral Bay church.
Abraham would like the Coral Bay area land to be centrally located, but other than that, he said he's not fussy. A quarter-acre piece would do, he said.
He envisions a two-story structure with the church on the bottom level and a rectory or a church hall on the second story.
Since the development of a Coral Bay Catholic church is still in its infancy, Abraham said details like the building fund and a name for the church haven't been worked out. Abraham did say he expects St. John to have two Catholic clergy in about two years to better serve the needs of the island's residents.
There is a precedent for such donations on St. John. Way back in the early 1960s, William Callahan gave the Catholic Church the land and put up the building. Our Lady of Mount Carmel Church was officially blessed on Aug. 12, 1962.
Abraham has been on St. John for more than a year. He initially served as the church's administrator but on Aug. 19 was named its pastor.
"It's more permanent," he said of his new role, adding that the job hadn't really changed.
Abraham, 41, was no stranger to Our Lady of Mount Carmel. He was a seminarian at the church, and was ordained a deacon there in 2007. He was ordained as a priest at Sts. Peter and Paul Cathedral on St. Thomas on Aug. 4, 2008.
He was at loose ends in his native Trinidad when the call came that made him return to the Catholic Church. He was working with Trinidad's poorest residents when a chance meeting with the Rev. Michael Kosak of St. Ann's Catholic Church on St. Croix introduced him to the Virgin Islands.
"I worked with the youth," he said of his sojourn on St. Croix.
While on a visit back to Trinidad to visit his sister, he met the rector of St. John Vianney Seminary. He was accepted to the seminary, located in Mount Saint Benedict, and returned to Trinidad for his studies.
"But I really felt God had called me to serve the people of the Virgin Islands," he said.
After his ordination, he served as associate pastor at Sts. Peter and Paul before moving on to the administrator's post at Holy Family Catholic Church in Anna's Retreat, St. Thomas.
In addition to building the new church, Abraham has plenty of ideas for expanding Our Lady of Mount Carmel's outreach programs. He's worked on developing the church's youth program, but the island's homeless population is a big concern.
He's already got the church's soup kitchen running on Mondays and Fridays. Since Catholic Charities has a Tuesday lunch program operated at Nazareth Lutheran Church, the island's homeless have an opportunity to get three lunches a week.
According to Abraham, vacation villa guests donate their unneeded food to the soup kitchen. It also gets the leftovers from Starfish Market's takeout counter. Abraham said visitors often come by to help serve meals.
The island's homeless population hails mostly from the mainland, Abraham said. And it's a population that's growing and needs more services. Abraham is working on plans for a shower to serve those without homes, and envisions that someday the island would have a shelter.
"So many people are just a paycheck away from being homeless," he pointed out.
If you can help Our Lady of Mount Carmel by donating a piece of Coral Bay area land, call Abraham at 776-6339. For more on the church, visit www. http://www.catholicvi.com/olmc/