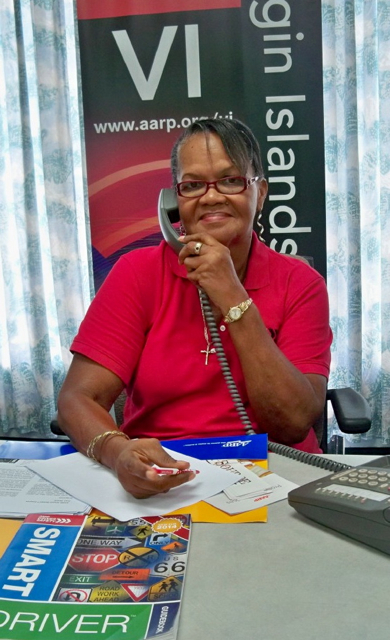 Pot holes, inadequate street lighting and lack of road striping makes driving at night difficult for folks on St. Croix.
Anastasia M. Doward, state coordinator of AARP Driver Safety, is doing her part to help senior citizens overcome those problems and keep them safe and smart on the road.
Doward coordinates the AARP Smart Driver course in the territory. It is the nation's first and largest refresher course designed specifically for senior drivers.
"We teach a refresher on awareness and how to practice defensive driving," Doward said.
Some senior citizens got their licenses 50 or 60 years ago, she said, and a lot of driving conditions and safe practices have changed since then.
"There was less traffic, only two lane roads, less traffic lights, fewer cars, no cell phones and not as many distractions," Doward said.
In January a new updated and enhanced curriculum will be taught.
"AARP really believes in good training," Doward said.
She was in Las Vegas in mid-September for three days training for the new curriculum. She coordinates six instructors and two trainers that she is currently training in the new program.
"They have changed the curriculum, keeping it fresh," Doward said. "There are more tips and strategies and what to look out for as we age. Let's face it, our vision and reactions aren't as good as we age."
She said there is a section in the course on when it is time to stop driving.
The four-hour course is open to the public at the AARP office in Estate Diamond. The cost is $12 for AARP members and $14 for non members.
In 2000 Doward's cousin, Julia Pankey, who was state coordinator at the time, encouraged her to take the Smart Driver Course and then to become an instructor.
"I thoroughly enjoyed every aspect of the driving course," Doward said.
Stateside participants get a certificate for a discount on their car insurance when they complete the course. That doesn't apply to the Virgin Islands and Doward said they have been trying for 10 years to get a bill passed in the V.I. Legislature for a discount for locals.
"There needs to be an incentive for people to take the course," Doward said."They ask what's in it for me?"
She said she volunteers at AARP because she believes in it and likes having something to do, giving her a reason to get up go in the morning.
"I believe staying active and doing things for others keeps you young and healthy," Doward said.
She said her mother, Alma Doward, was very involved in church and the community and encouraged her children to become involved and give back the community.
When Doward's two sons were young she was a Cub Scout den mother, and she has always been active at St. Patrick's Church. She loves to sing and is in St. Patrick's choir and in the Millennium Choir. She said she has been involved with Our Town Frederiksted "forever," and was on the board of directors for three terms. And she is one of the founders and still involved in the St. Patrick's High School Alumni fundraising organization.
Doward, 69-years-old, was born and raised in Frederiksted. She graduated from St. Patrick's Catholic High School in 1963. She worked for the Virgin Islands Department of Tourism for 33 years, starting out as a clerk typist and working up to administrative officer before retiring in 1998.
"I really enjoyed my job at Tourism," Doward said.
From 1996 to 2000 she ran Dowie's Restaurant in Frederiksted with her sister Daphne Davis. She said she loves to cook and it gave her joy to offer authentic Crucian food. Her specialties are roast pork, souse and red pea soup.
"As long as I'm healthy I'll be volunteering and doing something to keep busy," Doward said.
AARP is a nonprofit, nonpartisan organization with a membership of more than 37 million. It helps people 50 and older have independence, choice and control in ways that are beneficial to them and society as a whole.
Those interested in taking the Smart Driver course can call 1-340-713-2002 to sign up.