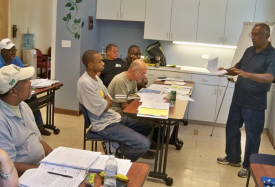 More than a year after Hovensa shut down its refinery on St. Croix, a dozen workers were able to get on the road to new jobs thanks to a federal grant and the University of the Virgin Islands.
With help from UVI Community Engagement and Lifelong Learning (UVICELL), the 12 took a class in the CELL facility in Frederiksted to get certificates in process technology.
"They should be able to get jobs anywhere in the world," Tony Bhola, instructor and retired operations manager at Hovensa, said after they graduated Friday.
A process operator controls and oversees pumps, compressors, furnaces and towers at refineries and elsewhere. Processors must have the certificate to compete and qualify for jobs, Bhola added.
The students came to the class with a certain amount of skills; most of them were Hovensa processors wanting to get a certificate. The students said you may have years of experience from Hovensa but employers want to see the certificate.
Julio Comacho, 43, a process operator for the last four years, said he wanted to increase his knowledge about things like product quality and safety. He said he wished the class was a little longer. He wants to stay on St. Croix, but he will see what happens in the next three months.
Kerol Bruney, 52, a process operator for 20 years, said it was a great refresher course for him.
"I got a few new ideas," Bruney, said. "This was a good opportunity for me to get the certificate. I may have worked for 20 years as a processor, but I must have something on paper." He said he is keeping his possibilities open.
Alvin Clement, 53, a process operator for 22 years, said he enjoyed the class and the technical expertise of the instructors was great.
"They encouraged participation and gave a lot of information," Clement said. "It's an opportunity to showcase yourself when you have that certificate."
He said he had hoped to work at Hovensa a while longer, but feels OK because he is retired from the Navy and he has degrees he can fall back on.
"Diversity is strength," Clement said. "I have no intention of leaving."
Angel Swindell, CELL program specialist, said this is the first class they have held.
There are five instructors that teach the four week class totaling 87 hours. She added it's like a technician's boot camp. On completion the students become process technicians.
Ilene Garner, program director at UVI, said the fast track Emergency Grant from the U.S. Department of Labor is a per person grant providing $6,000 for each student.
Eric Douglas, instructor and director of process technology at UVI, said the goal is to have people pass and to become more marketable.
Gary M. Mares, instructor and operations consultant at Virgin Isles Technology, said the process operators make decent wages and were making up to $60,000 a year at Hovensa.