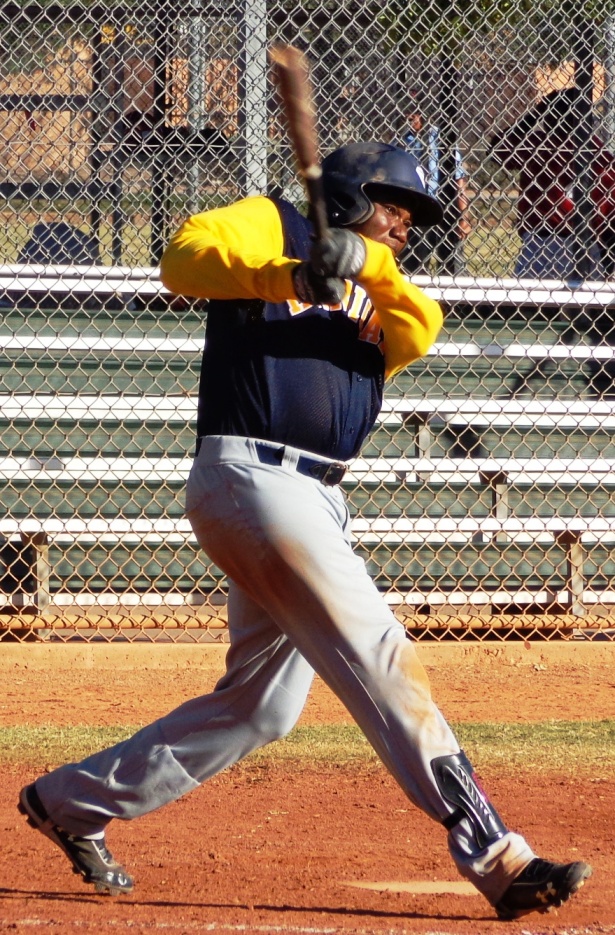 The Virgin Islands 45 Plus Hurricanes, after losing their last two games, swept a must win double-header Thursday to cement their spot in the 2013 Men's Senior Baseball League World Series playoffs in Mesa, Ariz.. The Islanders beat the Armstrong Sluggers 6-0 in game one and then rallied late to pull out game two against the North County Sharks, 9-6.
Game one: Hurricanes 6, Sluggers 0
The Hurricanes turned to their most efficient pitcher in this year's tournament, Cruz Soto, for game one on Thursday and once again he delivered. Soto pitched nine strong innings, scattering just four hits in blanking the Sluggers, 6-0.
Soto got all the runs he would need in the third inning when his offense, led by Frank Thomas' three-run triple, plated five runs to take a 5-0 lead.
Warren Brooks wrapped up the Canes' scoring in the bottom of the eighth with an in-the-park homer to deep right-center.
Top batters for the 45 Plus Hurricanes were Thomas (1 for 3 with three RBIs), Brooks (3 for 3 with a homerun and one RBI), Frankie Braithwaite (1 for 2 with one RBI) and Steve Parris (2 for 4).
Game two: Hurricanes 9, NC Sharks 6
After struggling in the early stages of game two, the Hurricanes went to the seventh trailing 6-3 and their hopes of making the 2013 playoffs slowly slipping away. It was here that they came alive, however, and rallied to take the lead for good.
Kai Schjang led off the inning with a triple and then scored on his brother Guido Schjang's single to bring the Canes one run closer at 6-4. A walk drawn by Art Smith saw the Canes with runners on first and second with just one out.
Eustace Davis then pulled a ball just inside the third base bag and into the left field corner for a two-run double that tied the game at six. Davis then scored on a Parris RBI triple to give the Canes the lead for good at 7-6.
Enrique Soto then also tripled to score Parris then Soto scored on Frank Thomas' double to give the Hurricanes a 9-6 lead.
The Canes then turn the ball over to Cruz Soto, who came on in relief of Ken Smith to preserve the victory. Smith had gotten into trouble in the top of the eighth and the Hurricanes manager, Reginald Wilkerson, wasted little time in pulling out the hook and turning the ball over to Soto who did not disappoint. Smith did, however, pick up the win in relief of Malcolm McGregor earlier in the game.
Top batters for the Canes in game two were Steve Parris 2 for 4 with two RBIs, Cruz Soto, 3 for 4, Eustave Davis 2 for 2 with two RBIs, and Guido Schjang was 2 for 4.