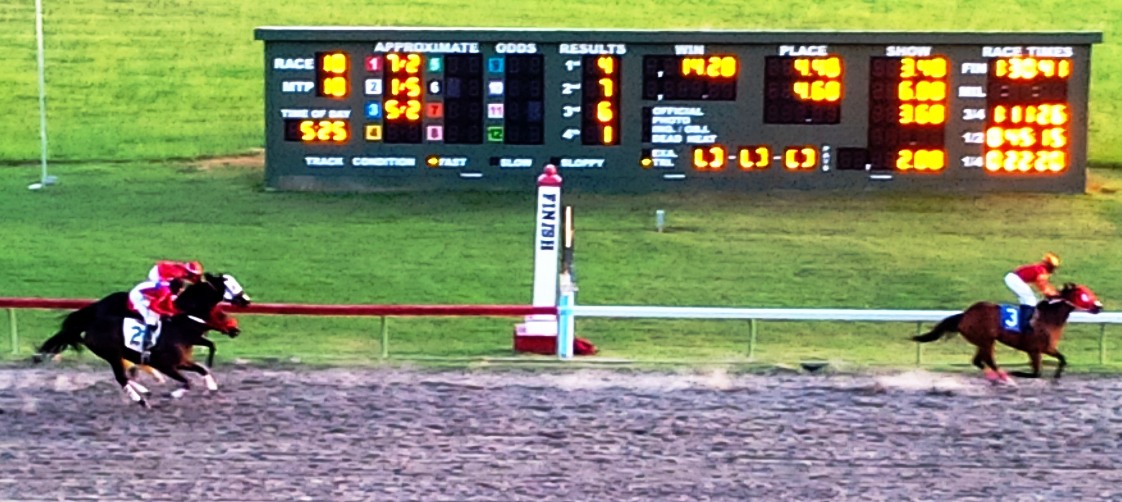 Slevin looked to be back in top form as he took TRAXCO's featured 7-1/2 furlongs 10th race on Sunday at the Randall "Doc" James racetrack by some six lengths in a time of 1:30.2, a second off of the track record.
It was easily one of the best races he has recently run. Slevin came to the territory with high expectations as one of the most expensive thoroughbreds to grace our shores; however, he has been inconsistent and has lost to horses that should not be in his class. Maybe this race was a sign that the real Slevin is back.
The expected four-horse field was trimmed with the scratch of current St. Croix champ Big D, but that defection did not dampen the excitement in the race as the crowd realized that they may be witness to something special.
With the field now at just three entries, Slevin and stable mate Desert Storm sandwiched Simon Sez Run in the gates. As if shot from a canon, Desert Storm darted to the front at the break and quickly opened up four lengths on Simon Sez Run, in second, with Slevin another length back.
The way Desert Storm was winging it on the front end it would seem as if James Bates, owner of Slevin and Desert Storm, had ideas on shattering the record. As the field approached the far turn, the trailing Slevin began to pick up the pace, quickly collaring Simon Sez Run around the turn and then setting his site on his stable mate, who was now visibly beginning to tire from the efforts of the fast early pace.
At the top of the stretch, jockey Winston Hurst took Slevin to the outside of Desert Storm and ran by on his way to the wire. With the crowd on its feet, some urging him on as if they were actually in his saddle, Slevin drew away from his rivals with every stride. He was still pulling away when he crossed the finish line, stopping the clock at 1:30.2, one second shy of a new track record.
The race for second was also a good one, because although Slevin got by a tiring Desert Storm, the latter battled Simon Sez Run all the way to the wire and was only beaten by a nose.
The rest of the day's results:
Race 1 4-1/2 F Classes N-4, Jockey
Time: 55.3
1. Five After, W. Hurst
2. Indy's Gem, C. Soto, Jr.
3. Gold Rush, M. Sanchez
Race 2 7F N-3 (M/F) & (C/G), Jockey
Time: 1:31.0
1. JPD Yung, C. Soto, Jr.
2. Miss Evadney's Pride, S. Ortiz
3. Mother Mel, E. Barnes
Race 3 6F Class I-5(M/F) & I-6(C/G), Jockey
Time: 1:14.0
1. Mechanical Force, J. Hernandez
2. The Andreas Spirit, A. Hernandez
3. Clutch, E. Barnes
Race 4 7F N-1, N-2, (M/F) & (C/G), Jockey
Time: 1:28.1
1. Fast Return, J. Hernandez
2. Creation Rebel, E. Barnes
3. Cruzan Emerald, C. Soto, Jr.
Race 5 7-1/2F Class I-5(C/G), Jockey
Time: 1:33.2
1. Passe Havae, W. Hurst
2. El Hombre Grande, J. Guadelupe
3. Turn to Win, E. Barnes
Race 6 7F I-4, (M/F), Jockey
Time: 1:27.0
1. Peacephilly, C. Soto, Jr.
2. Split the Aces, A. Hernandez
3. My Ocean Beauty, E. Barnes
Race 7 7F Class I-4, (C/G), Jockey
Time: 1:26.4
1. Fly In the Soup, S. Ortiz
2. Costly Approval, A. Claudio
3. Kid from Camerio, A. Hernandez
Race 8 7 F I-1-2-3, (M/F), Jockey
Time: 1:26.1
1. Imperial Award, J. Hernandez
2. Extra Dinner, W. Hurst
3. Leggy blonde, S. Ortiz
Race 9 7-1/2F Class I-2&3, (C/G), Jockey
Time: 1:33.3
1. Remarkable Storm, A. Hernandez
2. Blast of Macho, M. Sanchez
3. El Real Madrid, J. Hernandez