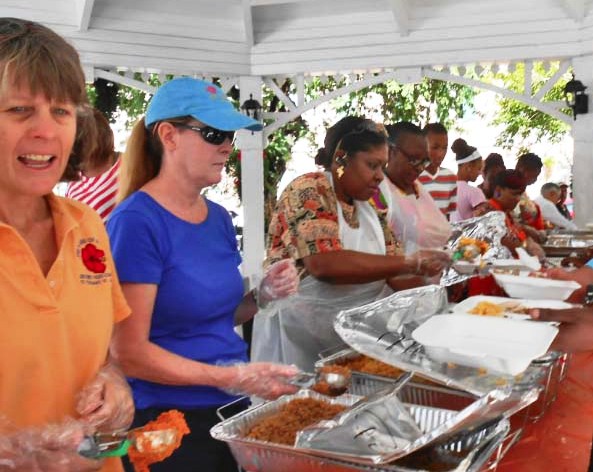 From one end of Charlotte Amalie to the other the spirit of giving – in one case an international spirit – was in the air Thursday, along with some raindrops which didn't seem to affect the holiday at all. Without missing a beat, Francine Penn-Scipio simply moved her annual Emancipation Garden feast from outside to the covered gazebo.
At the other end of town a bevy of Ivanna Eudora Kean High School students dressed in bright red Rays shirts were industriously dishing out the meal that the Caribe Tradewinds Lodge 589 and Pearls of the V.I. 585 have been serving for the last 18 years, which experience dictated the tents they served the welcome hot meal under.
And now to the international spirit. A couple folks passing in front of the Salvation Army Chapel on Main Street on Thursday morning must have stopped to check their hearing as "Rudolf Med Den Rode Tud," rang out in the pure, young voices of 15 Danish students. (OK, it's "Rudolph the Red-Nosed Reindeer" to you.)
Led by Claus Marquat, the students are from Hojskolendk, a Danish traveling school that has been making regular trips to the territory since 2010.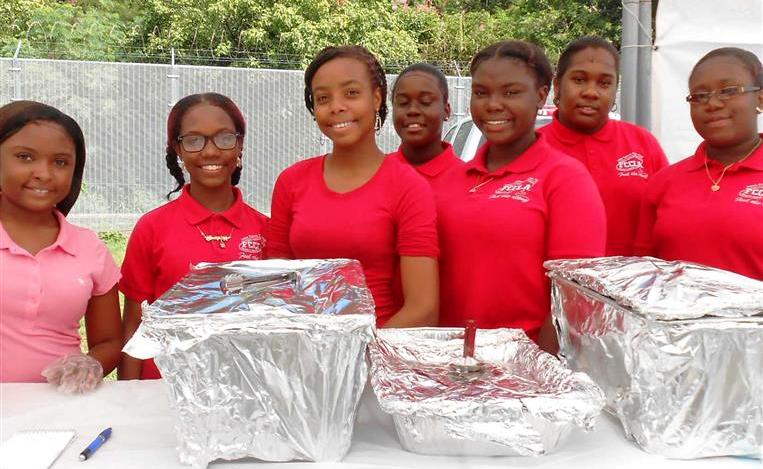 The students' high spirits and joy in the moment proved irresistible for the crowd at the Salvation Army's annual Thanksgiving dinner. Everybody joined in, the multitude of servers, the guests and Salvation Army stalwarts, board chairman Tom Bolt and his wife Jenny. Even George Goodwin, chief chef for these last 30 or so years, relinquished his carving station to sing a few notes as Captains Valerie and Daniel Hazeldine, Salvation Army regional coordinators, bustled around their very merry gathering.
A couple years ago, another group of Danish students did a singing carwash at the Fort Christian parking lot to benefit Kidscope, a not-for-profit child-advocacy center that serves families from St. Thomas and St. John.
Marquat said the students, who sang together like pros, didn't know one another before beginning the trip two weeks ago. Marquat said they don't have a holiday that approximates Thanksgiving, so they compromised on Michael Jackson's "We are the World." He said the students typically don't know one another beforehand. And that's part of the fun.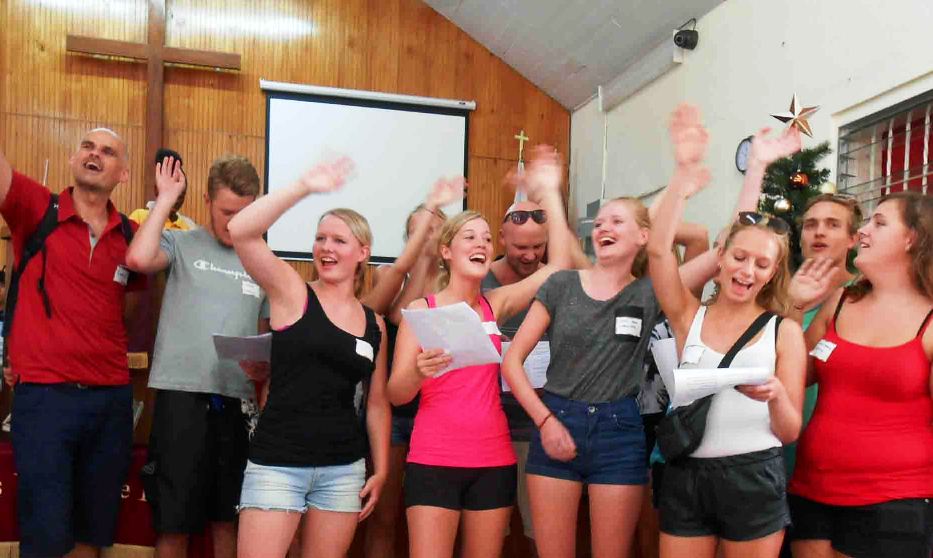 And then, just for fun, the students sang "Soren Banjoumus," which Marquat, translated with a sly smile as Banjo Mouse, while not elaborating on the lyrics. No matter to the crowd and the small army of servers – they just merrily kept placing plates of turkey, ham, potato stuffing, macaroni and cheese, mashed potatoes, green beans, rolls, chocolate cake and pumpkin pie to the happy crowd. The mood was set.
Teliyah Pierre, a Kean High junior, spoke for her fellow students at the Carib Tradewinds Lodge meal. "We've been doing this for two years now," she said. "It's to give back to the community. And it's fun."
Lodge member Irving Mason, a Thanksgiving veteran, said it's not just for the homeless. "In fact," he said, "we don't use that term. We say those less fortunate. Lots of times it's older people who no longer have anyone at home to share the holiday with."
Mason's statement was borne out by the guests at all the mini-banquets Thursday. At the Penn-Scipio meal, which Francine Penn-Scipio has been serving for years, there was even a smattering of visitors sitting on benches in the park mixed in with a couple sales people from Main Street stores enjoying a welcome lunch. And there were many seniors happily chatting with one another under the lignum vitae trees.
Turns out the rain just can't stop a well-trimmed turkey.