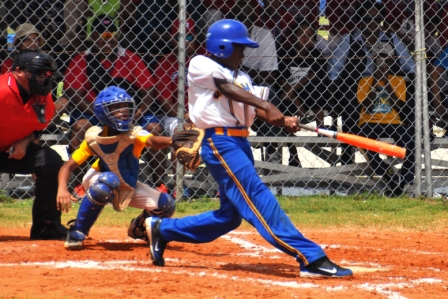 The Bahamas host team from Grand Bahama defeated the Virgin Islands Major Little League squad, 3-2, on Tuesday in the 2014 Latin American Regional Major Little League tournament in Freeport.
The game that started on Monday had to be continued on Tuesday due to rain that made the field unplayable Monday afternoon. Mekoi Malone had two hits and scored the only two runs for the V.I. team. Malone scored on a RBI single by Najer Victor in the first inning. Malone later scored on a sacrifice fly from Alexander McFarlane in the fifth inning.
Grand Bahama scored one run in the first inning, another in the third inning and the game winning run in the fifth. Robin Haven scored the first two runs for the Bahamas and Derrinys Russell scored the game winning run off of a single from Morgan Saunders. Saunders was the winning pitcher. He held the V.I. to just four hits for the game.
The V.I. used four pitchers in the game, Ryan President, K'Hoy Henley, Malone and Bryan Feliz. Feliz suffered the loss for the V.I.
The V.I. team is scheduled play Bonaire at 11 a.m. Wednesday to close out pool play. There are two pools in the tournament, the winner of each pool advances to the semifinals along with the second place teams. The semifinals are scheduled for Thursday.