A pair of recent ship accidents in and around Current Cut, a narrow channel between the east end of St. Thomas and Great St. James, illustrate the threat shipping can pose to the region's marine ecosystem, according to Drew Russo, a founding member of the St. Thomas East End Reserve.
STEER seeks to minimize pollution entering Great Bay, among other locations. Great Bay, home to the Ritz Carlton resort hotel, is adjacent to Current Cut.
On July 3, a small red pleasure craft crashed on the Current Cut rocks and flipped onto its hull. None of the craft's seven passengers were killed, but they were treated at the Schneider Regional Medical Center on St. Thomas, U.S. Coast Guard spokesman Ricardo Castrodad said. Castrodad said he believed the accident happened between 3 and 4 a.m.
Eight days later, the Panamanian freighter Sabre Spirit ran aground on the Current Cut rocks. The freighter was in transit from Tortola to Charlotte Amalie. Its crew radioed the Coast Guard they were grounded and then went on the airwaves soon after to say the rising tide had lifted them off the rocks.
No injuries were reported among the freighter's crew of 12, although the boat itself wasn't so lucky. It sustained moderate hull damage and temporary repairs were needed for the boat to limp into Crown Bay.
According to Russo, the incidents with the two boats created the potential for environmental harm, particularly an oil spill and physical damage to coral.
Current Cut is a relatively narrow area. If a large vessel's oil tank ruptured, the results could be catastrophic, Russo said.
As its names suggests, Current Cut is home to a strong current. Fuel leaking from a crashed or grounded boat could be carried to surrounding areas, Russo said.
A boat crash or grounding also could damage the coral, the hull crushing it or cause an abrasion by traveling over it.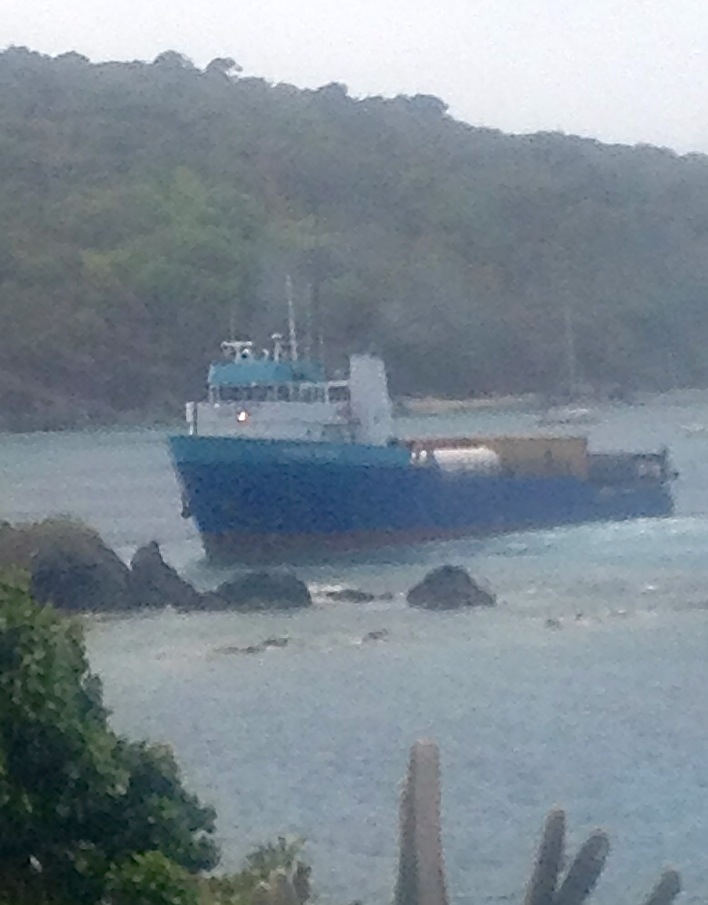 Current Cut is inside a nature reserve, meant to protect the beauty and health of the ecosystem, Russo said.
"Coral is part of that area's ecosystem" he said, and needs to be preserved. Coral is the reason "why we live here and why people come" to tour the region.
A single light in the middle of Current Cut's channel illuminates the narrow passageway. Russo said lights on St. Thomas and Great St. James could help reduce nighttime accidents, such as the crash of the red pleasure craft. There is less excuse for hitting the rocks or coral during the day, as Sabre Spirit did.
Current Cut is heavily trafficked by all kinds of boats, Russo said, and the territory is lucky things haven't been worse.