The V.I. Taxicab Commission needs several changes to the territory's laws to more effectively regulate taxis in the territory, its executive director, Judith Wheatley, said during budget hearings Wednesday.
Sen. Donald Cole asked about the difference between limousine service and taxis and the VITCC's role in determining if a business was really a taxi service or a limousine service. Wheatley said legislation states that limousines are no longer regulated by VITCC.
"What agency is responsible for regulating limousines?" Cole asked. Wheatley said she did not know.
Sen. Myron Jackson asked if VITCC regulates dollar safaris and gypsy cabs.
"VITCC regulates the safaris because they are legally licensed to do business. However, gypsy cabs are not regulated because it is an illegal form of business," Wheatley said.
Jackson and other senators said they had been approached with complaints about taxis overcharging and about not getting satisfaction through the VITCC.
Wheatley said some St. Thomas taxi drivers have tried to charge for a private transfer – a higher, private service rate – whenever the taxi is less than completely full.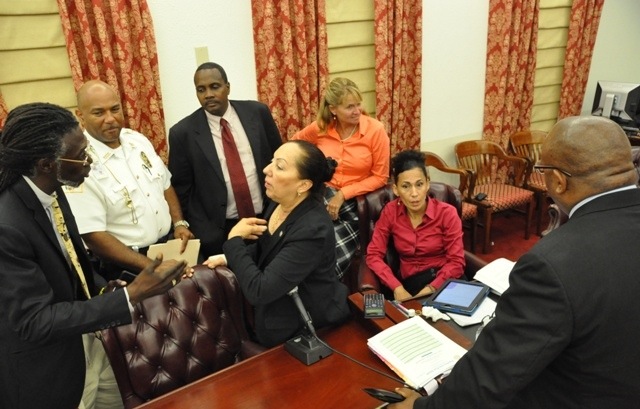 "For example, we had a dispute because a driver had nine passengers at Crown Bay" who the driver charged for a full 18 seats. "I said, 'Are you out of your mind? You can't do that," Wheatley said. "He has not given a refund yet," she said.
The taxis at the airport and at Cruz Bay are dispatched by a dispatcher hired by the V.I. Port Authority. "We are reaching out to the Port Authority for help" with this, Wheatley said.
Wheatley presented the commission's budget request of $626,489, all of which she said is from the Taxi License Fund. The Taxi License Fund generates revenue through issuing business licenses, release of liens, recording of liens, publications, citations and miscellaneous forms.
As of Aug. 1, Fiscal Year 2014 expenses totaled $33,000; salary and fringe benefits are $390,000; and revenues are $341,000. This is a decrease from FY13 when expenses were $46,000; salary and fringe benefits $392,000; and revenue was $466,000, according to Wheatley.
Graham asked is the VITCC had sufficient funds to finish the year. Wheatley said they do.
The Public Employees Relations Board and the Virgin Islands Labor Management Council also shared their budget for the upcoming fiscal year at Wednesday's hearing.
PERB provides mediation and arbitration services between government employees and management, as well as training for mediators, employees, managers and other interested people. A dispute with a government employer goes first to PERB for a quasi-judicial hearing and can then be appealed to the V.I. Superior Court. It also certifies and decertifies union representation based upon union votes.
PERB's budget request of $1.1 million is essentially unchanged from last year. Of that, $576,000 is for wages and salaries; $245,000 is for fringe benefits, Social Security and Medicare taxes; $5,000 for capital outlays; other services and charges are budgeted at $244,000; and utilities at $25,000.
The V.I. Labor Management Council is requesting a budget total of $175,000 – with $99,000 for wages and salaries; benefits, Social Security and Medicare taxes a $16,000; rent at $29,000; and professional services and training at $8,000.
No votes were taken at the oversight hearing. The final budget amounts will be determined during markup hearings after all the agencies have presented their budgets.