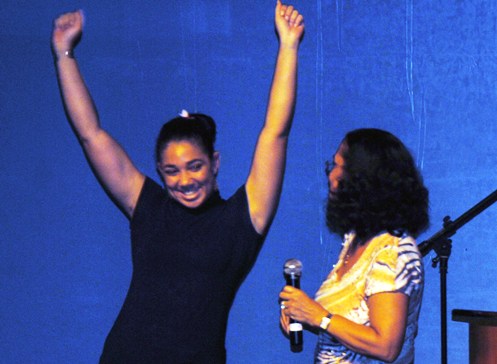 Reichhold Center for the Arts announced its 2014-15 season lineup Thursday evening at the St. Thomas/St. John Chamber of Commerce Business After Hours to a full house of community members.
University of the Virgin Islands faculty, students and administrators attended, as well as local senators and hopefuls, business owners and professionals. After introductions and gratitude expressed to Reichhold Center's season sponsors, Ian Turnbull, marketing director for the center, introduced a video reel featuring excerpts of each of the seven acts coming this season.
While this season does not cover quite so wide a cultural range as have previous years, the lineup does include shows for all ages.
Tessanne Chin and Pressure open the season with a night of reggae on Oct. 18. Jamaican-born Chin won season five of NBC's "The Voice," and every Virgin Islander knows native son Pressure's "VI Nice."
"An Evening with Natalie Cole" on Nov. 1 will feature older favorites like "This Will BE," as well as her newer releases.
The new year will ring in with 10-time Grammy winner Kenneth "Babyface" Edmonds on Jan. 17, 2015.
Kirk Franklin: A Gospel Explosion takes the stage on Feb. 7. Known for his work in the past leading large urban gospel choirs like The Family and God's Property, Kirklin is also now host and executive producer of BET's "Sunday Best."
Spencers: Theatre of Illusion, a family-friendly illusion show in the style of David Copperfield, will perform on March 7 and 8.
Dzul Dance: Mexico Maya will dazzle audiences with a fusion of acrobatics, dance and aerial arts on March 21.
The season will wrap up with an R&B finale featuring Jeffrey Osborne and Freddy Jackson on May 23.
The acts announced for this upcoming season were met with cheers and applause, and with an exuberant audience singing along with the six vocal acts in the video reel. As UVI President David Hall said, "We need shows that wow people," echoing UVI's "WOW" customer service campaign.
In addition to revealing the new season, Turnbull debuted the newly redesigned Reichhold Center website. Mitchell Neeves, vice president of Institutional Advancement at UVI, announced the university's investment of $1.5 million in the center.
Although neither Neeves nor Hall gave details of specific allocations of the funds, Hall called it a "rebirth of the Reichhold Center" and indicated that at least part of the monies were to make the center "more accommodating and safer."
Business After Hours concluded with a raffle drawing for four door prizes of two tickets each to Tessane and Pressure, An Evening with Natalie Cole, Spencers: Theatre of Illusion and Kenneth Babyface Edmonds. One lucky attendee, Amber Knight, also won the 50/50 cash pot of $274.
For more information on the 2014-15 season, go to Reichhold Center online at www.reichholdcenter.com or contact 340-693-1559. Current season subscribers can order for the new season now, but general ticket sales will be available online on Sept. 22.