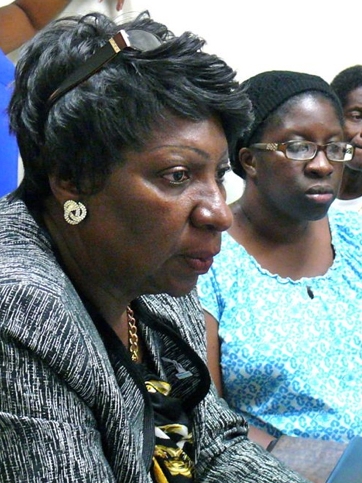 The V.I. Supreme Court declared Sen. Alicia "Chucky" Hansen's tax convictions render her "ineligible to serve" in the next Legislature and ordered her name to be removed from the ballot, overturning the V.I. Supervisor of Elections and V.I. Superior Court, in a decision published Thursday.
The ruling is a victory for St. Croix Board of Elections Chair Adelbert Bryan, who brought suit to remove Hansen from the ballot and who has been a party to or supporter of several similar efforts to have Hansen declared ineligible.
Hansen could not be reached for comment as of 5 p.m. Thursday.
Hansen was convicted in 2009 of three counts of willful failure to file tax returns, after a long investigation related to improper influence and public corruption in the handling of a government sewer contract.
Former government officials Ohanio Harris, Ashley Andrews and Campbell Malone were sentenced to prison for their role in the scandal. Hansen was initially charged with conspiracy, fraud, accepting a bribe and conflict of interest violations. Several of the charges were dropped prior to her trial, and a jury acquitted her of the conflict of interest charge (See related links below). She was later convicted and sentenced to probation for the three much less serious misdemeanor offenses of intentional failure to file a tax return.
The Organic Act of 1954, which establishes a sort of legal constitution for the territory, forbids anyone on parole or probation for a felony or for a conviction of a crime of moral turpitude from exercising the right to vote or run for office. All the court and administrative hearings on Hansen's eligibility have hinged upon whether Hansen's convictions amounted to crimes of moral turpitude. The laws she was convicted of breaking do not say "turpitude."
In 2011, Senate candidate Michael Springer unsuccessfully petitioned the St. Croix Board of Elections to declare Hansen ineligible for the office. But the board determined Hansen to be eligible, relying in part on an opinion issued by Attorney General Vincent Frazer which concluded that nothing in V.I. law bars someone from holding office when convicted of a misdemeanor. In 2012, V.I. Action Group unsuccessfully again sought to have her declared ineligible, but the V.I. Supervisor of Elections and V.I. Superior Court both ruled in Hansen's favor, citing similar reasons and the absence of any legal authority saying her convictions amounted specifically to "moral turpitude."
The V.I. Supreme Court
Hansen was convicted of "willful failure to file an income tax return for the 2002, 2003 and 2004 tax years. all of which were misdemeanors."
In May of this year, Bryan wrote Supervisor of Elections Caroline Fawkes, asking her to review Hansen's nomination papers for this fall's senatorial election. Fawkes determined Hansen was qualified. Bryan petitioned Superior Court, saying Fawkes erred because her three misdemeanor convictions constitute "crimes involving moral turpitude."
Hansen and Fawkes both moved to dismiss, saying the court lacked subject matter jurisdiction. Fawkes also moved to dismiss. Both argued the convictions did not meet the definition of "crimes of moral turpitude." Fawkes argued the law is ambiguous, but also gives her the authority to make the final determination.
Hansen had argued the doctrine of separation of powers deprived the court of jurisdiction because the Organic Act made it sole judge of the elections and qualifications of its members. But the Supreme Court ruled the Legislature only judges itself, not candidates for future elections.
Hansen also argued Bryan lacked standing because he could not show he was injured. The court ruled that argument was waived by several court and official actions.
In an opinion signed by Chief Justice Rhys Hodge, the court said letting Fawkes interpret the law would mean that it would have to affirm the opposite determination from a future supervisor of elections. The justices said the question was too important to be left subject to change based on who is supervisor of Elections.
The Superior Court upheld Fawkes decision, partly because definitions of turpitude "tend to be vague and amorphous," justifying giving the supervisor wide sway in applying the statute.
The Supreme Court, however, found case law to support declaring Hansen's tax convictions to constitute moral turpitude, citing a 1951 U.S. Supreme Court case, Jordan v. De George, which held that a crime with fraud involved also involves moral turpitude. Hansen was not explicitly convicted of fraud. But the justices cited a 2005 Ninth Circuit opinion that even if a law does not explicitly mention intent to defraud, "a crime nevertheless may involve moral turpitude if such intent is implicit in the nature of the crime."
While Hansen was convicted of a lesser, misdemeanor offense of failure to file, the "willful" part of the legal definition creates fraudulent intent under precedent. Hence moral turpitude is involved in the willful failure to file income tax returns, the justices concluded.
The justices concluded that "pursuant to binding United States Supreme Court precedent, Hansen's conviction for willful failure to file tax returns is a "crime involving moral turpitude" that renders her ineligible to serve in the 31st Legislature."
There is no automatic right of appeal from the V.I. Supreme Court, so this would appear to be the final legal ruling in this matter.