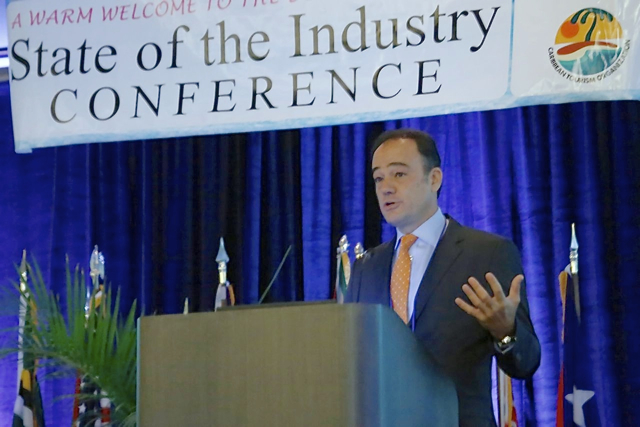 In a rapidly changing tourism industry, there is a greater need to provide an "authentic experience" and put politics aside, longtime tourism professional Alex Zozaya told an audience of more than 200 tourism representatives at the 2014 State of the Industry Conference on St. Thomas.
Zozaya, chief executive officer of the Apple Leisure Group, one of the largest and fastest-growing vacation operators in the region, was the keynote speaker in the 2014 conference put together by the Caribbean Tourism Organization.
Politics and bureaucracy can slow down progress in the tourism industry, according to Zozaya.
"Start running it like a business," he said. "Without the objective to gain votes, you need to gain prosperity and well-being for your people."
Visitor access is an important talking point, according to Zozaya. Visa requirement is one of the main factors used by vacationers in determining places to visit. He said travelers are more likely to choose places with less restrictive entry requirements than those for which they need to apply for visas.
Zozaya also emphasized the need for consistent, longterm policies that benefit the industry, such as competitive labor laws, and policies that encourage foreign investment and facilitate trade.
"Be pragmatic, be data-driven, be way more technical," said Zozaya, adding that in what he considered an ideal world, progress goes much faster if tourism professionals did not have to worry about politics and its consequences.
Simon Jones-Hendrickson, dean of the University of the Virgin Islands College of Liberal Arts and Sciences and one of the presenters in the conference, agreed.
"The tourism product should transcend any political party," said Jones-Hendrickson. "This partnership between the private and public sector should survive even if the government changes."
The 2014 conference adopted the theme "Realizing the Vision: Positioning Caribbean Tourism for Major Change." For three days, about 300 tour operators, hotel owners, policymakers and representatives from the tourism departments of governments in the region gathered on St. Thomas, looking at industry trends and ways of moving forward.
"We're really looking at change," said Beverly Nicholson-Doty., V.I. commissioner of Tourism and outgoing CTO chairwoman. "What are the things that we need to do as an industry to really invigorate the industry? What are the things that are on the cutting edge, and what do we need to do to keep us relevant?"
Nicholson-Doty will be succeeded at the helm of the CTO by Barbados Tourism Minister Richard Sealy.
Being proactive is key in keeping up with changing industry, according to Zozaya, not just in tapping emerging markets such as Chile, Peru, Brazil, Russia and China. The Caribbean cannot underestimate that one asset it has: proximity to the "gigantic" market coming out of the United States.
Of the passengers on his company's charters in the last two years, Zozaya said, 40 percent were Americans who then only traveled outside the United States for the first time.
"The potential coming from the United States is by far the most important one," he said. "Any country outside of this region would kill, would give an arm, to be as close to the United States as the Caribbean is."
One message that resonated among the attendees was the need to offer an "authentic experience" to vacationers that would make each Caribbean island stand out. The region cannot sell itself solely as a sun-and-sand destination, according to Zozaya, and tourism initiatives should keep tourists from lumping all Caribbean islands collectively into one destination.
This is where preservation comes in, according to Zozaya, specifically those of an island's heritage and culture, and its intangible traditions.
Nicholson-Doty agreed, saying, "We have to be unified in our dialogue that if you've been to one Caribbean island, you've been to one Caribbean island. So if you've been to St. Thomas, that's not the experience you're going to get out of St. Croix, and St. John is also completely different."
Jones-Hendrickson has some ideas on what sets the territory apart.
"The Virgin Islands is unique in the sense that it has many cultural artifacts and so many cultural artistes," said Jones-Hendrickson. "If we marshal our resources to highlight the fact that these people are here and are producing, then we can move forward."
When asked how, in his experience, governments help provide that authentic experience, Zozaya said it depends on who is in charge at a given time. He also added that the more technologically comfortable the government liaison is, the better for their partnership.
According to Zozaya, the Caribbean has a combination of assets that is difficult, almost impossible to replace: proximity to the most important market in the world, its natural beauty, and it people.
"Once you have these main attributes, don't get comfortable, do something with it, way more than you've been doing in the last many years," he said. "If you see how much other regions and other countries are growing in tourism and capture a much bigger market than the Caribbean, you will find a lot of opportunity."