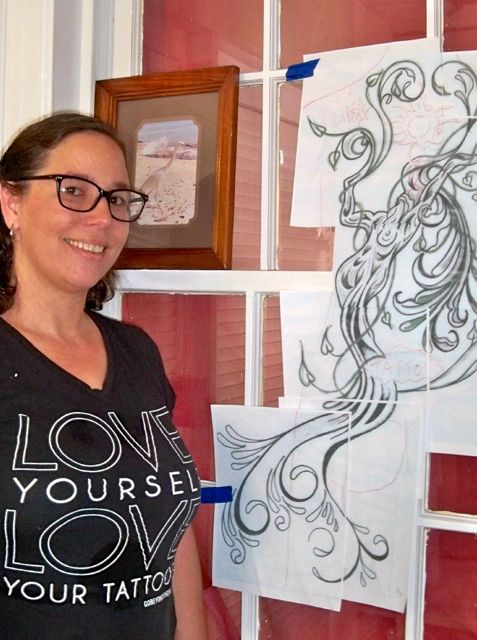 Tattoo artist Jenni Thomas said Friday, while creating a tattoo on Che Smith, people get tattoos for a million different reasons.
Smith, who had just celebrated his 18th birthday, said he has been waiting years to get inked. He said he'd wanted a tattoo since he was 15 years old – because they are cool.
Thomas tattooed a lion of Judah on Smith's chest. Smith said it wasn't painful but he could definitely feel the needles, in particular the one tool used for shading with nine fine needles clustered together like a fine gauge paintbrush. He said the single needle used for outlining didn't bother him at all.
"People have told me I have a light touch and it isn't painful," Thomas said, adding that tattoos are going to hurt no matter where you have them done.
Folks can rest assured that Thomas, a registered nurse, operates a very clean and sterile practice. She uses the highest quality inks and disposable supplies. She also does body piercings. She said she apprenticed for more than two years at Forbidden Color Tattoo Studio in Asheville, N.C., and is CPR certified. Licensing is very strict for tattooists and studios on St. Croix she added.
Thomas is actively looking to hire a tattooist for high season, saying she attracts a lot of tourists because of the studio's location.
She opened her first studio two years ago in Princess Plaza. Business was steady and she out-grew that space. She moved six months ago to 54 King Street directly across from Government House.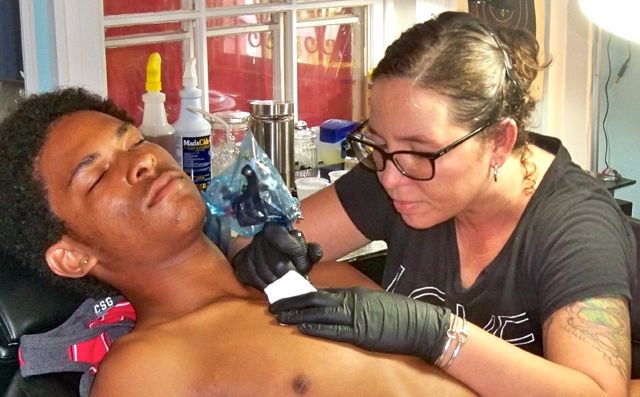 The studio is on the second floor of the Kalima Building, an old wooden West Indian structure with slow moving ceiling fans and a cool breeze blowing through the open wooden shutters and balcony. There are paintings done by Thomas, and Bob Marley prints hang on the walls. A large selection of jewelry for body piercings is displayed in wood and glass cases. It appears to be the perfect island spot to get a tattoo of a hibiscus or a pirate if you are so inclined.
People just have to bring Thomas a picture or an idea and she will customize a tattoo. She said she gets a lot of requests to cover up and conceal tattoos done by amateurs.
Prices depend on the amount of detail, size of the design and how long it takes. Some folks have tattoos that are a work in progress with additions that can become a full body tattoo. Thomas offers special rates for locals.
Thomas moved from North Carolina to St. Croix in 2009 to work at Gov. Juan F. Luis Hospital. She wanted a change and took the plunge, and like most people, she fell in love with St. Croix.
In 2009 she gave up nursing to become more creative and pursue her love of art. Thomas said she didn't have any formal art training but did crafts like sewing, painting and drawing when she was a child. Thomas recalled her grandmother always kept her stocked with art supplies.
"I love being creative," Thomas said with a wide smile.
People of all ages and from all demographics get tattoos, Thomas said. It can be a rite of passage, to remember loved ones or just to decorate their bodies. "That first tattoo can be done at any age, 60 or 18," Thomas said. "Tattoos can be for everyone. My focus is on being creative and the best outcome for everyone."
The studio is open 11 a.m. to 5 p.m. Tuesday through Saturday. She does take walk-ins but recommends people call her at 340-220-1206 to schedule a consultation. People can view her gallery of tattoos at tattoostcroix.com.