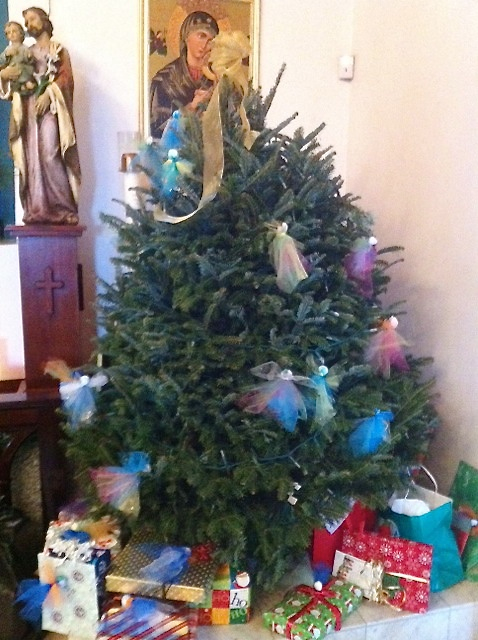 There's something about the holidays; they tap into any vein of generosity, from the tightest to the overflowing. Nowhere is that phenomenon more evident than in island churches.
It starts at Thanksgiving and rolls right through Christmas.
"There are a lot of people in need in the community," said Catherine Javois, assistant administrator at the St. Croix Christian Church.
Although it's a small denomination, the church manages to reach out to the needy. Just before Thanksgiving, it handed out baskets of food featuring a full turkey dinner and trimmings to "people in our community who could use a meal."
At the St. Thomas Assembly of God, in Contant, all who attended service the Sunday before Thanksgiving went home with a frozen turkey, stuffing and cranberry sauce.
At some churches, Thanksgiving food collections morph into special Christmas donations and gifts for the less fortunate.
The "Angel Tree" at Our Lady of Perpetual Help Church at Mafolie on St. Thomas has become something of a tradition. Dilsa Capedeville, executive director of Kidscope, has spearheaded the project for "about 10 years, maybe more," she said. "It's wonderful that this church has taken this on."
The tree is decorated with handmade ornaments, each bearing the gender and age of a child. Parishioners pick an ornament from the tree and buy a gift that matches the profile, wrap it and return it to the tree for pick up and delivery to children who might otherwise not receive a Christmas present.
In the early years, Capedeville was teaching religious education at the parish and enlisted help from her students in making the angel ornaments. Later, she worked with children at Kidscope. Gifts go to Kidscope clients and to other children in need.
The Angel Tree is also a staple at the Salvation Army. Capt. Anna Hawkins said about 35 families on St. Thomas have applied to be included in the program this year, some with several children. Infants to youth up to age 17 are eligible. With the help of parents and guardians, the Salvation Army obtains a wish list of gifts for the children. Then it passes these on to organizations and churches who ask their members to fulfill those wishes.
The St. Thomas Reform Church has responded to the request in recent years.
"People like doing that," said Sandy Smith, church secretary. They take a tag from the tree and replace it with one or more presents.
The church also takes up a special collection at its Christmas Eve Candlelight Service each year, to benefit a local non-profit organization. Recent past recipients include My Brother's Workshop and the Family Resource Center. The service is open to all denominations. It starts at 7 p.m.
St. John's Episcopal Church on King Street in Christiansted maintains an ongoing program of food collections in support of Lighthouse Missions and My Brother's Table, said the Rev. Gregory Gibson. This time of year it also sponsors a Christmas concert; admission was only $5 and the money goes to the St. Croix Deanery.
At the Moravian churches on St. John, "an offering is taken during both services" on Christmas Eve and Christmas night, said pastor Zanky Isaac. The church maintains a yearround pantry where it stores non-perishable food donations for distribution to the less fortunate. It also has a Benevolent Fund for emergency assistance to needy individuals.
"In our small ways, we see how we can assist," he said.