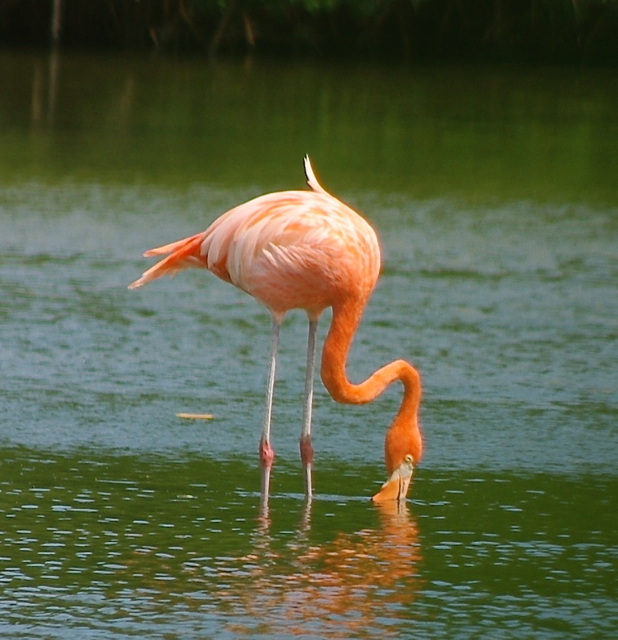 For 15 years, volunteers have been counting birds on St. Croix as part of the Audubon Society's Annual Bird Count, and for the third year in a row a rare American flamingo was sighted.
On Dec. 14, more than 22 birders covered 150 miles on St. Croix and Buck Island and counted 2,694 birds of 65 species.
The count was part of the National Audubon Society's Christmas Bird Count. December's count was the 115th for the society.
The flamingo was seen at Great Pond after being observed first by Lisa Yntema in Mannings Bay in October 2010. She said flamingos are not generally migratory and this bird has stayed around St. Croix, adapting to life on the island for almost four years.
The total number of birds counted was fewer than last year and the year before, according to event coordinator Bill Boyton. The 2013 count was 1,098 fewer than 2012, and this year's count was 1,085 less than last year.
"The count helps scientists evaluate the environment. The grown or decline of overall bird population often indicates changes in the local environment that otherwise would be overlooked," Boyton said in a news release.
According to Boyton, the decline may actually reflect a decline in volunteers both years. Also, fewer areas were canvassed because of heavy vegetation after two months of rain.
Boyton also noted that on the day of the count, there was a light rain while volunteers scoured wetlands, shorelines, ponds and golf courses.
Most of the participants in this year's CBC have agreed to come back next December, according to Boyton.
Those who want to help with the Audubon project can attend St. Croix Environmental Association events throughout the year and visit www.stxenvironmental.org or www.audubon.org.