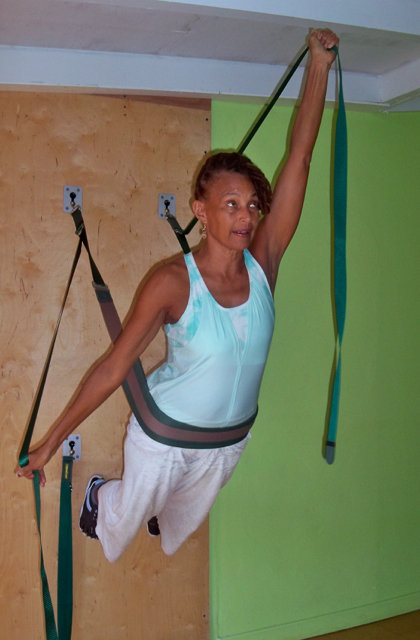 Aziyza Shabazz said her calling is to help people stay healthy and connect to nature's healing.
"My philosophy is to help people stay well, showing and teaching them the skills to maintain their health," Shabazz explained.
Shabazz is a personal trainer and aesthetician helping detoxify, relax and rejuvenate her clients at Aziyza's Nature Spa. She offers essential oil treatments and creates custom body scrubs and wraps. She also has private and group sessions in yoga tune up, Qigong, Thai stretch, Pilates and movement therapy.
Shabazz works at Beeston Hill Fitness Center, where she instructs the yoga tune up class, a head-to-toe health and fitness system combining yoga, calisthenics, corrective exercise and body therapy. She also teaches Zumba and the Nia technique, the latter of which focuses on balance, strengthening, and core body movements.
Natural living and healing has been a passion of Shabazz's since she was a teen, she said.
"I was in the wave of all the natural and back-to-nature thing while in college," Shabazz said.
The mother of six children is 60 years old and could pass for much younger, with a fit and trim body and smooth skin.
"People say to me you look well, tell me what you do," Shabazz said. "They say show me the formula."
Shabazz opened her own business in 2001with encouragement and support from her personal clients and friends. She outgrew her original location and is now in La Grande Princesse at 89B Rattan Road.
She said she has had to reinvent herself since a lot of her regular clients moved when Hovensa closed. To get more business flowing she has had to come up with a couple projects she wants to pursue.
One of the programs she's working on is getting people into their own personalized health maintenance plan, in which they set up treatments on a weekly or monthly basis, or whatever is convenient for the client.
"This an individualized approach to wellness," Shabazz said. "As we get older we realize the benefit of staying with a plan and taking care of ourselves."
Another idea she has is to hold wellness retreats in the rain forest using all local resources.
"I have a vision of a rainforest spa immersed in nature, where people come to get rejuvenated," Shabazz said.
She said she uses fresh, locally grown ingredients for treatments, including avocado, coconut, papaya, sea salt, herbs and spices.
"Local fresh ingredients give the most nutrients with quality results in treatment," Shabazz said.
Many of those products she grows on her farm in the rain forest. She makes a lemon grass chlorophyll drink that is a beautiful bright green. She explained it is used as a blood cleanser and immune booster.
Essential oils are Shabazz's specialty.
"Essential oils are like the life-blood of the plant in a concentrated form," Shabazz said.
Oils are used topically and may be ingested. Shabazz said the oils are used for relaxation and to improve skin and digestion and there is a healing effect mentally and physically.
"I believe oils are a sure way to get results," Shabazz said. "They really work."
She plans to give free informational workshops on oils and other treatments.
"I get excited about studying and learning new techniques and treatments," Shabazz said.
One of the latest treatments she has gotten into is thera cupping, a suction type procedure with a small cup that is used to improve the look and feel of skin.
Originally from New York, Shabazz moved to St. Croix about 40 years ago. She said her grandparents are from St. Croix, so her roots are here. She has her degree in political science and science from Long Island University. She was trained in yoga at the Kripalu Yoga Institute and the Omega Institute.
More information about Aziyza's Nature Spa is available by calling her at 1-340-771-0399 or sending email to Shabazz at aziyzas@gmail.com.