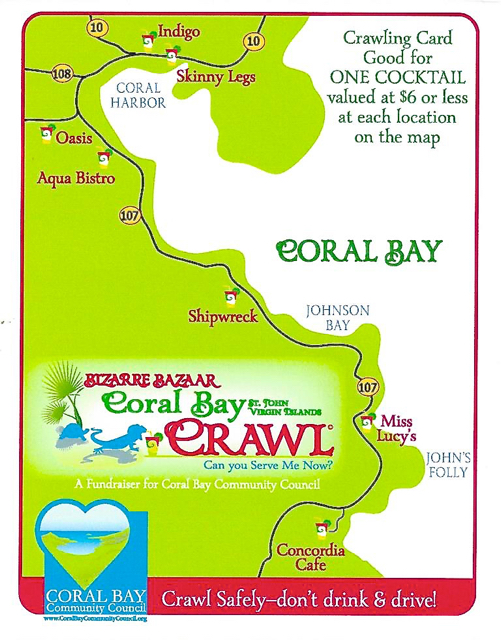 Need a Valentine's Day Gift? Looking for something to tuck into a vacation villa gift basket? Want to save a bit on cocktails at Coral Bay restaurants? Need an incentive to get out of the house for a date night?
If so, the Coral Bay Crawling Card could fill the bill. The cards, which cost $25 each, give you a drink valued at $6 or less at seven different Coral Bay restaurants. They're good until June 30.
The cards are a fundraiser for the Coral Bay Community Council.
"One hundred percent goes to support the Coral Bay Community Council," Community Council president Sharon Coldren said.
The card is good at Skinny Legs Restaurant and Bar, Indigo Grill, Coral Bay Caribbean Oasis, Aqua Bistro, Shipwreck Landing, Miss Lucy's Beachfront Restaurant, and Concordia Café.
The Community Council only printed 100 cards.
"So when they're gone, they're gone until we do it next time," Coldren said.
They're available at Connections East and Keep Me Posted, both in Coral Bay. Coldren said checks made out to Coral Bay Community Council are accepted.
The money goes to pay for the Community Council's vast array of activities and projects aimed at protecting Coral Bay's environment.
According to information from the Community Council, the group's goals are to engage in planning and development processes that respect the natural environment and the local character of places all over the Virgin Islands. This means formal planning processes with local input respected, and environmental laws respected and thoughtfully enforced. And it encourages community participation and community feeling in Coral Bay.
With this goal in mind, the Community Council participates in local infrastructure improvement projects and in environmental protection/restoration/repair projects.
Projects in the works include following up on Community Vision and a marine uses planning projects.
The group gets federal grants that it matches with its own funds and in-kind work by volunteers. It has a project under way to remove derelict vessels in the Coral Bay Harbor. Another ongoing project works on reducing stormwater sedimentation, which includes installing ways to lessen runoff on the area's dirt roads.
In cooperation with other agencies and organizations, it's working on basketball court repairs and Agriculture Center building repairs.
It participates in the Waste Management Authority's solid waste management planning project and in a potable water and wastewater infrastructure capacity and planning project with Waste Management and the V.I. Water and Power Authority.
The Community Council also is working on getting accurate tax assessments on parcels and legislation to keep people from losing family land. It puts on the annual pre-Christmas Bizarre Bazaar to showcase works by local residents.
And it is working on issues surrounding the Summers End Marina and other currently planned and/or permitted developments that do not meet environmental or community goals. The organization's role is encouragement of community participation and developer adherence to environmental and local concerns. It is seeking "right-sized development" that encourages the character of the community vision and the existing tourism-based economy.
More information about the Community Council is online at at www.coralbaycommunitycouncil.org.