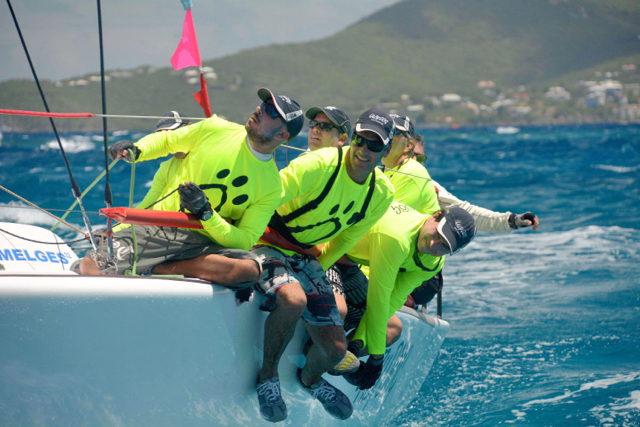 On the final day of the 42nd St. Thomas International Regatta, the racing in the most highly competitive category came down to a tie-breaker.
The tie-breaker came in the one-design Melges 32 class, where Puerto Rico's Sergio Sagramoso's Lazy Dog triumphed over fellow islander Luis Juarbe's SOCA on the basis of having earned the most first place finishes, according to the race organizers.
"We weren't able to start the first race on Friday, so we thought we were out of the game. Then, we came back and won four races straight. We almost lost it at the end; we finished fourth in the last race due to a couple of mistakes. The scores were very tight the entire regatta. Racing was intense. Just like we like it," Sagramoso said.
The third and final day of racing in the 42nd regatta, presented by TAG Heuer saw some boats leapt into the lead while others strengthened their front-runner status. The 62-boat fleet, boasting entrants from the Caribbean, USA and Europe, competed in eight classes on round-the-buoy and round-the-rock courses with 10 to 15 knots of breeze. At the end of the day, eight skippers took home TAG Heuer Aquaracer Caribbean Limited Edition timepieces for winning their classes, and the fleet winner earned his weight in Cruzan Rum.
A collision almost ended the hopes for a podium finish for California's Annie Gardner and husband, Eric Whitte, who sailed their Hobie 16, Flight Risk, in the Beach Cat Class.
"We were blind-sided at the start of the fourth race on Saturday by one of our fellow competitors," said Gardner, who has the scars on her patched hull to prove it. "Luckily, local boat builder Morgan Avery towed us back without us sinking. He stayed up all night fixing the boat so we could come back out and sail today."
Gardner's Flight Risk finished first in the Beach Cat class. Island Sol, a Hobie 16, and Whiplash, a Falcon F-16 owned by St. Thomas' Paul Stoeken and Teri McKenna, ended second and third respectively.
The Virgin Islands-grown IC-24 class proved the largest, with 20 boats. Puerto Rico's Marco Teixidor, on his Cachondo, handily triumphed after losing first place last year in this class in the final race.
"It's very challenging because there is no chance to throw out a bad score," Teixidor explains. "Our game plan was to sail as best as possible. That meant conservative starts followed by good boat handling and good boat speed."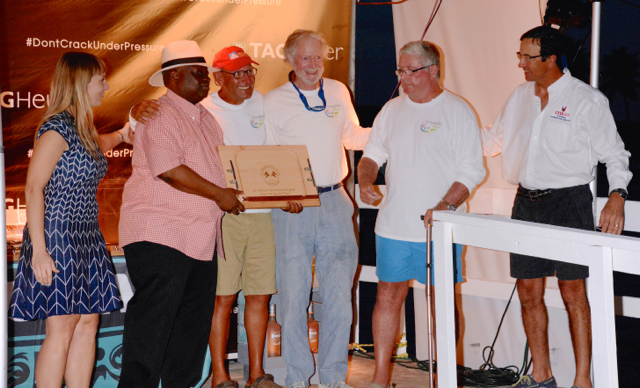 Puerto Rico's Ramon Gonzalez earned runner-up aboard Sembrador, while St. Thomas' Tyler Rice's Bill T came in third.
The big boat CSA 1 class saw only two entries this year, which reflects the fact that many sailors internationally are moving to smaller-style sport boats. Spookie, a Carkeek HP 40 sailed by Connecticut's Steve and Heidi Benjamin, earned the class win, followed by Conviction, a TP 52 sailed by Clint Brooks from Barbados.
"After the second race today I told the crew I was really happy we came to race in St. Thomas for the first time," Benjamin said. "The sailing is fantastic and so were the conditions. Where else can you go swimming and paddle boarding after a day of racing?"
In the CSA 2 Class, it was the Corr's Light Racing team, headed by St. Thomas' Peter Corr, which held its first-place position from day one until the end. Corr chartered the Beneteau First 40, Southern Child, from Performance Yacht Charter, which is headquartered in the U.K. and U.S.
"Our yachts are race ready," said Lucy Reynolds, Performance Yacht Charter manager. "That means if you bring the right team, we'll get you a podium finish. This weekend proved it."
Dunder, the USA's Rupert and Jan Thouron's J/122, and El Ocaso, the USA's Mitchell Padnos' J/122, ended second and third, respectively.
Puerto Rico's Jonathan Lipuscek's J/105, Dark Star, won the CSA 3 Class. What's more, Dark Star also won its skipper's weight in Cruzan Rum.
"We have been working very hard as a team for the last six years and it has paid off," said Chupi Bermudez, the mast-man onboard.
The BVI-based Pipedream, a Sirena 38 owned and sailed by Chris Haycraft, ended second in the class the USVI's Morgan Dale's Melges 24, Boogaloo, third.
In the CSA Non-Spinnaker Class, the USVI's Steve Schmidt triumphed aboard his Santa Cruz 70, Hotel California Too.
"I've won regattas on other Caribbean islands, but never on St. Thomas," said Schmidt, who said the small class size, the weather conditions, and an excellent St. Thomas- and St. Croix-based crew led to his boat's win.
St. Croix's Tony Sanpere aboard his Catalina 30, Nauticayenne, placed second and Connecticut's Jeremi Jablonski's Hanse 430e, Avanti, third.
Finally, St. Thomas' Kevin Gregory won the Non-Rated Cruising Class aboard his Beneteau First 44.7, Odyssey.
"I raced this regatta in 2009 and then stopped sailing competitively. The addition of a cruising class, and the great time we had this weekend, has reignited my racing bug," Gregory said.
St. Thomas' Jamie Madsen aboard his IC-24, Dawn Treader, and fellow islander Brian Emerich's Beneteau 40, Augura, finished second and third, respectively.
More information about the St. Thomas International Regatta is online at www.stthomasinternationalregatta.com or www.yachtscoring.com/emenu.cfm?eID=1219. The regatta is also on Facebook at www.facebook.com/stirvi, and Twitter at @stycvi
The St. Thomas International Regatta, presented by TAG Heuer, is sponsored by; Cruzan Rum and Presidente, distributed by Glazer's Premier Distributors; Yacht Haven Grande; Little Switzerland; Switlik; the U.S. Virgin Islands Department of Tourism; The Moorings; and Sunsail.
TAG Heuer is a Swiss Avant-Garde watchmaker founded in 1860. According to the regatta organizers, TAG Heuer's heritage is built on "pushing boundaries and breaking rules, harnessing mental fortitude to overcome technology restraints and create daring watches and chronographs."