Founded on St. Croix years ago, the International Masters of Gaming Law organization returned to the territory this week for a spring conference that brought representatives from more than 40 different countries together to talk about gaming best practices and new developments that local officials said could help streamline and grow the industry in the Virgin Islands.
The conference was held on St. Thomas at the Marriott's Frenchman's Reef Resort.
"Gaming in the Virgin Islands has had its issues," V.I. Casino Control Commission Chairwoman Violet Ann Golden said Tuesday. "We have regulated casino gaming on St. Croix, we the lottery and video gaming terminal (VLT) system on St. Thomas, and my hope is to bring these two separate regimes under one umbrella, set up the best standards and determine if this is the best route for us to take."
Golden said it's clear that new money from gaming can come in and help revitalize the V.I. economy, but to do that also means looking at a few things, such as whether to limit gaming access to hotels where it can be better regulated.
"We are concerned about underage gaming and access to some of these facilities, and we at the commission have been aggressive in dealing with that," she said.
Limiting gaming access to certain establishments could also bring in new tourism dollars and generate investment on islands such as St. Croix, where Golden said new hotels are needed, along with activities that can help bring people in.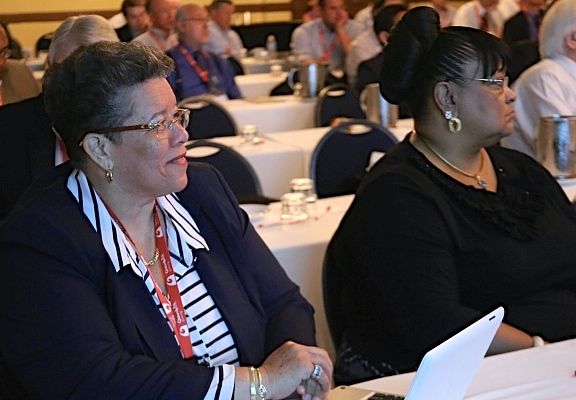 "Right now, we are in the process of launching Internet gaming and taking a strategic look at how we launch it," Golden said. "We hope to have some legal issues resolved and once that happens, we have to develop a gaming law that supports it and can take us to the next level within the industry."
The keynote speaker during the opening of the conference, Gov. Kenneth Mapp spoke earlier this week about the potential for Internet gaming in the territory and looking for new ways to bring in money instead of continuing to support the existing system, which he said "hasn't worked."
Golden said Tuesday having the government's backing at the conference helps the Casino Commission accomplish part of its mission to get the public sector, along with private sector investors, in one room to look at the issues and think about solutions that would help the territory keep pace with current trends while also seeing where the Virgin Islands could collaborate with other jurisdictions to create "a uniform standard" within the region.
One of the panel discussions Tuesday also looked at building a system that is compliant with federal and international gaming regulations and is strict about reporting issues such as violations. Compliance with the laws will "prompt trust," speakers said, and lend credibility to the system so that it can be supported by the entire community.
"It takes our active participation in this process to get everything we want accomplished," Golden said. "I think that selling the Virgin Islands so far has been interesting for us at this conference, but it can be done, and once it is, I think that we'll see this economy turn around in short order. We need the investment in here, and once that happens, we will do our part to aggressively pursue those new dollars that will help grow the economy."