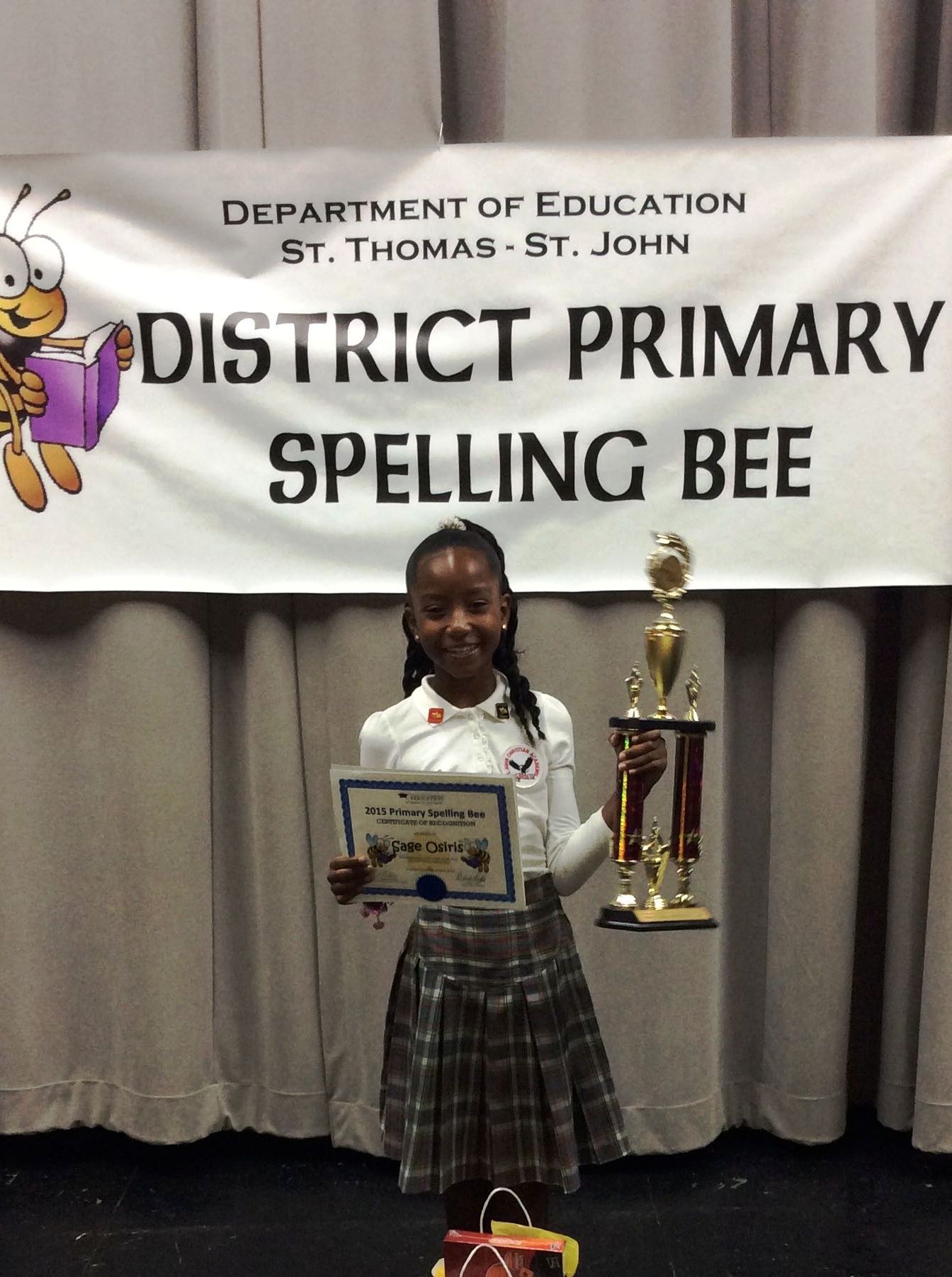 St. John Christian Academy student Sage Osiris was the first place winner out of a field of 17 students at the St. Thomas-St. John District Primary Spelling Bee on Thursday. The 9-year-old third-grader represented the small parochial school located near Cruz Bay school for its first appearance in the spelling bee and walked away with the winning trophy. Her winning word was "hurricane."
Osiris was the lone student standing after 10 rounds, in which words were as simple as hay, book, exit and trot, according to the Education Department. Osiris, however, stumped her peers on more challenging words, such as: yacht, salmon, diesel, lagoon, anthem and décor. The top six winners were:
– 2nd place: Noah Espejo, Antilles School, 3rd grade;
– 3rd place: Arianna Fleming, Jane E. Tuitt Elementary School, 3rd grade;
– 4th place: Najji Bailey, All Saints Cathedral School, 3rd grade;
– 5th place: Victor Rogers, Gladys Abraham Elementary School, 3rd grade;
– 6th place: Sa'akiim Arnold, E. Benjamin Oliver Elementary School, 2nd grade.
"My congratulations go out to Miss Osiris for a great accomplishment," Education Commissioner Sharon McCollum said in a statement. "I am proud of all the students who participated in today's spelling bee. They did a tremendous job and proved hard work does pay off," she said.
The top six finishers will go on to compete in the territorial primary spelling bee. Osiris was coached by Liandra Dagou. Her parents are Beulah Dalmida and Clayton Brown.
The spelling bee was coordinated by the V.I. Department of Education Office of Elementary Programs.