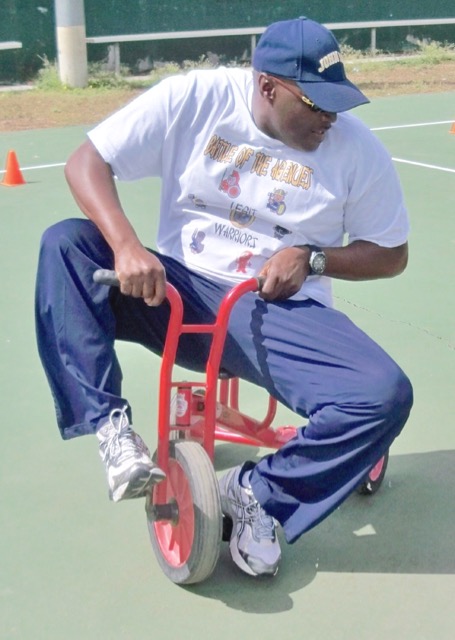 Power was out all over St. Croix Saturday, but there was plenty of power on display at D.C. Canegata Park where the first Battle of the Agencies Fitness Challenge took place.
The Water and Power Authority team was short a few members as they were called in to restore electrical service, but they still managed to pull a team together.
"We'll let people take pot shots today. It's all fun and games here," WAPA spokeswoman and team member Jerain Fleming said.
Battling it out were men and women on six 12-player teams representing the Legislature, Housing and Finance Authority, Superior Court, V.I. Fire Service, V.I. Police Department and WAPA.
Sen. Sammuel Sanes, on the Legislature team named Legit Warriors, said the games foster better relationships between the agencies.
"We're ready," Sanes said, "We're going to kick some butt."
The day's events began with a relay foot race around the park at 7:30 a.m.
The next event was a tricycle race with two woman two men on each team. Some got the hang of it and whipped around cones set up on the basketball court with no problem while others' knees just got in the way.
In the double Dutch jump rope competition, each team had three participants with a least one male. Other contests were a three-legged race, a water bucket relay, semi-truck tire flipping, obstacles courses and a dizzy bat race where people put their forehead on a bat upright on the ground and spun around 10 times.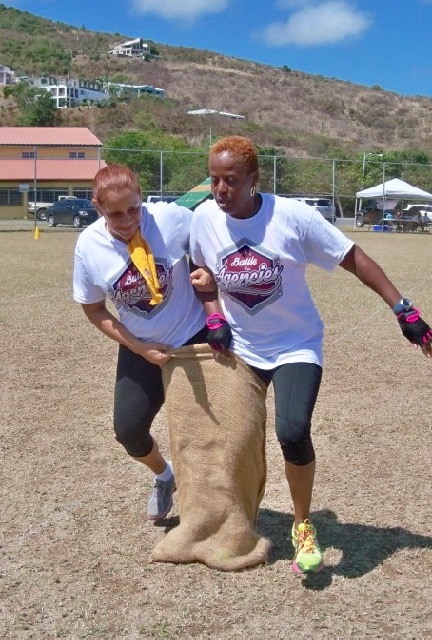 Krystal Flores and Carita Stevens, from the Department of Sports, Parks and Recreation and coordinators of the event, said they were very happy with the number of teams and players. They said it was the first year they held the event on St. Croix.
"We think it will be bigger next year when people find out how much fun it is," Stevens said.
Ahmed Messer, of the Legislature team, said the events were fun and he was having a great time. He jokingly said they were going to whop WAPA.
Jelani Simmons, from Housing and Finance Authority, said he joined in the fun to help out the team and to get exercise.
The Health Department mobile unit was in the parking lot with the generator cranking out air conditioning. The staff was taking blood pressure and doing cholesterol and glucose screening, free for anyone who stopped in.
Cigna, the government health insurance carrier, and the Division of Personnel partnered with Sports, Parks and Recreation to host the event.