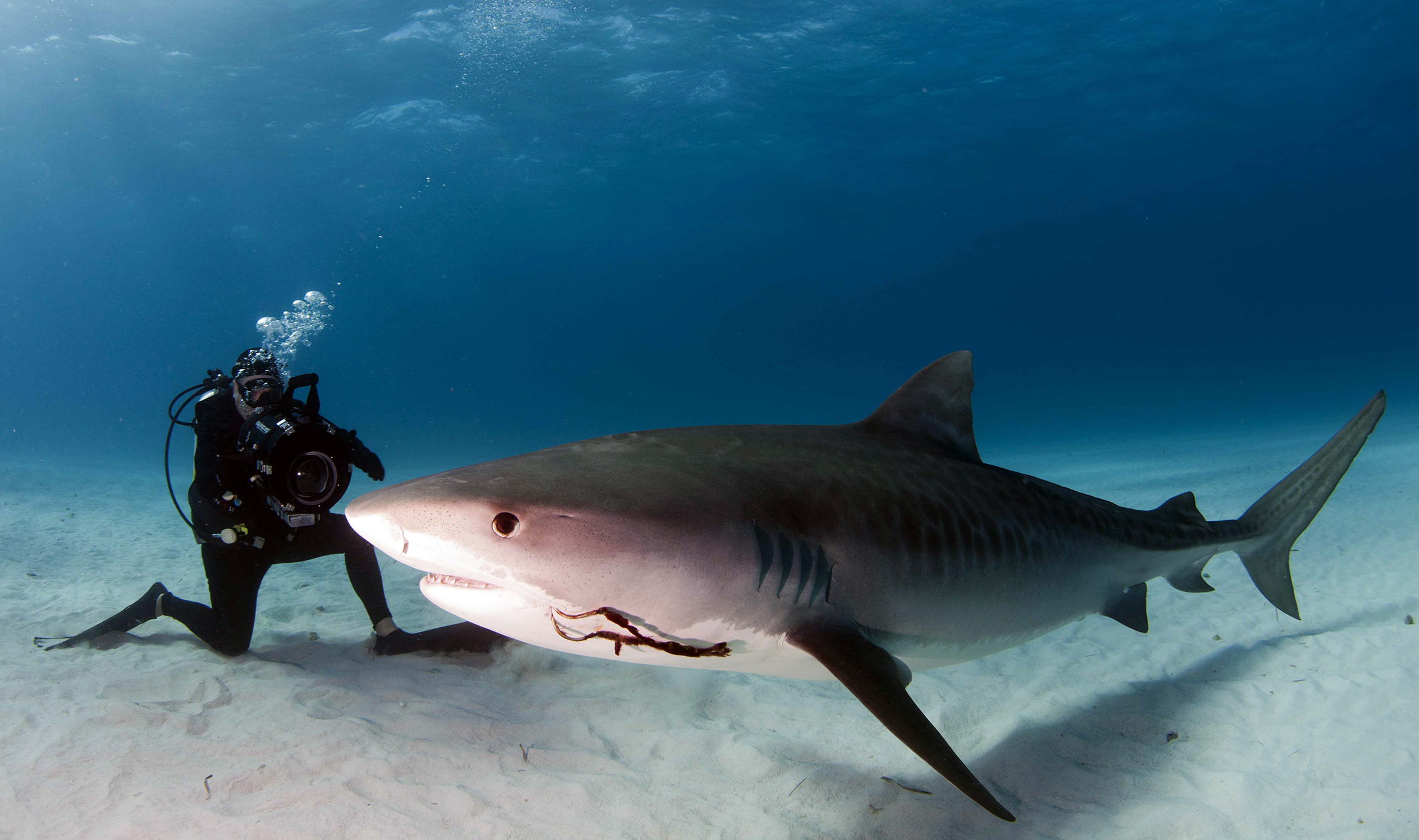 Of all the species on the planet who find themselves threatened by the actions of humans, sharks may, unfairly, inspire the least sympathy in the average environmentalist.
So argued local documentary producer Paul Cater Deaton in an introduction to a screening of his 10-minute short film, "Showdown at Tiger Beach," at the weekly meeting of Rotary East on Wednesday evening.
"Everybody just thinks 'They're sharks, they're mindless killing machines,'" said Deaton."They think that, 'Oh my god, sharks just devastate so many people, they eat up so many people.' But here are the odds: Coke machines kill more people every year than sharks do."
What else kills more people per year than sharks according to Deaton? Hot dogs, bees, falling coconuts and champagne corks.
Deaton said that people, on the other hand, kill 700 million sharks a year just for shark fin soup, a delicacy in some Asian countries.
Deaton said harvesting fins for shark fin soup, or "shark finning," most often involves the inhumane practice of dismembering sharks while alive and throwing them back into the ocean to sink. He said that he is encouraged by recent activism against shark finning in Asia, with celebrities from that part of the world such as former NBA player Yao Ming helping to raise awareness about the issue through public service announcements.
"When you decimate the apex predator of the sea, you're opening up problems that are really hard to fathom if you're not a scientist. But it's just devastating what can happen," said Deaton.
He credits the species' poor public image for the lack of outrage towards the destruction of shark populations in areas around the world.
"Showdown at Tiger Beach," shot 25 miles off the coast of Grand Bahama, challenges the popular image of sharks as bloodthirsty killers who arbitrarily attack humans. Although Deaton, who narrates the film, is careful to point out that sharks are wild animals that should be handled with caution, several shots show divers hand-feeding tiger sharks up to 12-feet long and gently nudging them away when they get too close.
Deaton said an unnamed network is currently looking to buy the film and that he will show it at film festivals in Chicago, Boston and New York this year.
St. Thomians will be able to see the film at the upcoming Third Annual Reef Renaissance Film Festival at Coral World Ocean Park on June 6. Deaton is the co-founder of the festival.
Deaton said that his next project is a documentary about lionfish to be shot in the Philippines.
"I wanted to get a better sense of lionfish as an invasive species by observing them in their natural habitat," he said.