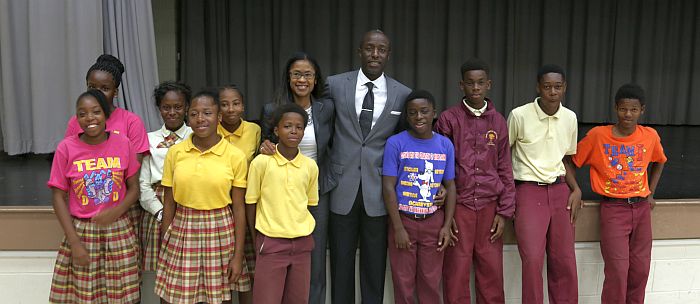 Minnesota Timberwolves General Manager Milton "Milt" Newton's path to success started after he was forced to repeat seventh grade at Addelita Cancryn Junior High and make the tough choice between skipping school to play basketball or concentrate on improving his grades.
"I loved playing the game," Newton said Friday, while speaking to athletes at Bertha C. Boschulte Middle School. "I played it every day, even to the point where I would get in trouble. I missed so many days of class that I failed the seventh grade and to do it over. I wasn't thinking about the decision I was making at the time, I was just thinking about basketball instead of paying attention to my teacher."
Learning how to make the right decision and commit to a goal was what made the difference, he added.
"Every time I come back to the territory to speak, I look out into the crowd and remember when I was a kid here growing up and how it felt seeing someone that wanted to come back and share their story with me," Newton said. "I want to let you know that there is hope, but that you have to set goals and make the decisions every day that you need to achieve those goals."
But making the right decision is a step-by-step process, Newton explained.
"If the bell rings and you're going to class, one decision could be, should you stop in the hallway and talk to your friends and be late, or just get to the classroom and be on time. You are going to have to make those decisions every single day, all day. And for every action, there is a reaction, but it all starts with setting a goal, moving straight forward, and doing what you need to do to help you attain it."
Learning how to become a good basketball player, for example, meant learning that sports and books do go hand in hand.
"Everyone wants to be an athlete, wants to play basketball or baseball," he said. "But if I didn't do my work, I learned that I couldn't play basketball, so the one thing that kept me really focused when I was this age, your age, was that I wanted to play basketball so much that I actually had to do my homework and that helped me go on to be a really good student in high school and college."
Newton, who was born on St. Thomas but moved to the states at the age of 14, has returned home several times over the past few years and is now currently in the process of starting a foundation with his wife that will focus on inspiring and encouraging students to learn how to make the same kinds of decisions, both on and off the field.
"This is something we're doing to give back to the territory, the place where I got my start," Newton said afterward. "And it's going to be an ongoing thing, with us hopefully being able to implement programs down the line and provide opportunities for the students to experience positive things, so they can learn that they have just as much of the same potential as any other kid."
Newton spoke about growing up in Bournefield and Bordeaux, but said that he had never spent much time on the East End of the island — a shame, he said, considering that St. Thomas is "such a small place."
"And that still happens," he said. "We'll all stay on one of the island and not see the other side, or go to island next to us, so we also want to encourage them to get out there and explore. When they go to college, for example, they will be exposed to so many different types of people, so many different opportunities that will help them better themselves, and that's what we want to make them see."
Newton's foundation will also provide training opportunities for local coaches, using qualified officials from the national leagues.
"We want to bring in coaches willing to give seminars, or teach our coaches in the territory the correct way of playing the game," Newton explained. "A lot of coaches think they know how to do certain thing, and that may be true, but when you can bring in Hall of Fame coaches that can show what has helped them get to the level that they're at, well, we think that's a very positive thing."