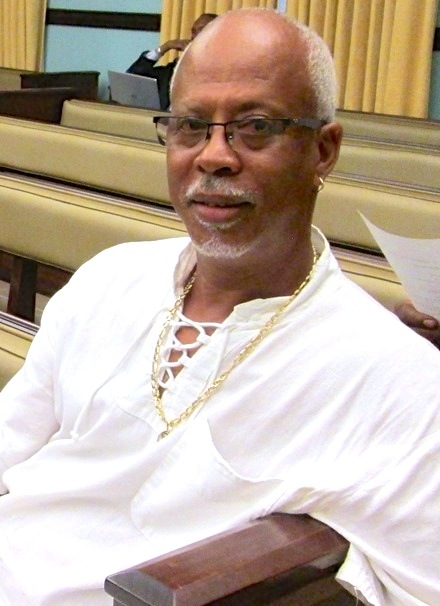 A rezoning hearing on a request from Bernard Wesselhoft so he can build a convenience store on Gifft Hill Road frequently segued into the need for "indigenous" Virgin Islands residents to get involved in economic development of St. John and the territory.
"These rezonings are sometimes the only vehicle people can use to get into the business stream," said Sen. Almando "Rocky" Liburd as he kicked off the discussion at Thursday's legislative Committee of the Whole meeting at the Legislature building on St. John.
Wesselhoft wants a rezoning from R-2, residential low-density, one- and two-family homes to B-3, business scattered, for his one-third of an acre. He plans a two-story building with about 1,500 square feet on each floor.
While the convenience store will be on the first floor, he said, he anticipates offices on the second floor. It will have a dozen off-street parking spaces.
A request for a rezonings for the Sirius Resort and Marina on Coral Bay property owned by the Moravian Church had been on the agenda. Sirius wants rezoning for most of a parcel now zoned R-2, residential low density, and a small section of a parcel zoned W-2, waterfront industrial, to W-1, waterfront pleasure, to allow for the hotel development and parking deck.
A 1.45-acre waterfront strip is already zoned W-1. However, church superintendent Eulencine Christopher, in a letter read into the record, asked for a postponement because church officials were attending a conference in Antigua.
Wesselhoft's request got a favorable recommendation from the Planning and Natural Resources Department, which held a hearing on the issue on April 22.
"A mixed use benefits residents," DPNR research analyst Leia Laplace said.
While all the 11 senators at the Committee of the Whole meeting as well as the two people who spoke in favor of the rezoning noted the need for indigenous business involvement, Sen. Kurt A. Vialet said that residents must be ready for the jobs.
"You can't drop out of school," Vialet said.
He said that people can't expect to be involved in businesses just because they live on the island if they have no skills.
Businessman and former Sen. Robert O'Connor Jr. and Emmanuel "Mano" Boyd spoke in favor of Wesselhoft's request.
"He's part of this community. He deserves an opportunity to share in the economics of St. John," O'Connor said.
O'Connor also pointed out that there is limited participation by the "indigenous" population of St. John.
He said the island was losing people because of the lack of opportunity on St. John.
Boyd echoed his remarks, nothing that local people do not have a fair share of the economic pie.
Sen. Janette Millin Young said she wanted Wesselhoft to serve as a role model for younger St. John residents.
Sen. Myron Jackson said that when he got off the ferry, he encountered a young black man sitting on the corner. He said the young man told him he was disenfranchised.
"He asked me to do due diligence to empower him," Jackson said.
Senators and legislative staff arriving on the ferry have a couple of blocks to walk to reach the Legislature building. They pass numerous restaurants and other businesses on the way.
"Cruz Bay is the only town of all the towns that got it right. It has a day life and night life," Sen. Clifford Graham said, wishing the same for Charlotte Amalie, Christiansted and Frederiksted.
He said the towns on St. Thomas and St. Croix only have a day life.
Wesselhoft's rezoning request now needs action by the Legislature before he can begin building.
Of the 15 senators, only Sens. Kenneth Gittens, Nereida "Nellie" Rivera-O'Reilly, Sammuel Sanes and Tregenza Roach were absent.