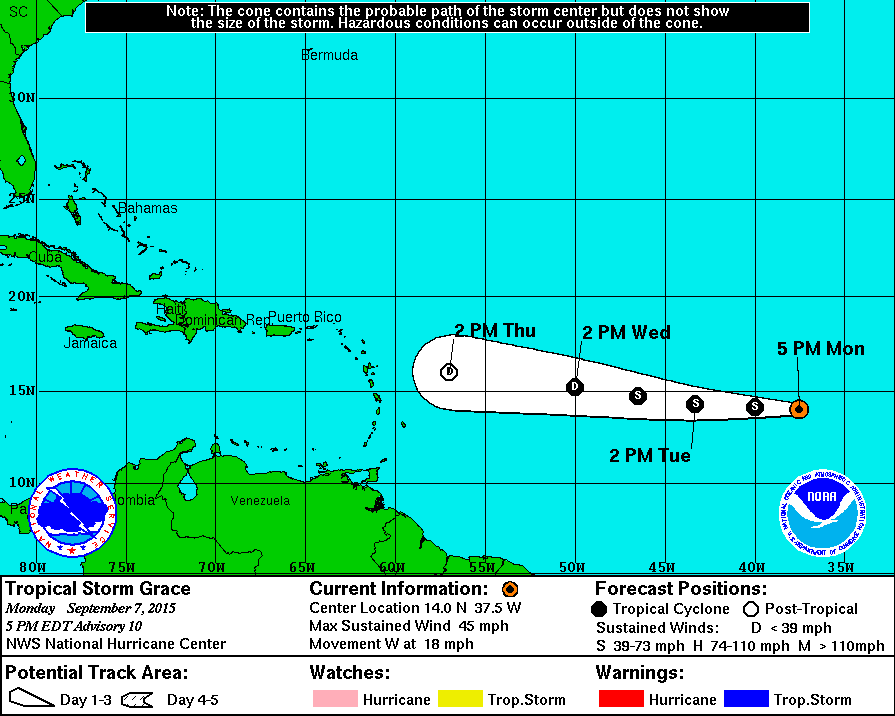 Tropical Storm Grace is making its way west across the Atlantic Ocean at 18 mph, but meteorologist Felix Castro at the National Weather Service in San Juan said Monday that Grace is expected to dissipate by the time it reaches the Lesser Antilles.
"It doesn't look like it will regenerate. It looks like it will be in a very hostile environment," Castro said.
According to Castro, what was once Grace will be a tropical wave by the time it reaches the Virgin Islands on Friday and continues through Saturday.
Castro said a couple of tropical waves are ahead of it. He expects one to reach the area Monday night.
"Maybe some light showers," he said.
Castro said another should reach the area Thursday.
As of the 5 p.m. update from the National Hurricane Center, Grace had winds of 45 mph. Tropical storm force winds extend outward 60 miles from the center.
The barometric pressure stands at 1004 millibars.
Grace was centered at 14 degrees north latitude and 37.5 degrees west longitude. This puts it 910 miles west of the Cape Verde Islands.