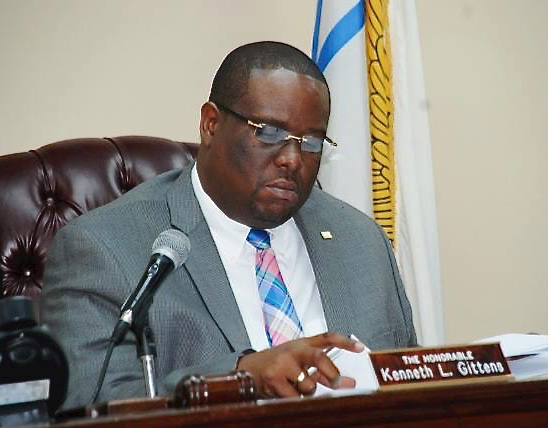 The V.I. cigarette tax may see an increase from its current 35 percent to 45 percent, raising about half a million dollars in new revenue for the cash-strapped government, if a bill sent on Tuesday for a final vote is enacted into law.
The Rules and Judiciary Committee also sent on measures to allow smoking in "cigar factories" that make and sell cigars and tobacco products, and to require job discrimination complaints be filed within 180 days of when the employee discovers the purported discrimination.
When the cigarette tax increase, sponsored by Sen. Sammuel Sanes, [Bill 31-0023] was considered in committee in April 2015, Budget Director Nellon Bowry said he would like to see an analysis of the bill's fiscal impact. The V.I.Bureau of Economic Research completed the analysis a month later, projecting about $435,000 in new revenue per year, with $377,000 from new cigarette excise tax revenue and $57,000 in new gross receipts tax revenue
Total excise tax revenue from cigarettes hovers in the range of $1.3 million a year, according to the report.
The study found that increasing cigarette prices has little effect on sales.
"Empirical studies show that the price elasticity of demand for cigarettes is around 0.4, which implies that a 10 percent increase in the tax rate on cigarettes is, on average, associated with a 4 percent reduction in cigarette consumption. This suggests that cigarettes are largely inelastic to price change," the report, signed by Acting BER Director Bernadette Melendez, said. The report concluded the change would increase the retail price of a carton of cigarettes in the territory by around $1.63.
In support of the measure, senators cited the fact that it would generate revenue and still leave cigarette prices well below mainland prices. Also, it largely affects visitors rather than residents.
"Many of us are not smokers per se, so it is really on the tourists and those visiting," Sen. Justin Harrigan said.
Sen. Janette Millin Young opposed the measure, saying it could reduce cigarette sales.
Gov. John deJongh Jr. vetoed a similar increase in 2012. (See Related Links below)
Voting to send the bill on for a final vote on the Senate floor were: Harrigan, Sen. Jean Forde, Novelle Francis and Kenneth Gittens. Young voted no. Sens. Neville James and Nereida "Nellie" Rivera-O'Reilly were absent.
The committee also approved a bill [Bill 31-0115], sponsored by Sen. Jean Forde, to relax V.I. public smoking restrictions to allow a "cigar factory" to operate a smoking and possibly smoking and drinking lounge for adults only. The bill would require such a business to have at least one cigar roller employed making cigars. It also repeals the exemption from excise taxes on cigars. Senators amended it Tuesday to increase the cigar excise tax to 25 percent and require clearly posted signs saying smoking is allowed inside and warning of the dangers of smoking.
Since 2011, no smoking has been allowed within 20 feet of local bars, restaurants and businesses, or anywhere indoor or outdoor service is being provided, unless it is done 20 feet away from any service waiting line.
Smoking is also prohibited on National Park beaches. Business owners must enforce the 20-foot ban and post no smoking signs or risk fines that start at $250 and increase to thousands of dollars for repeat offenses.
The current law allows smoking in private residences, unless they are used for child day care or hospice care. People may smoke in private clubs, private vehicles and retail tobacco outlets, so that a "cigar factory" that is also a retail tobacco outlet set up for adult smoking indoors may already be legal.
The bill appears to envision such establishments will sell alcohol, although it does not explicitly authorize it. It says that such a "factory" must employ cigar rollers and roll its own cigars; and that "not more than 60 percent" of the business' revenue can come from "sales other than cigar and tobacco products, such as … liquor and other beverages."
Forde said the bill would generate jobs and help the territory compete for tourism against destinations that have businesses like this, such as Cuba and Florida.
"Our responsibility is to generate funds," Forde said.
Another measure, [Bill No. 31-0179] sponsored by Sen. Almando "Rocky" Liburd, would change V.I. law to put a time limit of 180 days for an employee to file discrimination complaints with the V.I. Public Employees Relations Board. The bill was co-sponsored by Harrigan and Sen. Myron Jackson.
Both measures were approved without opposition.