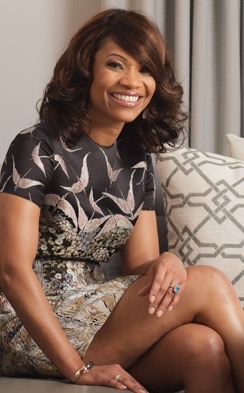 Jewels of the Virgin Isles is a feature series profiling Virgin Islanders in the diaspora who are excelling in their respective fields and/or positively representing the USVI abroad.
"There is something about being near the ocean that centers me and makes me feel at peace," says Virgin Islander Yvette Thomas-Henry about her love for her home, St. Croix. "It's like stepping off the plane into this blanket of everything that I need right there in front of me."
Originally born on St. Thomas, Thomas-Henry grew up on the "big island" of St. Croix with her mother Althea and her four siblings, and it's clear how much of an impact her upbringing had on her growth as a woman, a wife and a leader in her profession.
The general manager of Four Seasons Hotel Atlanta, Thomas-Henry works in a world of luxury. In fact, she helps to shape the vision for what that experience means to her guests each and every day, but it is the simplicity of life in the Caribbean that she says she turns to when her spirit needs to reset.
Thomas-Henry has traveled the world professionally and personally, but there is no mistaking her pride and passion for the place that provided her foundation. "I love the beaches, the spirit of the people. We are a part of the music, the culture, the food," she says.
"It's certainly an essential essence of who I am," says the 1985 graduate of St. Croix Central High School.
Thomas-Henry left St. Croix with dreams of becoming a speech pathologist and having a career in human services. Today she serves others in a different capacity and on a level that she could have never imagined.
While studying full-time at Pace University in New York, Thomas-Henry also worked full-time at the renowned Plaza Hotel, known for its luxurious presence and its most prominent guests. This job would become the catalyst for her career at the uppermost end of the hospitality industry.
"I needed to work because my scholarship wasn't sufficient to cover all of my expenses," she says. "I never thought of it as a career, even while studying for my master's [degree] but it was an area that I really enjoyed. I decided then that I would only continue to do hospitality in an extremely challenging role, serving people with the greatest impact."
Now as she runs the 244-room hotel in the heart of Atlanta, Thomas-Henry is blazing a trail for women, for African Americans and for the next generation of leaders in the hospitality industry.
Her passion, tenacity and no-nonsense work ethic are at the heart of her success, qualities she attributes to her mother, Althea Thomas, who is her biggest influence.
"My mother made our education a priority. Her mantra to us was 'Whatever you choose to do, be your best!' In fact, she told us that we were all going to college and that she wasn't paying for it. So, we had to be smart enough to get scholarships to take us there," Thomas-Henry says.
"My mother was age 25 and divorced with five children, but she still managed to complete high school and obtain her degree in education while raising us. That's dedication."
Thomas-Henry also credits her fourth-grade teacher and de factor godmother, Sheryl Soto, with "seeing something" in her and pushing her to succeed. They still have a close relationship today.
When as a child you witness your mother doing all that it takes to create a life for you and your siblings, it plants a seed in your spirit that guides you when the going gets tough. This is what drives Thomas-Henry to be the best and help others in the process.
She says she desires to host a forum that highlights her journey to the top of her field, open the minds of Virgin Islands children to the vastness of the hospitality industry, and show the appreciation she has for the education she received in the Virgin Islands.
"School is the beginning of your life, the foundation of your future. I would act as a mentor to coach students committed to pursuing dreams that take them beyond the shores of the islands."
"I would love to establish a partnership with a local hotel to expose more students to the world of hospitality as a future career," Thomas-Henry says. She also hopes that Virgin Islands leaders will set the stage for a robust economy in the territory that attracts Virgin Islanders to return after completing their education.
Thomas-Henry married her high school sweetheart and fellow Virgin Islander Thomas Henry of St. Croix and is the mother of two college students, Myles and Jarrod.
If success is what happens when preparation meets opportunity, then destiny is what occurs when the life you planned evolves into the one you were meant to be living. "My journey wasn't special; it just happened to be mine," she says.
"I never imagined it would mean so much to so many people. I certainly didn't want to be the 'first anything.' I just wanted a good life. My life in hospitality has also fulfilled a lifelong dream to travel to places far and wide across the globe. Yes, I love what I do and I love my life."
Nugget for V.I. Youth: "I would encourage them to have dreams and use their time in school to pursue them; be curious about their world; develop a sense of self-confidence; commit themselves to their studies; recognize that they are in control of their destiny if they are intentional about their future; and identify a role model they admire and find out the work they had to put in to be successful. I would also encourage them to recognize that no successful individual achieved success without work, commitment, passion, drive, sacrifice and love for what they do."
Little Known/Fun Fact(s): "Music was a big part of my life growing up. I played the alto saxophone from junior high school all the way through my sophomore year in college. To this day, I love all genres of music. I love to dance, have a great fondness for the arts and I love to roller blade."
__
Loán Sewer is a marketing and tourism branding consultant and proud Virgin Islander who resides in Charlotte, North Carolina. Follow her on Twitter @LoAnSewer or e-mail her at info@gobiconsulting.com.