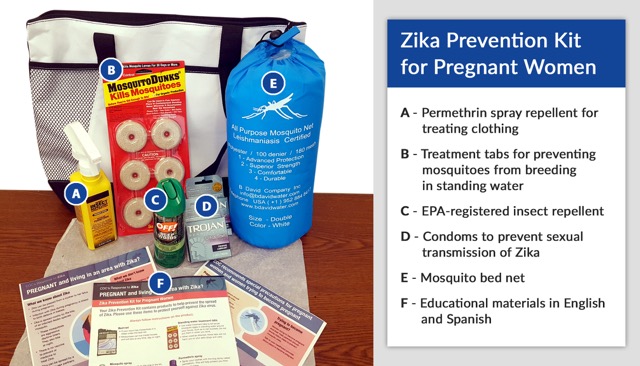 This week the V.I. Department of Health confirmed five more cases of Zika in the territory, bringing the total number of confirmed positive cases to 21. Two of cases were confirmed in pregnant women and there's a first confirmation of a case on St. John.
"These continued increases in Zika cases in the USVI are concerning, especially for pregnant women, women of childbearing age and their partners," Dr. Michelle Davis, Health commissioner nominee, stated in a press release.
Davis added that, "Given unknown health effects of this virus, it is important for pregnant women to protect themselves against Zika and to take advantage of the services offered by the Department of Health to prevent infection."
To date, 15 of the 21 confirmed Zika cases have occurred on St. Croix. St. Thomas now has five confirmed cases, while St. John has one case.
Rachel L.C. Powell, a member of the U.S. Centers for Disease Control and Prevention's Zika virus field team on St. Croix, said that at this time it's not significant that more positives came back for St. Thomas and St. John than for St. Croix.
"The continued increases of Zika are concerning – whether we report one new case each week or five," Powell said.
Fifteen of the infections have occurred in females and six in males. Powell said that health officials think more women are requesting Zika testing, so they're seeing more confirmed cases in women than men.
There have been 210 suspected cases in the territory since the start of the outbreak in January. A total of 123 cases have come back negative for Zika and 63 are currently pending results.
There are also three cases listed as "no specimen" on the weekly surveillance report, which indicates that a blood sample was unavailable for testing.
The most common symptoms of Zika are fever, rash, joint pain and red eyes, but can also include muscle pain, headache, pain behind the eyes and vomiting.
According to this week's surveillance report, Health has confirmed 12 cases of dengue this year, eight on St. Croix and four on St. Thomas. That's only one more case than last week.
Last month the CDC confirmed that Zika causes profound birth defects like microcephaly. Originally the CDC thought the link could take several months to prove, but the major increase in Zika research around the world has speed the confirmation process.
The Department of Health is continuing to offer free Zika testing for pregnant women regardless of if they are showing symptoms or not. The CDC has contracted a private company to inspect the homes of pregnant women for potential mosquito breeding risks and to offer larvicide treatment if necessary.
Any households with a pregnant woman that would like this free service or want additional information about it can call Health's Emergency Operations Center at 340-712-6205.
Health is distributing education materials in English and Spanish, as well as prevention tools like mosquito nets, insect repellent and condoms to pregnant women at the following locations:
On St. Croix
– Department of Health MCH Clinic
– Department of Health WIC Clinic
– Juan F. Luis Hospital and Medical Center
– Frederiksted Health Center
On St. John
– Health Care Connection
– Myrah Keating Smith Community Health Center
On St. Thomas
– Department of Health MCH Clinic (Pediatric)
– Department of Health Community Health Clinic (Prenatal)
– Roy Lester Schneider Hospital
– East End Medical Center
For local information about Zika virus, call the Department of Health Emergency Operations Center at 340-712-6205. For more general information about the Zika virus call toll free: 1-800-CDC-INFO.
Health is also partnering with several labs and clinics throughout the territory to provide free virus infection testing. Powell said that if you are turned away from testing or are told to pay for testing then call Health, since it has agreements in place with several facilities. These places should not be charging for Zika testing:
On St. Croix:
– Acute Alternative Medical Group, 772-2883.
– Beeston Hill Clinical Lab, 773-4990.
– Clinical Laboratory Inc. (Sunny Isle), 778-5369.
– Frederiksted Health Care, Inc., 772-0260.
– Gov. Juan F. Luis Hospital & Medical Center, 778-6311.
– Primary Care PLLC, 718-7788.
On St. John:
– Myrah Keating Smith Community Health Center, 693-8900.
On St. Thomas:
– Community Medical Laboratory, 776-7444.
– Cranston/Dottin Biomedical Lab, 774-6256.
– Doctors Clinical Laboratory, 774-2760.
– Havensight Medical Laboratory, 774-5515.
– Roy Lester Schneider Hospital, 776-8311.