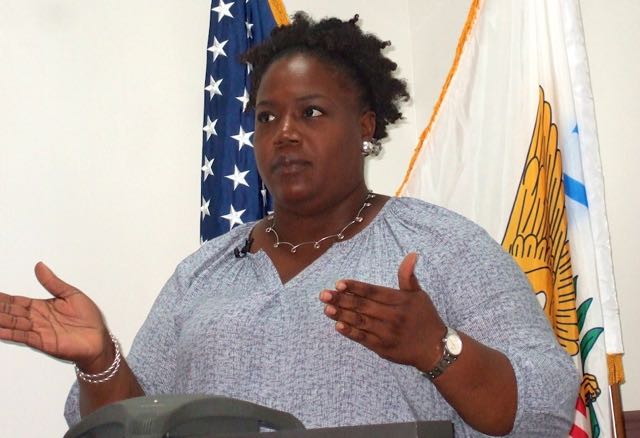 The national safety initiative "Click It or Ticket" will be activated for two weeks next Monday by the V. I. Police Department to encourage Virgin Islands motorists to wear seatbelts or pay the price.
At a press conference Tuesday, Leslie Dickerson, territorial director of the V.I. Highway Safety Department's Occupant Protection Program, said the USVI received a grant from the U.S. Department of Transportation's National Highway Traffic Safety Administration to implement the annual program.
Beginning Monday and continuing through June 5, police officers will focus on monitoring drivers' use of seatbelts and car seats for children and will issue $50 tickets to those don't.
And the VIPD has been practicing handing out the citations this year – Dickerson said more than 700 tickets have been issued throughout the territory. Between 1,000 and 2,000 tickets are issued each year for not wearing seatbelts.
"Everyone should use seat belts, booster seats or car seats," she said.
Dickerson said Virgin Islanders have gotten better about seatbelts each year. According to the 2015 survey of seatbelt use in the territory, 82 percent of drivers buckled up last year versus 66.1 percent in 2014.
St. Thomas drivers were a little more conscientious with a seatbelt rate of 89 percent over St. Croix drivers who strapped themselves in just 74 percent of the time. St. John motorists were the most safety minded with a 95 percent rate, according to the 2015 report.
During the survey, researchers discovered there are more male than female motorists. Last year there were more than 15 percent more male than female drivers. On St. Croix, male drivers outnumbered females 61 percent to 39 percent. The gender composition on St. Thomas was 56 percent male and 44 percent female motorist, and St. John drivers are almost as many female drivers as males.
According to the 2015 report, there are more non-cars on the road than cars in the territory most years. Last year, only 32.3 percent of vehicles on the road were automobiles. The seatbelt use rate was the same for automobile drivers and drivers of all types of vehicles.
Federal statistics from the National Highway Traffic Safety Administration showed that nearly half of the 21,000 fatalities in 2013 were not buckled up and, after 6 p.m., the number was higher.