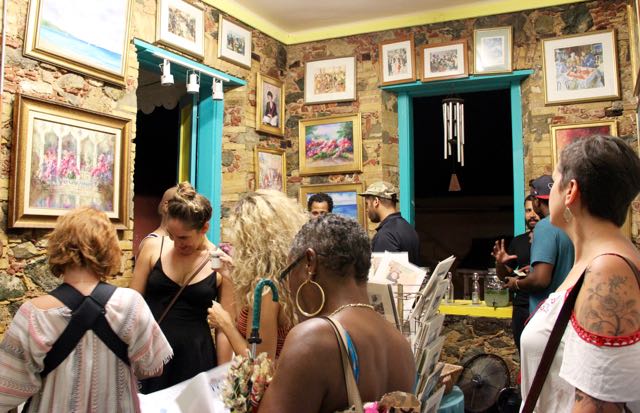 Charlotte Amalie was full of energy on Saturday night during Downtown Revitalization Inc.'s second Art on the Town event, which drew hundreds of people to galleries and stores that are typically closed on the weekend.
Founded in 2010, DRI's mission is to revitalize Charlotte Amalie for the benefit of both residents and visitors. The group organized the first Art on the Town in December 2015 to showcase local art and to encourage more foot traffic in the historic capital.
Attendees were given a sheet of paper Saturday with a list of the 19 participating venues that spanned from Zora of St. Thomas on the east to the V.I. School of Visual Arts on the west end of town. Children walked excitedly with their parents in tow to get their proof-of-visit stamps from each business and gallery, a task that if fully completed earned them a lantern from Gallery St. Thomas.
Around 15 booths were set up in Emancipation Gardens at the center of town, where vendors were selling local crafts like hand painted furniture, natural soaps and original artwork, which included live paintings from artist Ensor Colon.
Framed by a booth full of handcrafted handbags and bohemian jewelry, designer Erie Matthias talked about how Charlotte Amalie was the place to be when she was growing up. She thinks art walks are a step in the right direction for improving the downtown experience.
"As a kid, our parents brought us downtown to lounge around and explore on the weekends," Matthias said. "I think more events like this will certainly help revitalize downtown."
Elise McCutcheon, owner of EmOcean Healing Arts, said that business started off slow but that it began picking up after the temperature started to drop when the sun went down. For her, community events like this are about connection.
"They help people create a dialogue and start a conversation – it's just another way for people to meet and connect," McCutcheon said.
On the walk down Main Street from Emancipation Gardens to Palm Passage, Beverly Nicholson-Doty, Tourism commissioner, stopped for a chat. She said that events like this highlight the territory's art and culture instead of its commercialism.
"This helps us go beyond the shopping to show how much culture and history Charlotte Amalie has to offer," Nicholson-Doty said.
Janelle Sarauw, who works as a special assistant in the Office of the Lieutenant Governor and also performs as a mocko jumbie, echoed the commissioner.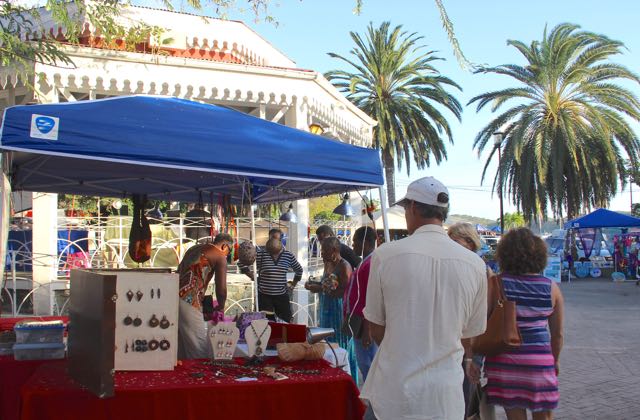 "Arts are the thread that keeps the community together," Sarauw said. She added that energizing downtown is a positive move for St. Thomas, especially since there's been so much violence on the island recently.
Corrine Fenner and her partner Ted Johnson schlepped all the way from Francis Bay on St. John to attend the art walk, which they learned about through a television commercial.
"We're interested in seeing local art that allows us to learn more about the beautiful and colorful history of the Virgin Islands," Fenner said.
Fish Face store in Palm Passage was a popular stop along the walk. The store sells local art and clothing from Tortola, Jamaica and Bali, as well as "upcycled" goods like bags made out of old feed and rice sacks. Visitors and shoppers were drawn to Walls' underwater photography that features colorful marine life.
"We met a lot of locals that we didn't know before," said Kris Wall, owner of Fish Face. "There were tons of people who hadn't been down Palm Passage in years."