The Career & Technical Education Division (CTE) of the Virgin Islands Department of Education, St. Thomas-St. John District, certified 88 graduating seniors in 11 programs at its 3rd Annual Certification Ceremony held Saturday, June 11, at the Charlotte Amalie High School (CAHS) Auditorium. The number of certified students represented an impressive 94 percent graduation rate from the district's CTE program.
Along with receiving an academic high school diploma, the certifications provide an added benefit to students by making them employable upon graduation. The Class of 2016 was comprised of students from both Charlotte Amalie and Ivanna Eudora Kean high schools. Graduates completed course work in cosmetology (11), office administrative systems (21), academy of finance (4), auto mechanic repair (11), body and fender repair (2), computer information systems (13), electricity (2), electronics (8), hospitality and tourism/culinary arts (8), nursing assistant (6) and plumbing (1). Students participating in the Jobs for Americas Graduates (JAG) program also earned certificates of completion in the special school-to-work program (40).
During remarks, keynote speaker Annathar Alexander, a 2009 graduate of CAHS, shared her path to success. She said that being enrolled in CTE courses during high school helped place her career goals into sharp focus. After gaining advanced degrees at the university level, today Alexander is employed as a treasury analyst at the International Capital & Management Company on St. Thomas.

Linda Sibilly, CTE district coordinator, praised the program and the students' dedication to earning both an academic degree and certification in a field of their choice. "Celebrate your accomplishments. You are also leaving with a certificate of completion that many marketable skills," she said.
Ilene Garner, vice chairperson of the Board of Career and Technical Education, encouraged students to celebrate their accomplishment, saying, "You definitely made the right choice. Never dream small; always dream big."
Many of the students have already been offered part-time or fulltime work. Additionally, Schneider Regional Medical Center has partnered with the district's CTE program to groom certified nursing students.
A highlight of the evening came with the announcement of Gloria Salas Lindquist as CTE Teacher of the Year. This is the first year the award was given. Lindquist was praised for 28 years of dedication to technical education. She is a member of the faculty at Addelita Cancryn Jr. High School.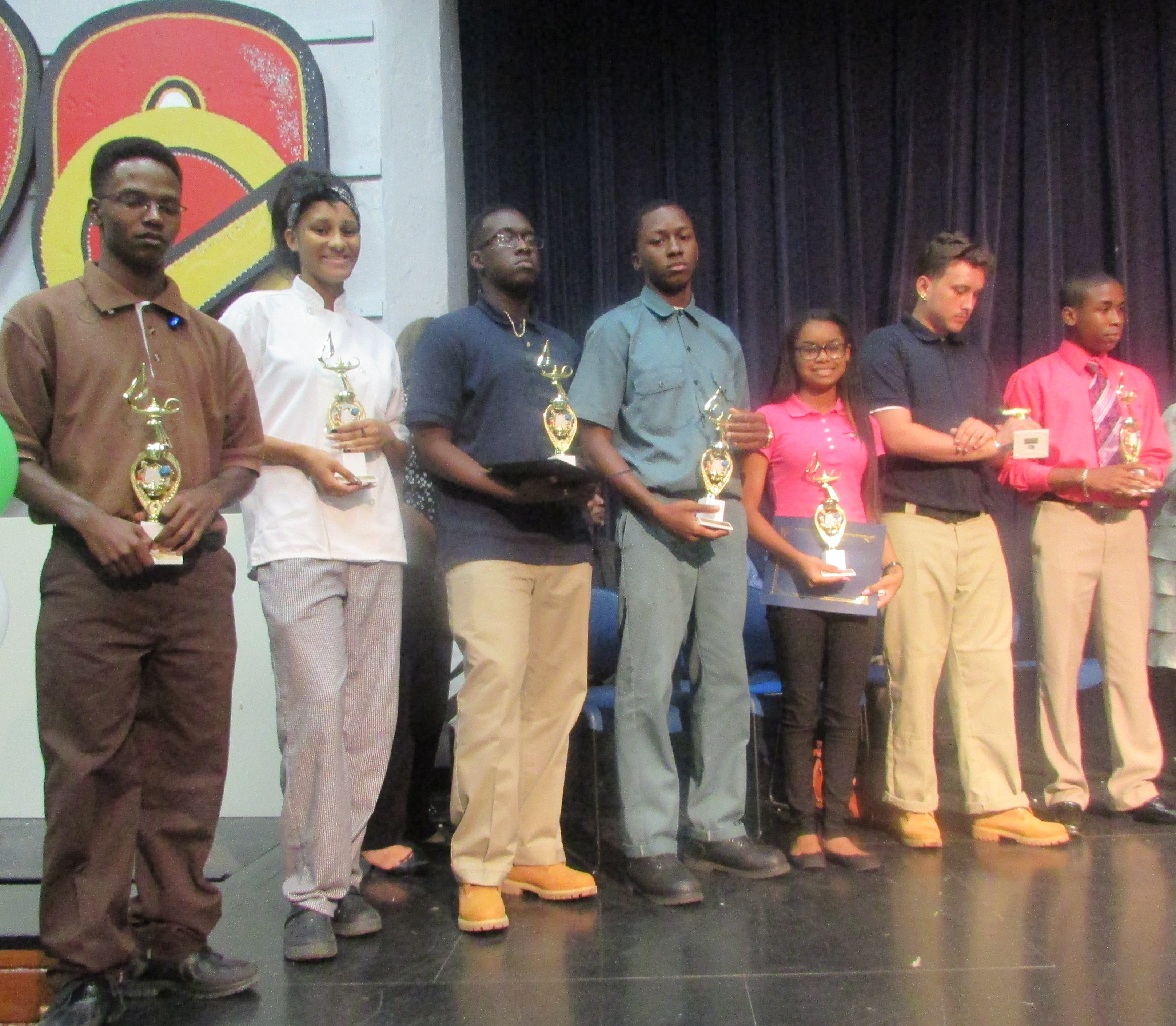 The ceremony was marked with musical performances by students. CAHS business student Monae Green served as mistress of ceremonies; the invocation was given by IEKHS business student Edwina Stephen; Ahjani Phillips, CAHS business student, introduced the guest speaker; and IEKHS business student Gleisr Bort De la Cruz gave the benediction. Sen. Myron Jackson attended the ceremony on behalf of the 31st Legislature. Principals Alcede Edwards of CAHS and Stephan Jurgen of IEKHS were also in attendance. Kifani Hendricks-Carey represented District Superintendent of Schools Dionne Wells-Hedrington.