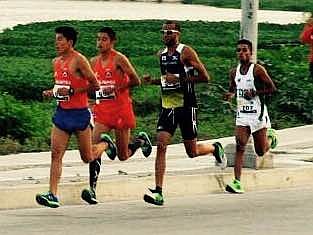 Juan Robles had a breakthrough performance at the Media Marathon Barranquilla in Colombia, taking 8th place with a personal record time of 1:11.32 for the half-marathon distance as he was led across the finish line by three Kenyans and four Colombians. He is now convinced that better times are to come as his strategy in the race was patience and pacing, which put him only 12 seconds out of the top five of the thousands of participants. "I was calm during the whole race…I didn't press it…I was only 300m behind the lead group…when I finished I felt great…" he said.
Robles is a graduate of the St. Croix Central High School where he is now a teacher and track and field coach. As a junior, he won the bronze medal at CARIFTA Junior Championships in the 3000m and went on to have an outstanding college career at Turabo University in Puerto Rico. He has held the V.I. Half-Marathon Champion title for several years. His coach over the years from youth to high school has been Chris Encarnacion.
Eddie Lovett, V.I. National Track and Field team member and an All-American graduate of the University of Florida, helped lead UF to multiple NCAA National Track and Field championships. The World University Games gold medalist and multiple medal winner for the Virgin Islands came back to his alma mater to the Florida Relays in Gainsville last week after a successful 7th place finish in the IAAF World Indoor Championship in Portland, Oregon, to win the 110m hurdles with a world leading 13.39!
Laverne Jones-Ferrette ran in cold and windy conditions in Texas in pursuit of Olympic qualifiers. She will run at Rice University this coming weekend, and then she is off to China.
Allison Peter ran in cold and windy conditions in Texas in pursuit of Olympic qualifiers.
Fred Dorsey, a sophomore at the University of Kentucky, competed at the Florida Relays long jump and took ninth place.
Malique Smith ran a personal record 48.67 at the Little Rock Invitational to edge closer to qualifying for the IAAF World Junior Championships. At the Texas Relays 4 x 100m, she was 3rd in heat 29th overall; in the 4 x 400m, she was 4th in heat and 11th overall.
Avery Joseph, a freshman at Central Michigan, had personal records in the first two outdoor meets of the year in the javelin. He took third place at the EIU Big Blue Classic with a throw of 53.23m and third place at Gibson Invitation with a throw of 55m.
Alexshandro Rodriquez. After his Wake Forest Open first place finish in the 800m in 154.26, he is still looking for a sub 1:50 for the event.
Quashira McIntosh is a Big 10 Invitational 200m, 4 x 100m, 4 x 400m
Kayla King had a first in the 100m and third in the 200m in the Private College Invitational. At the St. Mary's Dingels Breuggen Open, she was 1st in the 100m
Alile Browne… at St. Mary's Dingels Breuggen, she was 3rd place in the 100m high jump and 2nd place in the 200m
Karen Dascent… St. Mary's Dingels Breuggen Open 5th 800m 11th javelin
Yashira Rhymer-Stuart had a personal record 1.68 high jump for 2nd place at the Bellarmine Invitational. She threw the javelin for the first time, mainly to score points, and finished 11th. At the Miami Duals on a cold and windy day, she took first in the high jump 1.55m
Tarique Fisher ran a personal record 49.40 at the Baylor Invitational and helped his team to a 4th place finish in the 4 x 400m relay in 3:13.66. At Texas Relays 5th heat 4 x 400m
For more information, e-mail isv@mf.iaaf.org or call 643-2557.