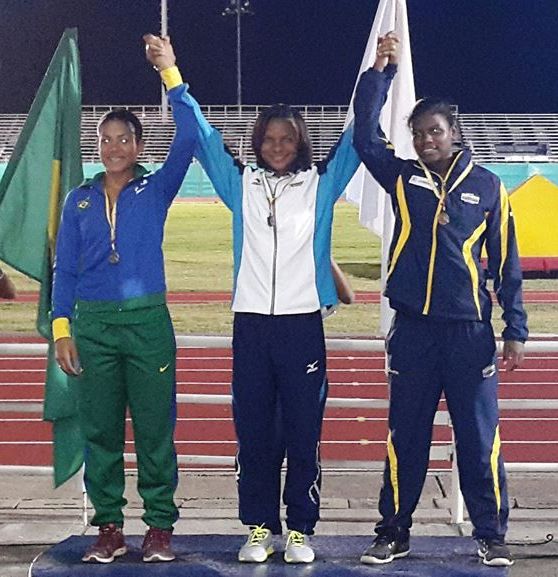 As is the case in each Olympiad, Virgin Islands National Track and Field (VINTF) team members vie for qualifying marks for the Summer Olympic Games. Those who qualified for the games that will be held in Rio de Janeiro include: Laverne Jones-Ferrette, 200m (currently competing in Belgium leading up to Rio); Eddie Lovett, 110m hurdles (world leader in the event back in April who is currently number 29) and Muhammad Halim, triple jump (number two in the world back in April and currently number 16.
There are others who earn the honor of qualifying for other championships teams. Ivan Espinosa will compete in Rio at the Paralympics in the 1500m and will be the first V.I. track and field athlete to do so.
Nia Jack, the current Pan American Youth 100m Champion, is the first VINTF team member to win a medal in that competition and has qualified for the IAAF World Under 20 Championships being held this week in Bydgoszcz, Poland. She is joined by Myia Dorsey, a qualifier in the 200m and the 400m.
They are excited about their opportunity to compete at the world championships level. Both will be freshmen this fall, Jack, a graduate of the St. Croix Educational Complex High School and a member of the St. Croix Track Club, earned a student/athletic scholarship to Alabama State University and Dorsey earned a student/athletic scholarship to Purdue University.
Leon Hunt, the V.I. national record holder in the long jump, had a stellar performance at the Bahamas National Championships with a season best of 7.88 meters for second place. Fred Dorsey, a junior at the University of Kentucky and Myia's older brother, competed this past weekend in the NACAC Under 23 Championships in San Salvador, El Salvador, where he finished fifth in the long jump and also competed in the 100m. He was joined by Khadijah Clouden, a junior at Virginia State University. In her debut in international competition she suffered an injury in the competition and did not set a mark.
It's been a very active year for Virgin Islands Track and Field. Many athletes came very close to making Olympic and IAAF qualifying standards, and the future continues to look bright for the V.I. National Track and Field Team.
For information, e-mail isv@mf.iaaf.org or logon to http://virginislandspace.org/vitff.html or call 643-2557.