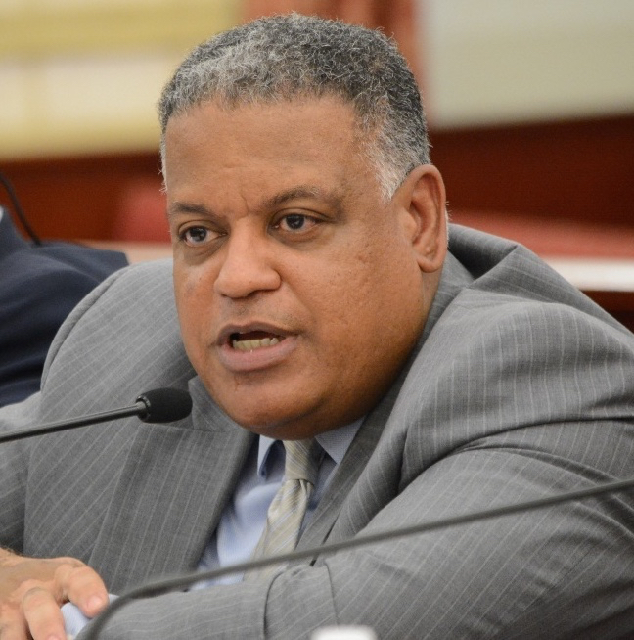 The government-owned West Indian Company wants to pay a much lower fee in lieu of taxes or just pay property tax, WICO President Joseph Boschulte told senators during budget hearings Wednesday, citing reduced revenues due to competition from the V.I. Port Authority.
WICO operates and maintains the territory's largest cruise ship port, the WICO dock, and also manages the adjacent Havensight Mall, which is owned by the Government Employee Retirement System. Set up in the form of a corporation, WICO is wholly owned by the Public Finance Authority, a V.I. government agency.
WICO has long paid a set fee – a payment in lieu of taxes, of $700,000 per year – instead of paying corporate income tax, property tax or gross receipts taxes. But it has fallen millions of dollars behind in its payments. It currently owes $5.9 million.
Emphasizing that WICO "is 100 percent financially independent of the local government," Boschulte laid out a case that its payment in lieu of taxes (PILOT) was too high, especially in light of reduced WICO ship calls and direct competition for ships by docks run by the V.I. Port Authority, a semi-autonomous government agency that runs the territory's airports and oversees and in some cases directly operates its seaports.
Up until 2006, WICO paid its PILOT in full, but since then has made partial or token payments.
"Prior to 2006, WICO was the sole dock generating revenues of over $9 million a year and the PILOT payments were on time. However, the opening of the Crown Bay Marina Dock created an environment in which they too want to make revenues. As a result of this competition, WICO's revenue has decreased and we couldn't afford the PILOT fees any longer," Boschulte said.
From 2003 to 2006, WICO averaged more than 1.65 million passengers annually, he said. But then, the VIPA owned Austin "Babe" Monsanto facility opened in Crown Bay, and two major cruise lines were given lower fees than at WICO in exchange for long-term berthing agreements, he said.
Then the travel industry was hit by the world-wide recession in 2008.
Between 2007 and 2014, WICO averaged slightly more than 1.2 million passengers, a reduction of more than 450,000 passengers, or 27 percent, annually, he said.
"This translated into $2.5 million in lost marine revenue to WICO per year. As a result, since the opening of the Monsanto Pier in 2006, and the attendant erosion in revenues, WICO has been unable to meet its annual PILOT obligation," he said.
For 2015-16, the St. Thomas/St. John district is projected to get 559 ships with 1.735 million passengers, with 144 ships coming to Crown Bay, 23 to St. John and 392 to WICO. For 2016-17 they expect 491 total cruise ships in the St. Thomas/St. John district, with 171 to Crown Bay, 27 to St. John and 293 to WICO; a drop of 99 ships. That drop is "the largest decline post-2008," Boschulte said.
For the two cruise seasons encompassing 2015-16 and 2016-17, VIPA has negotiated agreements moving 107 cruise calls from WICO to VIPA, without increasing total cruise calls, he said.
"This move is catastrophic for WICO's net revenues," Boschulte said.
WICO partly offset this loss "by a net increase of 23 Princess and Holland America calls from Crown Bay to WICO" he said.
While competing directly for ships, VIPA also gets fees from WICO. Fees are going up and as of October there will be a unified $13.40 per passenger tariff on all cruise ships.
"WICO pays the VI Port Authority $6.60 per passenger, consisting of $5.60 per passenger for port dues and $1 per passenger in marine taxes, for all passengers disembarking at WICO facilities,"Boschulte said. But VIPA gets 100 percent of the $13.40 tariff collected at VIPA facilities, he said.
He said WICO proposed that its PILOT be adjusted so that it is assessed based on WICO's property value, like a property tax. Boschulte made a similar proposal during budget hearings in 2015. (See Related Links below)
Sen. Justin Harrigan asked how much that new payment should be. Boschulte said it would be determined by the V.I. tax assessor, but suggested something in the range of $300,000 per year would be appropriate. He also said WICO "respectfully requests retroactive calculation and credit, so that this current burdensome debt can finally be resolved against our expenditures on Catherineberg."
WICO, formerly a private company, was purchased by the government in 1993. At that time, WICO began renting the historic former Danish consulate to the government for $1 a year, ostensibly as a residence for the V.I. governor. Federal law declares Government House on St. Thomas the official residence of the governor. Gov. Charles Turnbull resided at Catherineberg for a short time and is the only governor to have done so. While it is an important historic structure, built in 1831, it remains musty and unsuitable for family life or entertaining. WICO has spent considerable sums maintaining and renovating it.
Several senators questioned why WICO was in direct competition with VIPA and asked if the two entities should merge in some way.
Sen. Tregenza Roach said "it is disturbing to me," to hear about the competition between WICO and VIPA and that said he does not know of another destination with a similar issue, because most destinations have a single port authority entity or one governing board.
"I think rather than one board, there should be one entity that manages ship traffic," Boschulte said. "The issue is, it is more complex because we have our sets of liabilities and they have theirs," he said.
Sen. Positive Nelson said VIPA incurs costs to prepare for ship arrivals at WICO docks as well as its own, and asked what a more appropriate fee would be. Boschulte said $1.60 would be more appropriate than $6.60.
Harrigan asked what partial payments WICO had made on its PILOT.
"We did make a partial payment of $150,000 last year," Boschulte said. "The board is evaluating when and how much the next payment should be. … We want to make a payment every year but we want it to be an amount we can afford to pay with our historical financial situation," he said.
WICO projects total revenues of $10.2 million for FY 2017, an increase of 12.5 percent from $9.1 million in FY 2016.
No votes were taken at the budget oversight hearing. Present were: Nelson, Roach, Sens. Clifford Graham, Kurt Vialet, Marvin Blyden and Myron Jackson. Sen. Sammuel Sanes was absent. Harrigan, Nelson and Sen. Janet Millen Young, all not members of the committee, also attended.