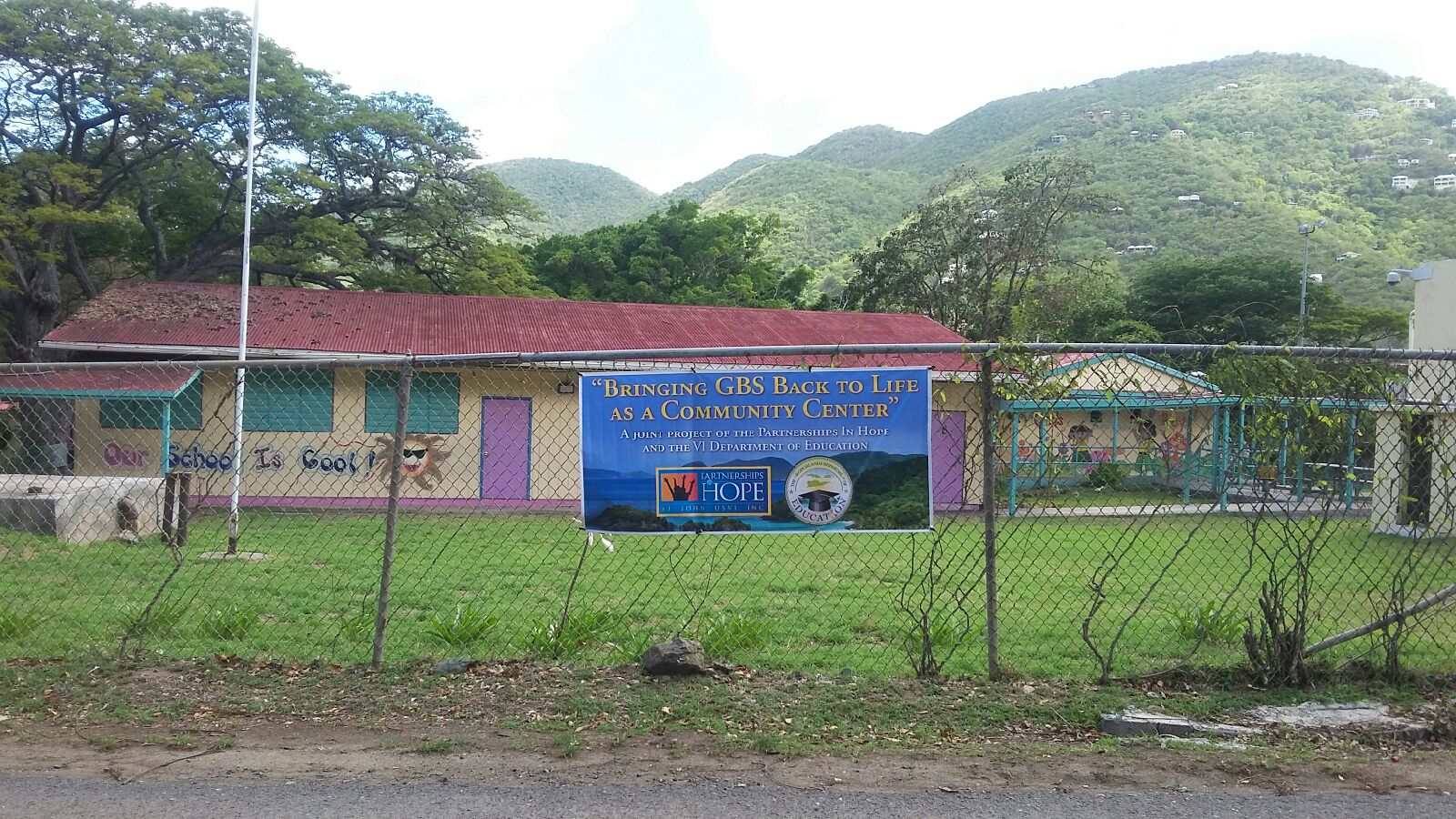 The Virgin Islands Department of Education (VIDOE) in conjunction with Partnerships in Hope — a private, non-profit organization focused on improving the lives of children and families on St. John — will reopen parts of Guy Benjamin School as a multi-purpose community center on Sept. 1. The center's opening is the first phase of ongoing revitalization of the Coral Bay elementary school, which was closed at the end of the 2013-14 school year due to decreased enrollment.
The initial services offered at the Guy Benjamin School Community Center will fulfill long-standing desires of the community to serve its youth with enhanced programs. The St. John School of the Arts will return to Guy Benjamin to resume music, arts and movement activities similar to what had been offered for many years. Its programs that will commence in early September will include 'Acro St. John' (formerly tumbling), tae kwon do and 'Mixed Bag of Movement,' which will combine elements of tumbling, creative movement, improvisation and choreography. An enhanced literacy offering for youth is also slated to begin later in September. In addition, community meeting spaces will be provided under the sponsorship of the Coral Bay Community Council.
The Department of Education entered into a Memorandum of Understanding with Partnerships in Hope last November to begin revitalizing the seven buildings that make up the Guy Benjamin campus. The two entities are collaborating closely in the repair and refurbishment of the buildings, and they have received some important community support in the work completed to date.
Partnerships in Hope and DOE welcome the involvement of the community in creating a center that is a model for such collaborations. The groups are also working closely together to ensure that the programs using the center represent the true needs of the community and are organized, managed and funded with long-term interests of the community as a guiding force for all projects.
Education Commissioner Sharon Ann McCollum praised the effort as a model for public-private partnerships that benefit Virgin Islands' youth. "When the private sector joins forces with public entities, such as the Department of Education, great things like this can happen," McCollum said. "We are so pleased with the work and progress at Guy Benjamin School and welcome members of the community to partner with us to help provide much-needed services and opportunities for our young people."
When fully completed, the Guy Benjamin School Community Center is expected to house a variety of activities that will address crucial needs of the community. Already, various community sources are discussing activities, such as computer literacy, and expanded sports and recreation programs.