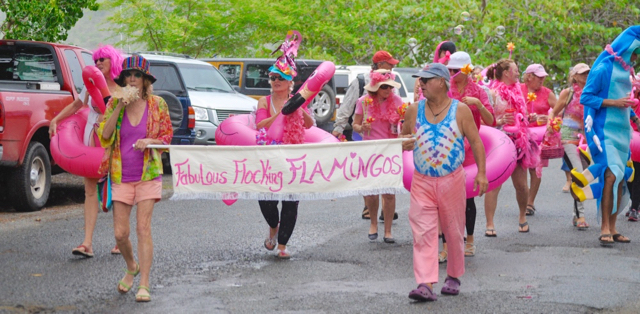 A weather system developing just south of the territory brought rain and wind to Coral Bay Monday morning, but the community's tradition of holding an annual Labor Day parade endured in a slightly minimized version.
Just a few troupes turned out to make the trek from Coral Bay Caribbean Oasis to just past the former Guy Benjamin School campus, but the parade was as eccentric and colorful as always.
"We've got folks on bicycles, we've got pink flamingos," said Judi Shimel, who has been one of the parade's organizers for the past five years. "You just bring whatever you have and you just kind of jump in. Last year we had a giant chicken float."
Shimel said that even if people don't show up to the parade as part of an entry, they can still participate; the organizers have gear to make them "look as festive as everyone else."
The Fabulous Flocking Flamingos, this year's largest troupe, marched down the road in feathers, pink leis and giant flamingo inner tube floats.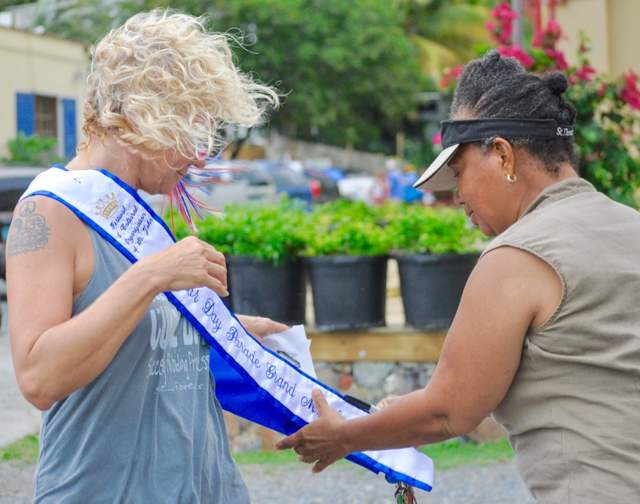 Gail George, who came up with the idea for the entry along with fellow St. John residents Pam Gaffin and Deanna Somerville, said the costumes were inspired by the unusual appearance of a pink flamingo at Trunk Bay last month that had St. John blogs and social media abuzz.
"And it's because we wanted to do something funky, and we flock together!" George said, explaining the troupe's theme.
"The coral bay parade is all about the community and having fun. Just get out there and participate," said Gaffin.
In addition to the flamingos, Monday's parade also featured a tribute to Coral Bay artist Greg "Paz" Meyers who is missing and feared dead after an as-yet unidentified body washed ashore in the harbor late August. Fellow artist Daniel Pinto painted a portrait of Paz which adorned one of the vehicles in the parade.
Leona Smith and Nancy Stromp, who helped organize the parade and festivities along with Shimel, said one of the most important features of the annual event is its school supply giveaway.
"Pulling together for the kids is really what this is all about," said Stromp, who also served as parade marshal this year.
At the Coral Bay ballfield Smith and senate candidate Patrick Sprauve were handing out notebooks, pens and pencils, markers, and backpacks to youngsters and families.
"What we are doing since it's back to school is giving the kids some supplies," said Smith. "This is sponsored by the Coral Bay Labor Day Committee, the St. John Festival Committee and aspiring Senator Sprauve."
"It's not so much on the political side – we need to kind of get away from that and try to help each other more. That's what I'm here for," Sprauve said.
Other vendor tables were gathered around the ballfield as well. One of the largest belonged to Charles Leonard of St. Thomas, who was selling honey, chutneys, pepper sauces, tea bush, and fresh fruits and vegetables.
"It's good being here today," Leonard said. "Last year I came over for Labor Day and decided to come again because I liked the atmosphere. I have 300 fruit trees at home. I can't bring everything; I bring what I can hold in my van from St. Thomas."
Near the entrance to the field, Coral Bay Community Council President Sharon Coldren handed out surveys that will help the council determine if there is a need for one of the programs it is looking into developing, a possible computer learning center at the soon to be opened Community Center at the former Guy Benjamin school campus. The community center is a joint project of the V.I. Department of Education and Partnerships in Hope.
"We're trying to find out who needs what," said Coldren. "Is it teenagers, retired people? We could do vocational learning if people want certain classes."
Coldren said she was glad to see crowds beginning to turn out for the Labor Day festivities in the afternoon after the rain squalls earlier in the day.
Over at the parade's starting point, the Triple B Food Truck was also hosting a Labor Day party in the Oasis parking lot, where community members were enjoying music, vendors, face painting and donkey rides.
Erin Durrell, one of the founders of the Triple B, said it was the last day the food truck would serve until November. Bad weather didn't prevent long lines from forming around the van.
"I believe we are in an Invest that has formed on top of us right now," said Durrell. "But it's Coral Bay. We'll still show up, rain, sunshine, or tropical depression."