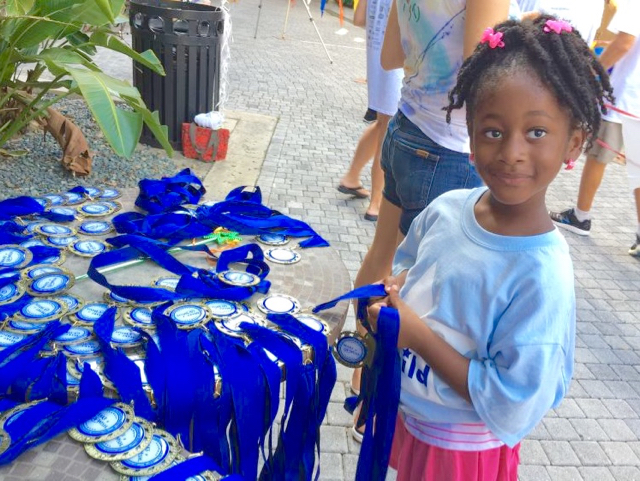 They came in droves, a sea of color in different team T-shirts, taking everything from double strollers to dogs to the starting line of this year's Walk for Wishes at Yacht Haven Grande.
The crowd covered every part of the facility's back courtyard, filled every inch of space from Bad Ass Coffee on up, and spilled over and around the starting ribbon that organizers had to keep a tight a hold on before it burst from the weight of bodies. From overhead, it almost looked like half the island had shown up for the 5K walk/run that serves as the signature fundraiser for Make-A-Wish USVI.
"It's quite amazing," longtime Walk for Wishes organizer Nagesh Tammara said Saturday. "This is our fifth year, and when we started we had about 400 people. We thought that was a lot then, but every year since it has gotten bigger, and we're estimating that there are at least 1,000 people out here for this one."
The large crowd was a boon for Tammara and other organizers, who said they were hoping to top $45,000 this year.
Make-A-Wish is a non-profit organization that uses its funds to grant wishes for children with life-threatening medical conditions, and Tammara said that by 8 a.m. Saturday, the organization had brought in $38,000 toward its goal. By the end of the day, however, with additional registrations, it was reported that the event had raised enough for eight wishes, with each wish totaling $5,000.
"It's amazing what that can do for a child," said Shaka Perez, whose daughter Lamy'r Perez, flew to Florida in January for her Make-A-Wish experience, as he waited with Tammara for the race to start.
"It turns their whole world upside down, it brings a smile to their face and it makes them forget about all the other things that are going on. It gives them hope, and when you're a parent that just wants the best for your child, that is the most incredible gift," Perez said, adding that his daughter, at just six years old, had already flown off island 10 times for regular check-ups with an outside pediatric cardiologist. Lamy'r has a hole in her heart, Perez said, and with no such doctor on island, the family has had to travel every six months for treatment, leaving little time for fun.
It's no surprise, he added, that Lamy'r chose to go to Disney World for her wish and, like all little girls her age, spend the days chatting up her favorite princesses. Mom Myrcle Perez said Saturday that the wish included not only transportation and lodging, but everything that Lamy'r could want, including round the clock pizza service.
"Everyone went out of their way for us," she said. "For the rest of her life, we know that Lamy'r will remember the rides and everything that she did, but we will always remember the people who helped us and got her there."
According to organizers, the wish-granting network is vast, relying on volunteers, such as local attorney Su-Layne Walker, to step in after a child is identified, to get the ball rolling.
Walker said that wish granters are a critical part of the process, helping to take families after referral through interviews and all the other necessary steps, including lining up sponsors, before jumping in put together the actual experience.
"If you were ever even a part of being able to grant a wish, then just being able to see the sheer joy on a child's face after they've had their experience is incredible," she said Saturday. "Even if it's just for a few minutes, it's worth it."
Volunteers at Saturday's event said much the same thing as they bustled about completing tasks that ranged from manning water stations to handing out medals at the finish line. Along with adults, teams of students from Antilles School and the V.I. Montessori School and Peter Gruber International Academy were helping to get the work done, and Tammara said they were not only an important part of the day, but essential to the entire fundraising process.
"We have more than 60 volunteers out here," he said. "That's incredible. And what's even more incredible is that they continue to come out every year, helping us organize this event so that we can accomplish our goal for the children."
Make-A-Wish advisory council members, such as Cheryl Rink, have also continued to advocate for more local referrals. Perez said Saturday that he only applied for the program after encountering a Make-A-Wish recipient on one of their family's trips to the mainland, and organizers explained that it is common for families to think the organization only works with children that are dying.
Not so, Rink has said. And with the local chapter in need of more referrals on island, Rink and others have continued to spread the word that children can be referred to the organization by relatives, medical professionals, ministers, or can even volunteer themselves.
More information is available online at www.usvi.wish.org or by calling 340-513-8213.