This is the first of a Source series on the territory's wastewater runoff issues. Future stories will focus on how onsite septic systems and municipal wastewater treatment systems contribute to water pollution and water quality violations and enforcement.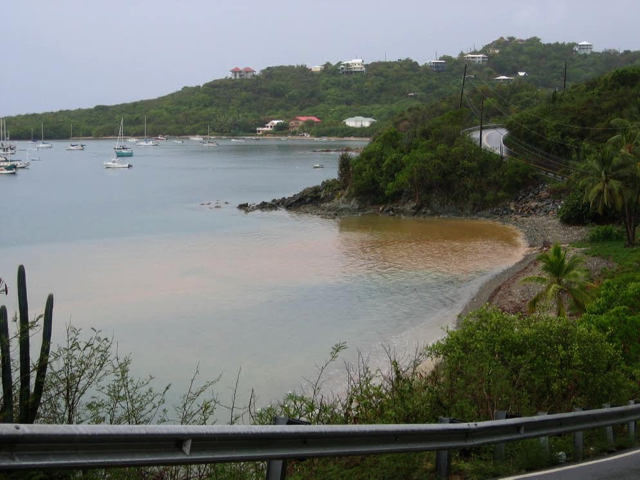 For years the U.S. Virgin Islands has struggled with wastewater runoff issues that threaten human and environmental health, which by extension adversely affects the territory's leading industry, tourism.
The problem is difficult to miss, since it's highly visible after every heavy rainfall: A murky, brown ring outlines the islands from the sediments and pollutants that wastewater runoff, including storm water, carries down the slopes.
It's not uncommon for the V.I. Department of Planning and Natural Resources to issue advisories that caution against swimming and fishing at beaches at which too high a level of enterococci bacteria levels have been found. Swimmers can – and have – developed bacterial infections and skin rashes from taking a dip in water polluted by animal and human feces.
Beyond being dangerous to human health, beaches that are unfit for swimming hurt the territory's tourism image. Tourists visit for a limited amount of time, so when they aren't able to swim at certain beaches, particularly the ones near their hotels, the territory gets a bad reputation. Keeping its waters clean, then, is in the economic interests of the Virgin Islands.
To keep tabs on water quality, as many as 43 beaches around the territory are sampled for enterococci bacteria on a weekly basis, said Jamal Nielsen, DPNR's media relations coordinator.
Nielsen said DPNR does not close beaches or have the authority to do so, but the V.I. Waste Management Authority and the Department of Public Works can if there is a high threat to human health. Closures have been rare in the last decade, Nielsen said, and it's only been done a handful of times.
"Going back approximately five years, the top three beaches that exceeded thresholds were found to have exceeded those thresholds less than 12 percent of the time that they were tested. The majority are found to exceed the threshold less than three percent, and over half less than one percent of the time," Nielsen said in late June.
While full beach closures are unusual, it is relatively common for a number of the territory's beaches to be deemed unsafe for swimming and fishing after heavy downpours.
According to the Oct. 17 beach advisory, the following eight beaches were not considered safe for swimming because enterococci bacteria were above permissible levels: Rainbow, Cramer Park, Grapetree Bay, Halfpenny and Cane Bay on St. Croix; Water Bay and Lindquist on St Thomas; and Great Cruz Bay on St. John.
Most of those beaches are favorites for both tourists and locals alike.
The advisory reads: "High levels of enterococci bacteria and turbidity may be caused by runoff due to heavy rains, heavy marine vessel traffic, high wave activity near the shoreline, irresponsible recreational use, etc. Runoff can consist of sediment, pesticides, animal feces and oil and grease, all of which are harmful to the waters of the territory." (See Related Links below.)
Human sewage is noticeably absent from this list of potential pollutants, though many of the territory's environmental scientists cite it as a major concern for local water quality and note that it commonly contains enterococci bacteria – the culprit behind beach advisories.
Municipal sewers overflow into the ocean during storms, and decentralized septic tanks often leak sewage when they're full or if they were improperly designed or constructed. Design flaws include an inadequately sized leach field to absorb and filter wastewater, or no leach field at all for many properties where wastewater is allowed to drain or be sprayed along the ground surface.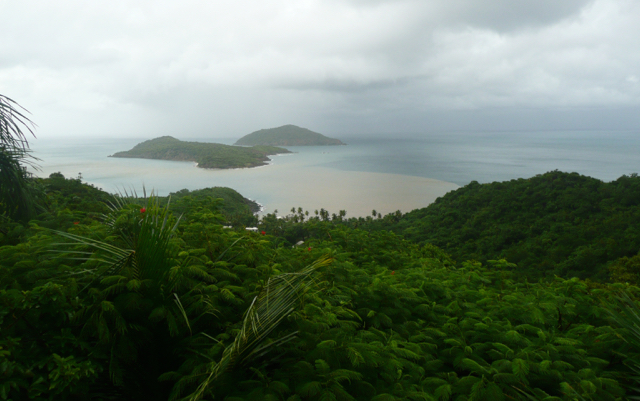 According to the V.I. Waste Management Authority, approximately 30 to 35 percent of residential, commercial and industrial areas are connected to the public sewer, leaving the overwhelming majority of properties to dispose of sewage through various onsite-disposal systems such as septic tanks or onsite wastewater treatment plants.
Gary Ray, an environmental scientist who lives on St. John and taught biology at the University of the Virgin Islands for almost 10 years, said wastewater pollution also puts the territory's ecosystems at risk.
Nitrogen and phosphorous are naturally occurring chemical elements found in human feces, which can cause major harm to the environment at high concentrations. DPNR has no discharge limits for nitrogen, and while there are phosphorus limits for surface-discharged wastewater, those limits are commonly exceeded according to publicly available records for territory discharge permits.
Removing phosphorus and nitrogen requires more complex treatment operations with more maintenance needs. Those higher levels of treatment therefore tend to only be provided at larger treatment plants, where the costs can be spread among many users connected to the system. But when storm water overwhelms the municipal system, untreated water has nowhere to go but out to sea.
Due to those higher costs, significant levels of nitrogen and phosphorus removal don't tend to occur with residential or small-scale commercial onsite wastewater systems, even though some of these systems discharge waste water directly on the surface of the ground.
According to Ray, nitrogen is public enemy number one for marine life.
"Most of the marine life operates on ambient nitrogen and recycles it. When you release nitrogen from land, it allows macroalgae to smother coral reefs," he said.
Sea grass communities can absorb the nitrates but corals can't, which can lead to an imbalance in the fish community, Ray explained. When the macroalgae take over, more fish come to graze on the reef and there aren't enough predators to regulate them. Bays are especially at risk of becoming over-nutrified with phosphorous and nitrogen, since pollutants aren't flushed out from them as easily. (See "Impacts of nutrient enrichment on coral reefs" in Related Links section below.)
To be clear, sewage runoff isn't the only thing straining coral reefs. Sediments made of dirt and small rocks that erode easily and make their way into bays after heavy rains are also a major issue. When an area is overdeveloped and too much vegetation is removed, eroded sediment mobilizes pollutants such as the phosphorous, nitrogen and enterococci bacteria, all of which can wind up in the territory's waters.
A recent study completed by a UVI marine research technician found that nearshore waters exposed to sediments contain corals with more macroalgae overgrowth and bleaching than offshore reefs. These findings suggest a link between lower water quality and coral bleaching severity.
Pharmaceuticals, toiletries and household-cleaning products also get flushed down drains and can end up in the ocean. All of these items can be toxic to marine life.
Many tourists travel to the territory for its beaches and to see the marine life through snorkeling or diving. Development of the territory's coastlines without adequate concern for runoff potential can hurt this tourism product. If there isn't living coral to support the colorful Caribbean fish that tourists expect to see, negative travel reviews could follow on such sites as Trip Advisor, where late last year a tourist pointed out the dismal condition of Hull Bay's reefs. (See Trip Advisor link in Related Links section below.)
Coral reefs around the world are struggling to survive after major bleaching events, which are becoming more frequent, so it's important to not create additional stressors. Recent studies in Florida and around the world have shown that corals can better recover from bleaching events if nitrogen and phosphorous – common pollutants in wastewater discharge – are removed from the surrounding environment.
Pollutants, therefore, can be the tipping point for corals, and ultimately cause their death. Sediments are destructive too, especially when they settle on coral reefs.
Ray, along with many of the territory's environmental scientists, believes regulatory enforcement is badly needed to address wastewater runoff issues. He said the territory's approach to wastewater treatment is extremely outdated and needs to be overhauled to protect human and environmental health.
At this time, there are no water quality standards specifically regulating nitrogen, though DPNR is in the process of gathering data to be able to develop a policy.
Nielsen said the criteria should be developed by September 2018, which is when the next revision to the territory's water quality standards will take place. Until then, the problem continues to mount. As more land is developed, it will become more difficult to address runoff issues.
"It's not something that has developed overnight – it's an ongoing issue that needs to be addressed before it becomes a crisis," said Stevie Henry, geographic information systems analyst at UVI who studies land use and is a former DPNR employee.
Henry said that another danger of leaky septic tanks is the threat they pose to groundwater resources. A majority of the homes in the territory count on rain-fed cisterns for water, but going forward climate change is expected to alter precipitation patterns, bringing longer dry periods between heavier rainfalls. Many of the territory's farmers rely on groundwater for their crops and livestock and will likely do so more in the future, so keeping that water source clean is of great importance.
After heavy rains, much of the percolating waste from septic tanks or raw sewage that surfaces winds up in the territory's bays, but some of the polluted water can trickle down and get into groundwater reserves.
"If septic tanks aren't working properly, they'll contaminate groundwater sources," Henry explained. "We'll need to find clean, potable water for citizens and visitors alike – this has significant economic implications besides for human health."
To begin solving the territory's persistent wastewater runoff issues, they must first be acknowledged as systemic in nature. This will require developing and enforcing adequate water quality standards, as well as more inspections of on-site septic systems and making major improvements to municipal sewers to minimize discharge.