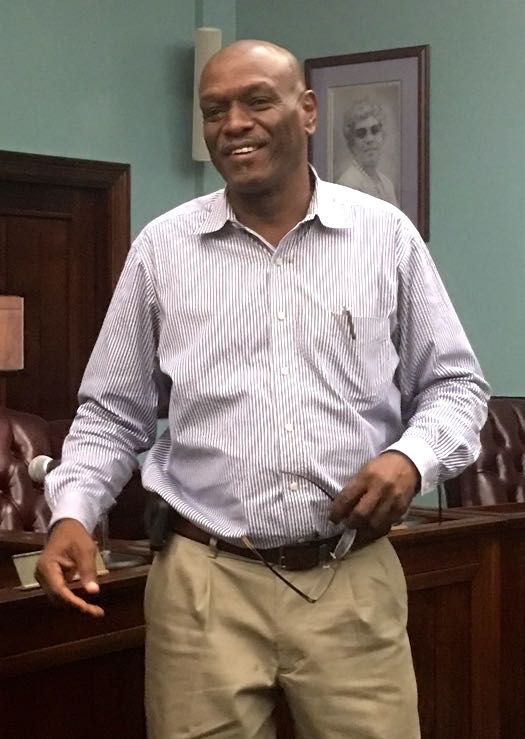 V.I. Port Authority Executive Director Carlton Dowe updated the public Thursday on ongoing and scheduled parking lot upgrades and other projects at a hearing in the Legislative Annex on St. John.
He said rainy weather has slowed work needed to prepare a satellite parking facility at the ferry dock in Red Hook, St. Thomas, so the existing lot will remain open at least one week past its scheduled closing for reconstruction on Monday.
The parking lot is being closed to allow construction of a second parking level. Once the satellite lot opens, the East End Taxi Association will run shuttles to take passengers to the ferry terminal.
The public hearing was one of three – one for each island – called to discuss proposed changes to its schedule of marine tariffs. The meeting on St. Thomas was held Wednesday. The meeting on St. Croix will be held Monday.
Dowe began Thursday's meeting explaining that some tariffs have already been increased, but the law allows VIPA to hold meetings to inform the public within a reasonable time of their implementation.
He said the cruise ship tariff in St. Thomas- St. John District increased from $11.40 a passenger to $13.40 as of Oct. 1. The rates apply to the cruise ships using both VIPA's Crown Bay facility and the West Indian Co. Ltd.'s dock in Havensight.
Cruise ships berthing in Frederiksted, St. Croix, now have to pay a tariff of $5 a passenger after being exempted from fees since 2002. The increase was necessary, Dowe said, following $400,000 in necessary repairs.
Also effective Oct. 1, water tour operators must pay $1.50 per passenger if they have a contract with a cruise ship, and $5 for passenger 17 and older if the tour operator does not have a contract with the cruise ship.
Docking fees will also increase for ferries, barges and other vessels from $.60 to $1 per foot in January. Dowe said these fees "have not increased in the last 10 years."
Taxi drivers will pay an increase in operator fees of $1 from $6 to $7.
Dowe said the increase in tariffs is necessary to fund new projects, to perform routine and major maintenance, and to pay operational costs including utilities.
The authority does not receive funding from the territory's General Fund but must generate its own funding through fees, grants and bond issues. "What we make is what we can spend," he said.
Dowe said nearly $500,000 in repairs must be made to the marine bulkhead used by Crowley Maritime Corp. in Crown Bay, St. Thomas. "Whatever we eat, drink or wear comes through this facility," said Dowe.
"The bulkhead has deteriorated badly. Deep holes make it dangerous," he continued. According to an information booklet distributed at the meeting, VIPA will provide fill material and repair the surface.
The Port Authority recently upgraded a portion of the wooden fendering along the Charlotte Amalie waterfront on St. Thomas, replacing it with brand new rubberized fendering. "The wood bulkhead had fallen off, leaving metal and rupturing vessels," said Dowe, adding that completing the project will cost hundreds of thousands of dollars.
Custom Builders was awarded a contract for $634,000 to install an elevator and ramps in the E.W. Blyden IV ferry terminal in downtown Charlotte Amalie to bring the building into compliance with the Americans with Disabilities Act. Work is scheduled to begin in January on these improvements as well as fendering repairs, he said.
Several projects are underway in Red Hook. In addition to beginning construction on the $5.3 million second parking level, VIPA plans a two-week project to dredge the sand that has built up along the barge loading area in November.
And after decades of discussion, the design to construct a U.S. Customs and Border Protection building in Red Hook to "reduce travel time between the USVI and BVI ports is in the permitting phase," according to the information booklet.
Dowe said 150,000 passengers that land annually at Cyril E. King Airport on St. Thomas continue by ferry to the British Virgin Islands; however, these passengers often face delays and miss their return flights because of crowding at the Customs facilities upon reentering U.S. waters.
As for projects on St. John, Dowe said that construction of the cargo apron at the Theovald Moorehead Dock and terminal was completed at a cost of $1.2 million. The area is being used to store shipping containers and bins for solid waste transported to St. Thomas.
Dowe said he expects to put out a request for bids to pave over the gravel parking lot adjacent to the terminal and, once the upgrade is completed, VIPA intends to charge for parking – though rates haven't been established.
Dowe said he hoped to have the project finished quickly. "I want to get money from your Carnival," he said with a smile.
Three other projects are planned for St. Croix in addition to repairs to the Ann E. Abramson Marine facility in Frederiksted.
The authority plans a major upgrade of the Wilfred Allick Port and Transshipment Center, which serves the needs of the manufacturers of rum on St. Croix. The security system and lighting system will be upgraded so that crews can work at night.
Dowe said he was most excited about a grant to relocate all cargo activity from Gallows Bay to the Gordon A. Finch Molasses Pier on the south shore of the big island. According to the information booklet, "VIPA will construct a 19,000 square foot, multiuse facility for cargo storage and for space for U.S. Customs and Border Patrol, the V.I. Bureau of Internal Revenue and VIPA's dock masters."
The project is funded primarily by a $10.6 million grant from the U.S. Department of Transportation's TIGER Discretionary Grant program. The authority must contribute 20 percent of the costs – more than $2.6 million.
This project will allow Gallows Bay to serve as "a more welcoming facility" for passengers who arrive by ferry. Major renovations of a dual-purpose facility in Gallows Bay is in the permitting process, and Dowe said if it is approved in the next couple of weeks by the St. Croix Coastal Zone Management Board, VIPA will issue a bid request in January 2017.