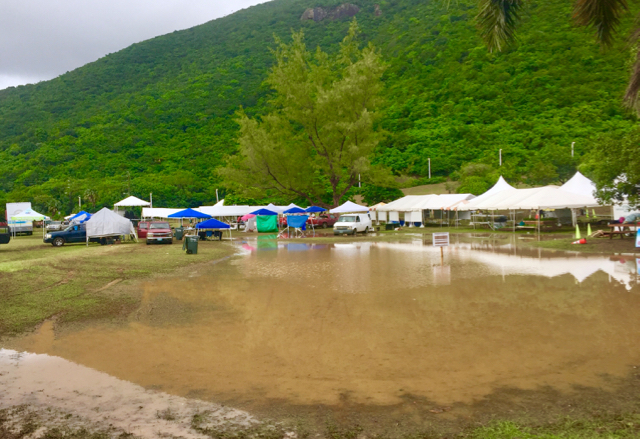 After being postponed last week due to torrential rains and flooding at the fairgrounds, organizers have canceled what would have been the 33rd annual St. Thomas-St. John Agriculture and Food Fair.
Held at the Reichhold Center for the Arts at the University of the Virgin Islands on St. Thomas, the two-day annual event usually draws hundreds of visitors that come to experience local food, agriculture, music and crafts. The annual fair features locally grown produce; local dishes from johnnycakes to kallaloo to stew goat; educational exhibits; music; games and more.
Sadly extremely heavy rains flooded the grounds to the point where it had to be postponed last weekend. Vendors said showers started last Saturday morning. By early afternoon most of the fairgrounds were flooded with a couple of inches of water.
Many vendors were having issues making it through the mud with their vehicles.
Initially the fair's committee planned to reschedule but logistical problems have forced it to cancel.
"Following much discussion and deliberation the membership of the St. Thomas-St. John Agriculture and Food Fair Committee has made the decision to cancel the 33rd annual Agriculture and Food Fair based on logistical and numerous other challenges. A meeting has been scheduled with the vendors to discuss related concerns and plans for moving forward," fair organizers said in a statement Thursday.
"The members of the organizing committee regret the hardship and inconvenience faced by everyone. We appreciate the patience and continued support of our vendors, sponsors, and the community in general," the organizers said.
This annual event is sponsored by the St. Thomas-St. John Agriculture and Food Fair Committee in partnership with the UVI Cooperative Extension Service, Department of Agriculture, V.I. Council on the Arts, the National Endowment of the Arts, Fintrac and volunteer community members.