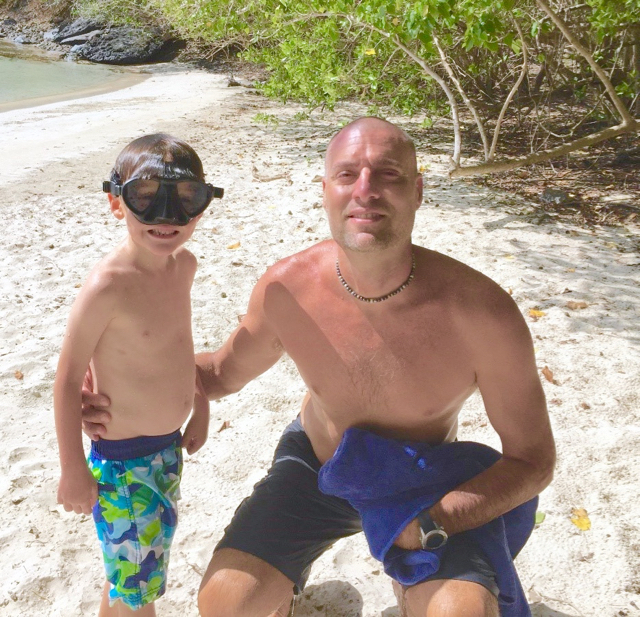 Anyone who has dreamed about swimming under water for extended periods of time without the aid of a scuba tank might be interested in talking to Rob Tutton.
Tutton started VITAL Freediving last April to introduce the sport of freediving to St. John and "help people discover their inner dolphin." He now teaches a range of courses that meet the needs of beginners, experienced divers, and even those who plan to compete in the sport.
In its simplest form, freediving is swimming below the surface without breathing through a snorkel or scuba regulator.
"Anyone who has held their breath underwater has freedived," Tutton said. But to experience the deep relaxation and the sense of harmony that is freediving's greatest reward takes training, practice, and a solid understanding of physiology.
Tutton teaches classes certified by AIDA, the Association Internationale pour la Developpement de l'Apnee, an organization that originated in France but is now based in Switzerland.
"It's unfortunate that the organization's name doesn't translate well," said Tutton. In the United States, most people associate the term "apnea" with a sleep disorder which causes a person to stop breathing.
But "apnea" comes from the Greek word apnoia meaning "without breathing," Tutton explained, which is how one experiences the underwater world when freediving.
Tutton teaches his clients specific breathing and relaxation techniques which are used at different phases of a freedive. Without these techniques, freedivers run the risk of depriving their bodies of oxygen which can lead to unconsciousness, and the consequences can be dire. One 24-year-old St. John man drowned in 2012 while freediving in Solomon Bay.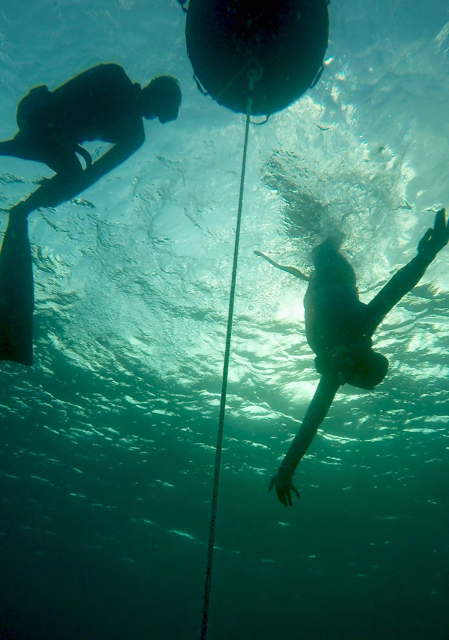 "Blackouts happen," said Tutton, especially when divers are spearfishing and are involved in the hunt. "I don't want to be a safety Nazi, but I want people to understand what happens to their bodies when they dive deep. Divers need to dive with a buddy, and they have to perform a surface protocol with their buddy when they surface after their dive."
When the proper techniques are implemented, freediving is safe, Tutton said. No student has ever drowned during an AIDA class, he added.
Tutton starts his students off in the shallow waters of Hansen Bay on St. John's East End. Coincidentally, it's close to the site where footage was shot for the film "The Big Blue," the 1988 movie that inspired many freedivers and launched the sport's popularity.
"Freediving is like doing yoga underwater," he said. "It's more about relaxing than going down deep. This relaxed state of mind reveals your adventure and opens your senses to the underwater world."
Tutton grew up in landlocked Richmond, Virginia, but as a child his family often visited the Outer Banks in North Carolina, where Tutton learned to surf. He discovered freediving and snorkeling while spending time with his best friend Johnny in Florida.
In 1994 he was studying naval architecture at Virginia Tech when Johnny called him up and asked, "You want a job treasure diving?"
After getting grudging approval from his father (an academic counselor) to drop out of college, Tutton headed south to join Johnny, who was working for world-famous treasure hunter Mel Fisher. Tutton characterized Fisher as "an awesome diver, and an awesome man."
Tutton moved to Key West, diving for emeralds on the wreck Atocha. The lifestyle suited him—he ended up working for Fisher for several years. The team received a bonus for every emerald they found.
"It kept us pumping; it was an adrenaline rush," he said.
On Tutton's 24th birthday, his team recovered 24 emeralds. There's a photo on VITAL Freediving's website of Tutton grinning, an emerald gleaming between his teeth.
After obtaining the proper work permits, Tutton moved to the Bahamas to search for Spanish ships that were sunk during a raid by the Dutch pirate Piet Pieterszoon Hein in 1622. (The project was funded by the discovery of an astrolabe which netted half a million dollars.)
While searching for shipwrecks holding treasure, Tutton and another diver would be towed behind a boat that made S curves in a methodical search pattern. If one of the divers saw something of interest, he would freedive to take a closer look.
"Treasure diving is hard work with long days. We would work every day the weather was good. At that time, I was hitting 45 feet freediving, but occasionally I would dive to 100 feet," he said. The team found more than 20 uncharted wrecks, but they never found the ships they were looking for.
Eventually, Tutton went back to Virginia Tech and finished his degree in naval architecture. He worked as a civil servant in the Navy on a number of projects over 20 years, including "signatures, structures, and other technologies on high speed boats." He earned a master's degree in naval architecture and married a veterinarian, Dr. Karen Hauer. He also has a five-year-old son, Teak, who loves to snorkel.
Last year after his wife was offered a job on St. John with Canines, Cats and Critters, Tutton retired from the Navy, and the family made their move to tropical paradise.
Developing the public's appetite for the sport of freediving has been a challenge, but Tutton's business has grown steadily. In the meantime, he's worked with the Caribbean Oceanic Restoration and Education Foundation (CORE) on its lionfish eradication project. He's also worked with the University of the Virgin Islands' Center for Marine and Environmental Studies on its sea turtle tracking project.
Tutton has applied for B Corp certification, a designation that shows that the business is committed to solving social and environmental problems.
"I want my clients to experience the ocean in a pure and loving way," Tutton said. "If freediving is done conservatively and properly, it's safe. When you're relaxed underwater, you forget your need to breathe, opening the true beauty of the ocean."