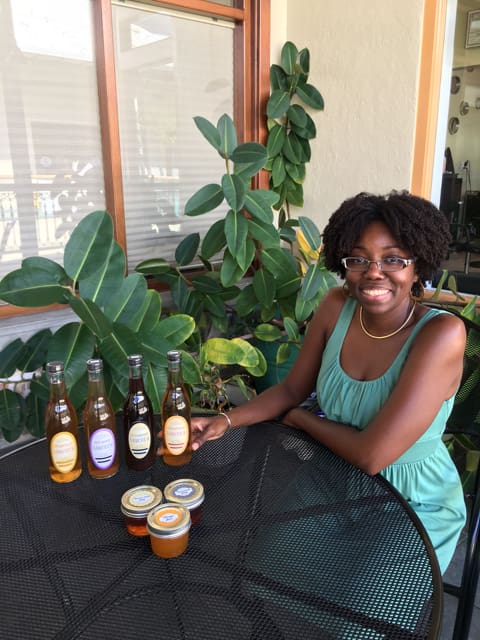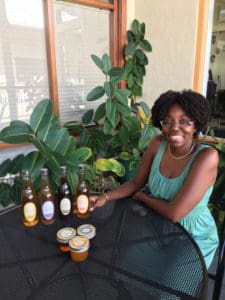 For Sharelle Francis, creating delicious, fresh good from locally grown fruits and berries and turning them into jams, jellies and liqueurs, is a family tradition.
The notion of becoming a locavore – a person who favors foods grown or processed locally – has been getting a lot of attention. Locally grown and prepared food requires fewer preservatives, the energy used to transport the food from far away is reduced, and the local food strengthens the local economy.
For generations, Virgin Islanders were locavores by default. The bulk of what was eaten was kept in yards, raised in gardens, or harvested from the forest and the sea.
All this has changed, of course. It's been more than 20 years since the first supermarket opened on St. John; before then, a limited range of canned and imported items was always available at a handful of local shops.
One of those shops was owned by Virginia Sprauve, better known as "Miss Gina." Her grocery store at the top of Jacob's Ladder – the steep hill leading from Cruz Bay towards what is now the Westin – was a regular stop for shoppers and workers who would buy food she prepared for lunch.
One of the people who was influenced by Sprauve is her granddaughter, Sharelle Francis.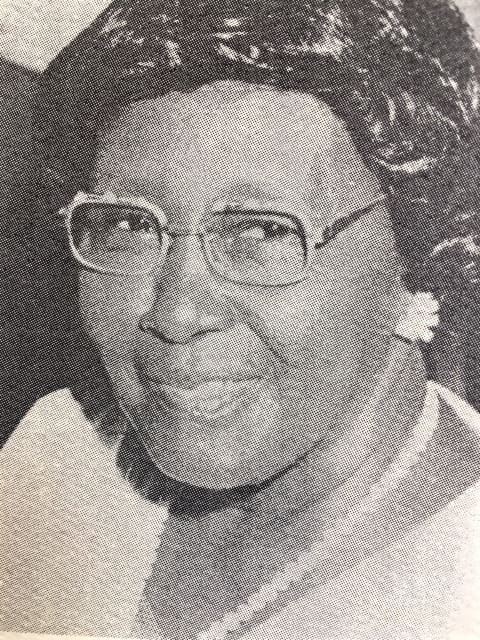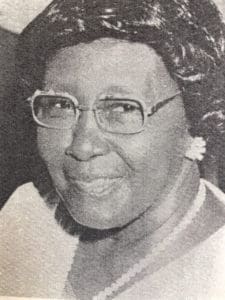 "I remember coming home from the Julius E. Sprauve School with my cousins and helping out in the grocery," said Francis. "At the end of the day, my grandmother would put a big pot on her head and walk up the hill towards her house."
Francis did not become a shop owner, but she has become a vendor of artisanal jams, jellies and liqueurs made from local fruits that would please the fussiest locavore.
Producing artisanal foods is now Francis' full-time profession; until two years ago she worked as the administrative assistant to the executive director of the Myrah Keating Smith Community Health Clinic. It was there that her cooking first attracted attention, when she baked coconut macaroons for a co-worker.
She started baking breads, pates, and tarts, selling them at the Sunday farmers' markets once regularly held in the Marketplace. Soon Karen Samuel, the well-known artist who was also baking and selling traditional foods, invited her to join her at her vendor's stand in Coral Bay.
After deciding to specialize in fruit jams, jellies and fruit liqueurs, Francis started searching the island for fruit-ripening on trees to use as ingredients.
"I try to collect as much fruit that's available as possible, and what I can't use right away, I freeze," said Francis. "Some just come once a year, like seagrapes. Other fruits, like tamarind and passion fruit, I don't have to collect as much."
Three years ago there was an abundance of seagrapes, and she was glad she had stored some away because the 2015 drought made them almost impossible to find.
Francis picks fruit from trees in yards belonging to friends and family members as well as in wild places. If she runs out of fruit, she seeks out Charles Leonard, a farmer from Bordeaux, St. Thomas, who travels to the farmer's market in Coral Bay on the second and fourth Saturday of each month.
Passion fruit, tamarind, starfruit, seagrapes, and gooseberries are boiled and then strained for her jellies and jams.
"I just started experimenting with local plums – they're similar in color to hog plums, but the trees are shorter and the fruit is much easier to access," she said.
The ingredients in Francis' products are simple: fruit pulp (for jams) or liquid (for jellies), sugar, lemon juice, and pectin that she makes herself from granny smith apples. She can produce five batches of six to eight jars in a day.
Her jams and jellies are sold at Friends of Virgin Islands National Park Store in Mongoose Junction in Cruz Bay and at Pickles Deli in Coral Bay. The small sample jars sell for $4, and the large jars sell for $8. When she has a surplus, she sometimes gives Leonard jams and jellies to sell at farmers market at Bordeaux on St. Thomas.
Although her jams and jellies are popular, Francis is now becoming known on St. John for her fruit liqueurs. She poured tastes of her liqueurs at several art events held by Kimberly Boulon Fine Art at the Marketplace and instantly created a small but enthusiastic fan base.
"I know a lot of people are familiar with Guavaberry, and I thought it would be interesting to try using other fruits, said Francis.
She has used both rum and vodka as the base for her liqueurs but has recently settled on vodka for a purer fruit flavor. She makes all her syrups from scratch, producing liqueurs from passionfruit, starfruit, sorrel, soursop, and tamarind.
"I enjoy making them; they're something a little different."
They are different, and they are also hard to find. Unless you happen to be at an event where she's selling her wares, you pretty much have to contact her by email at sharellefrancis@yahoo.com if you want to try the liqueurs.